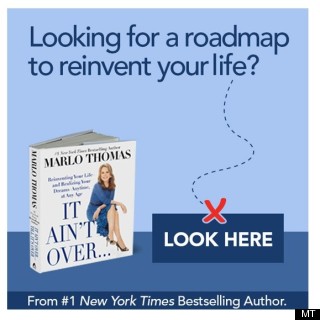 "One of the reasons I started my website is that I wanted a place for women to come together and dream. We women need to know that we don't have to hang on to an old dream that has stopped nurturing us—that there is always time to start a new dream. This week's story, an excerpt from my new book "It Ain't Over Till It's Over," is about Kristine Brennen, a successful factory executive who wanted a job where she could get some fresh air. She enrolled in art and design school at the age of 50. Now, she works as a rock sculptor, and her pieces sell for thousands of dollars!" —Marlo, MarloThomas.com
For years, Kristine worked from sunup to sundown in a sterile Massachusetts factory, assembling the electronic components for guidance systems used in space shuttles and missiles. "I was good at my job because I had good hands," she says, "but it killed me being inside all those years, especially working with chemicals, which gave me migraines. I wanted to be outdoors, listening to the birds and seeing all the colors. So as I worked in the factory, my mind would often drift back to my grandfather. Every night, he'd come home from work, carrying his tools, covered in dust. I envied that. He'd been outside all day."
Life was decidedly different for Kristine. "I had to commute to my job every morning—be there at six and not leave until five. And by then, the day was already gone. I'd look at the setting sun and think, Oh, no, I missed it again."
Despite her longing to do something different, Kristine made a good salary at the company, and she was eventually promoted to a desk job. And that was the dilemma: With more than 20 years' seniority, she had the kind of benefits a woman in her forties couldn't just walk away from. But then the company was sold. Kristine could have continued under the new management, but when veteran workers were offered a buyout, she jumped at the chance.
Kristine had always dreamed of becoming an artist, but never had enough confidence in her abilities to believe she could make a living at it. Now, thanks to her $17,000 severance, Kristine had the resources to finally try to connect with her artistic aspirations. So at age 50, she enrolled at a college of art and design, pursuing a degree in architecture ("I figured, I eventually have to make a living," she says), and she was accepted.
Article Continues Below Slideshow
PHOTO GALLERY
Kristine Brennen
"It was like a dream fulfilled," she notes. "I was walking on a cloud every day." In 2006, she was awarded her degree, and her triumph was celebrated by all those who knew her. "My mom lived to see me graduate," she says, "and she was thrilled."
As Kristine surveyed the employment landscape after her graduation, what she couldn't get out of her head was the advice of a favorite professor: "Whatever you do, make sure to have a good time and play."
So play she did. Out in her backyard, Kristine set up large canvases and splattered them with acrylic paint and dirt (yes, dirt), incorporating the soil of the yard into her abstract vision. She loved the results. "In art, you have to find out who you are inside," she says.
As her artistic spirit emerged, Kristine decided to try her hand at sculpture. "I began to look at rocks differently," she says. "It's like they were communicating to me. The little round ones I saw as frogs, so I sculpted them that way; the long and thin ones presented whole other opportunities. Rocks have been around forever, and through their shapes, I think they're telling us their stories."
Her yard was the perfect workshop: From the moment she and her husband had begun digging the foundation of their home, they'd unearthed chunks of New England granite.
One of the boulders they had disentombed stood three feet tall and was nearly as wide around; Kristine felt she saw something in the stone and she wanted to bring it out. Using her landscaping tools, she began to carve. Soon
the face of a woman emerged—eyes closed, lips pursed, with a contented expression. She looked as if she were sleeping.
"It was my first big sculpture," she says. "I put it out at the end of my driveway, and when the sun came down the street, it would shine on her face. People driving by would actually slow down to take a look. After that, I was hooked. I carved everything I could get my hands on."
Gradually, Kristine accumulated more tools—grinders, chisels, hammers, even an excavator that moved heavier stones. And everywhere she went, she checked out the rocks.
"If I saw something I really liked, and someone was willing to part with it, I'd load it into my pickup truck and bring it home." She turned these raw forms into birdbaths, benches, and fountains, always careful to retain as much of their original shape as possible.
"It's hard to improve on Mother Nature," Kristine says. "I felt like I was just a tool to put the rocks together. The rocks couldn't do it themselves, so they had me to help."
Kristine began displaying her sculptures around her property and entering them in local art shows. As word of her craftsmanship grew, so, too, did the number of buyers.
After only a few months of sculpting, Kristine visited a quarry on the Connecticut–Rhode Island border where she spotted a pile of sedimentary rocks jumbled in a heap, half-hidden by dirt and leaves. They took her breath away. Formed beneath a once-rushing river, the rocks were striated with gorgeous horizontal layers of brown and bronze. Kristine hauled them home and worked that entire summer piecing them together into benches. When her hometown art museum paid $4,000 for one of the benches—which Kristine dubbed "Pinnacle," because it represented the high point in her life—she was finally ready to say it out loud: "I am a sculptor!"
"It was as if my whole life had led up to this," she says. That was six years ago. Since then, Kristine's clientele has grown.
Though she sells pieces at local nurseries and via Facebook, her main showroom is still her own yard.
"The garden clubs come here to have their meetings," she says. "And painters bring their students to create pictures of the rocks." A small birdbath might fetch $350, a fountain, $850, and a five-foot sculpture, $2,500. Some clients have a yard full of her works.
"It's all one of a kind," she says. "Nothing mass-produced, that's for sure. That's the beauty of the work I do."
Gone for good is the sense of entrapment that Kristine once felt at the factory. Now she spends most of her days outside, clad in a face mask and earplugs, operating her prized grinder. And when she slices into a boulder, the blade grinding and whining, the dust cloud surrounding her, she thinks of her grandfather and the love of the stone that he passed on to her.
"I'm a different person now," Kristine says. "In the factory, I always felt sick. Now, out in the fresh air, I'm always happy. And things around me seem happier, too. Sometimes, I'll be working on a birdbath, and I can see the little chickadees in the tree just waiting for me to finish. And when I'm done, I'll fill it with water and they'll come zooming in. It's like they're saying, 'Oh, look what she's made for us!'"
* * *
To find out more about Kristine's journey -- and to read 59 other inspiring stories -- buy your copy of "It Ain't Over Till It's Over." Click here.
Add Marlo On Facebook:
Follow Marlo on Twitter:
Sign up to receive my email newsletter each week - It will keep you up-to-date on upcoming articles, Mondays with Marlo guests, videos, and more!