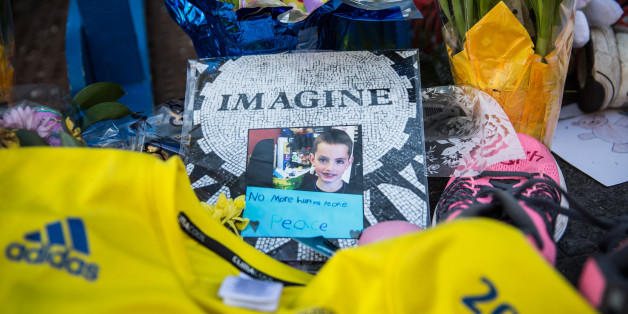 The real winners of the Boston Marathon were the runners who smashed charity records, raising an unprecedented $38.4 million for a number of causes, the Boston Athletic Association (B.A.A.) announced on Tuesday.
"This year's Boston Marathon was like no other that we have witnessed," Tom Grilk, B.A.A. executive director, said in a statement.
The April 21 event marked the second biggest Boston Marathon in history when 32,408 racers hit the racetrack, the Boston Globe reported. Of those runners, 3,150 committed to supporting more than 300 organizations, and nearly doubled last year's fundraising efforts, according to the B.A.A.
Some of those causes included ones that have been established to help the more than 260 people injured -- and honor the three people killed -- in the twin bombings last year.
One hundred runners joined Team MR8, a group that raised funds for the Martin W. Richard Foundation, founded in memory of the youngest victim who died in the attacks.
The organization aims to fulfill Martin's message of "No more hurting people -- peace," by investing in education, athletics and community.
One of the team members included Massachusetts State Police Sgt. Sean Murphy, who was placed on restricted duty after he leaked gruesome photos of bombing suspect Dzhokhar Tsarnaev.
"At the first meeting, we were all given a picture of Martin and having his image burned into my mind is enough to run 26 miles," he told the Associated Press in advance of the race.
The group raised $1.25 million through its marathon fundraising efforts, according to the Globe.
Carmen Acabbo raced in honor of her sister Celeste Corcoran, who lost both legs below the knee in the attack, and her niece, Sydney, who was also severely injured, according to Today.com.
In an emotional moment, the Corcorans joined Acabbo to complete the last stretch of the race and they crossed the finish line together holding hands.
So proud and honored of team #CorcoranStrong! They inspire us all. Great job ladies and enjoy the celebration! pic.twitter.com/agOVs06vij

— Natalie Morales (@NMoralesNBC) April 21, 2014
Acabbo was part of the "Corcoran Strong" group, which raised more than $23,000 to help Celeste with her mounting medical costs.
Racers supporting One Fund Boston -- a group established in the immediate aftermath of the bombings to support victims -- collected more than $816,000.
"The world bore witness to the resilience of the Boston community and the true spirit of the marathon this year," Craig Bromley, president of John Hancock's Marathon Non-Profit Program, said in a statement. "The Boston Marathon will forever be defined by compassion, courage, competition, and extraordinary generosity."
BEFORE YOU GO
PHOTO GALLERY
Remembering The Victims Of The Boston Marathon Bombing