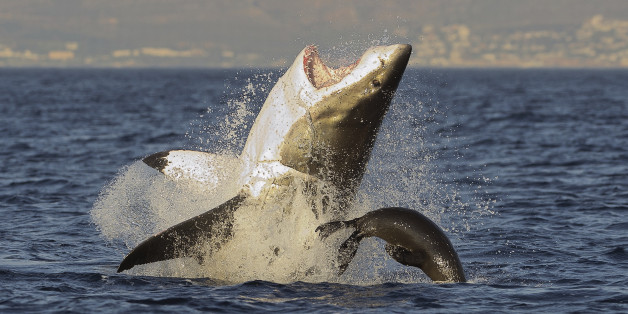 Summer is a time for endless beach days, globs of sunblock and, apparently this year, more shark attacks.
According to a report from Discovery News, shark experts have predicted that there will be more shark attacks this summer in the U.S. than there were last summer. But why the rise?
George Burgess, director of the Florida Program for Shark Research, attributes it to three main reasons: More people entering the ocean every year, a recently observed rise of great white sharks in the ocean and global climate change that "has resulted in warmer waters to the north, prompting humans to enter waters earlier in the season" and stay in them later, Burgess told Discovery News.
It may seem shocking, but the expected increase in shark attacks is relatively old news.
"Each decade shark attacks have increased," Burgess said in a report by AccuWeather.com. "This decade will have more attacks than the last, simply because the human population has grown."
Last year there were a total of 47 shark attacks in the U.S., with two of them ending in a fatality. The states with the highest number of shark attacks that occurred last year, according to the International Shark Attack File, are as follows: Florida with 23 attacks, Hawaii with 13 and South Carolina with six. California, North Carolina, Texas, Oregon and Alabama each reported one shark attack.
And if you're beginning to think sharks are the problem, consider this: for every human killed by a shark, humans kill approximately two million sharks, according to National Geographic.
But things have been looking up for certain shark species.
A recent census study led by Burgess showed there are more than 2,400 great white sharks off the coast of California, according to the Los Angeles Times, suggesting that "existing protective measures should be maintained because they are increasing the size and health of the population."
While, at first blush, a spike in the ocean's shark population may sound scary, it's actually a great sign for our ocean's health.
"If something is wrong with the largest, most powerful group in the sea, then something is wrong with the sea," Burgess told Discovery News. "So it's a relief to find they're in good shape."
CORRECTION: A previous version of this story incorrectly stated that there was only one fatal shark attack in 2013. The story has also been updated to show that Burgess led a census study and not a "consensus" study as previously stated.
BEFORE YOU GO