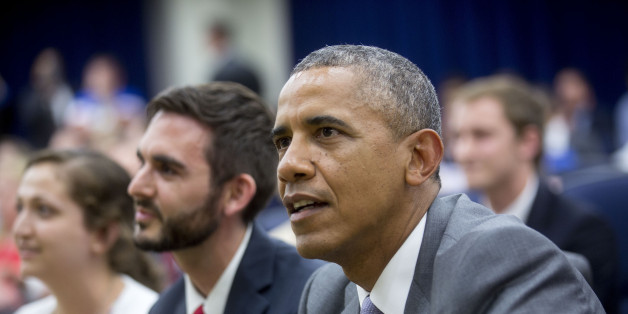 United GOP loathing for Obama translates into lots of click-throughs. Facebook apologizes for communicating 'poorly.' Harry Reid doesn't like polling, except when he's citing it. And our beloved corporate overlords have given us the rest of the week off. Happy Fourth! This is HuffPollster for Wednesday, July 2, 2014.
33 PERCENT SAY OBAMA IS THE WORST PRESIDENT SINCE WWII - Quinnipiac: "President Barack Obama is the worst president since World War II, 33 percent of American voters say in a Quinnipiac University National Poll released today. Another 28 percent pick President George W. Bush....Obama has been a better president than George W. Bush, 39 percent of voters say, while 40 percent say he is worse….America would be better off if Republican Mitt Romney had won the 2012 presidential election, 45 percent of voters say, while 38 percent say the country would be worse off. " [Quinnipiac]
One reason to take that headline with a grain of salt - David Weigel: On just these narrow questions, Democrats have a unique problem. They like several presidents, and they dislike several. They dilute their votes….In 2006, George W. Bush easily won the 'worst president' poll (34 percent of people gave him the no-prize) because independents had turned against him, and because Democrats overwhelmingly had. But Republicans were split. Overall, 13 percent of voters called Jimmy Carter the worst post-World War II president, and 16 percent said that of Bill Clinton. This year, only 8 percent call Carter the worst, and only 3 percent say that of Clinton. Those voters have learned to loathe Barack Obama." [Slate]
-Jonathan Bernstein: [T]he questions about who are the best and worst post-WWII presidents are useless...[The results] might just as well reflect the happenstances of history. Democrats have several reasonable candidates to choose from. Clinton and Kennedy were very popular; Lyndon Johnson and Harry Truman had impressive accomplishments, along with the wars that made each unpopular while in office. Republicans? They're not going to choose Richard Nixon or, most likely, Gerald Ford...Of course they'll pick Reagan. And it's no surprise that they choose the current occupant of the Oval Office over long-gone Carter, either, let alone the popular Clinton." [Bloomberg]
-Ryan Teague Beckwith: "Should be a name for this polling problem. I suggest "the best Beatles album" syndrome, since vote is always split. http://t.co/aOA4qtevYh"* [@ryanbeckwith]
-Sean Trende: "Alternate headline for today's @QuinnipiacPoll -- 66% of Americans do not think Barack Obama is the worst post-War president..." [@SeanTrende]
And another - HuffPollster: "Legacy has been kind to the majority of recent presidents. Six of the past nine saw their approval ratings rise in Gallup's polling after leaving office. Bush, whose final approval rating in the Gallup poll as president was just 34 percent, saw his numbers rise 13 points by 2013." [HuffPost]
HARRY REID DOESN'T TRUST THE POLLS (EXCEPT FOR WHEN HE DOES) - Sam Stein and Ryan Grim: "[I]n the wake of House Majority Leader Eric Cantor's (R-Va.) unexpected loss, Reid said he no longer puts too much stock in polls (Cantor's own pollster had him up by 34 points). 'I've never been a big fan of polling,' Reid said. 'Common sense dictates if you're under 35, and you have a stationary phone, what's wrong with you? Because very few people have stationary phones anymore that are young. And with all the laws the way they are -- who you can call, who you can't call -- how do you get an accurate count? I don't think polls are very accurate.'...'Take, for example, North Carolina,' said Reid. 'The Koch Brothers spent pushing $20 million against [Sen. Kay Hagan]. We followed that very closely. Her polls overall since last fall changed four tenths of one percent.'" [HuffPost]
AMERICANS SPLIT ON HOBBY LOBBY DECISION - HuffPollster, with Rachel Lienesch: "Americans don't agree on the U.S. Supreme Court's ruling in the Hobby Lobby case, a new HuffPost/YouGov poll finds. Forty-six percent of Americans said they approved of the high court's decision that "closely held" companies, such as those controlled by families, cannot be required to provide contraception coverage for their employees if doing so violates the owners' religious beliefs. Forty-one percent disapproved….In the immediate aftermath of the Supreme Court's rulings in favor of Hobby Lobby and against abortion clinic buffer zones, the HuffPost/YouGov survey finds Republicans far more satisfied than Democrats with the court. Fifty-seven percent of Republicans said they approved of the Supreme Court's performance as a whole, compared to just 37 percent of Democrats and 33 percent of independents." [HuffPost]
FACEBOOK APOLOGIZES FOR PSYCH EXPERIMENT - R. Jai Krishna: "Facebook 's psychological experiment on nearly 700,000 unwitting users was communicated 'poorly,' Sheryl Sandberg, the company's No. 2 executive, said Wednesday. It was the first public comment on the study by a Facebook executive since the furor erupted in social-media circles over the weekend. 'This was part of ongoing research companies do to test different products, and that was what it was; it was poorly communicated,' Sandberg, Facebook's chief operating officer, said while in New Delhi. 'And for that communication we apologize. We never meant to upset you.'...The uproar centered on Facebook's one-week experiment in 2012, in which the company's data scientists enabled an algorithm to determine whether lowering the number of positive or negative posts in users' news feeds could prompt them to post more positive or negative content. The research, published in the March issue of the Proceedings of National Academy of Sciences [PNAS], sparked soul-searching and questions among researchers and ethicists over the social network's ability to tweak its users' emotions." [WSJ, PNAS]
'Significant' but not important - Rich Morin: "[W]hen you have an enormous random sample of 689,003, as these researchers did, even tiny differences pass standard tests of significance. (For perspective, a typical sample size in a nationally representative public opinion poll is 1,000.) That's why generations of statistics teachers caution their students that 'statistically significant' doesn't necessarily mean 'really, really important.'...As reported by the authors, the number of negative words used in status updates increased, on average, by 0.04% when their friends' positive posts in news feeds were reduced. That means only about four more negative words for every 10,000 written by these study participants. At the same time, the number of positive words decreased by only 0.1%, or about one less word for every 1,000 words written...Conversely, when negative posts were reduced, seven fewer negative words were used per 10,000, and the number of positive words rose by about six per 10,000....[D]o these tiny shifts, even if they are real, constitute evidence of an alarming 'massive-scale contagion'?" [Pew]
More on the Facebook study:
-Robinson Meyer argues the experiment was legal, but possibly unethical. [The Atlantic]
-Ed Felten sees a dispute between the standards of the industry and research communities. [Freedom to Tinker]
-Bethany Albertson and Shana Gadarian, two researchers who study emotions, find the study both ethically questionable and overstated. [WashPost]
-Michelle N. Meyer rounds up frequently asked questions about the Facebook experiment. [Wired]
-Danah Boyd sees reaction to the experiment as evidence of the growing anxiety about data manipulation.
[Medium, Zephoria]
HUFFPOLLSTER VIA EMAIL! - You can receive this daily update every weekday via email! Just click here, enter your email address, and and click "sign up." That's all there is to it (and you can unsubscribe anytime).
WEDNESDAY'S 'OUTLIERS' - Links to the best of news at the intersection of polling, politics and political data:
-Most Americans (86 percent) think the U.S. is "one of the greatest countries," but the percentage who think it "stands above all other countries" has dropped (from 38 to 28 percent) since 2011. [Pew Research]
-55 percent of U.S. military veterans say it is difficult to access military care through the Veteran's Administration. [Gallup]
-Jackie Calmes looks at the rise of unmarried women as a voting bloc. [NYT]
-Pennsylvania Gov. Tom Corbett (R) trails his opponent by 22 points. [Franklin & Marshall]
-Jenna Johnson summarizes Maryland's declining primary voter turnout in four graphs. [WashPost]
-Many Californians are worried about income inequality. [HuffPost]
-2014 is the last year in which white students comprised a majority of the nation's K-12 public school population. [National Journal]
-Can you outsmart an algorithm at predicting which tweets will be more popular? [NYT]