Exactly one year ago, on July 3, 2013, Egypt's military leaders removed Mohamed Morsi, the country's first democratically elected president, from office.
Morsi's fall from power came after days of massive protests in which hundreds of thousands of Egyptians demanded the leader's ouster.
While supporters of Morsi and the Muslim Brotherhood denounced his removal as a military coup, many protesters initially celebrated in the streets and hailed the military for its intervention.
The photos below will transport you back to those tense days.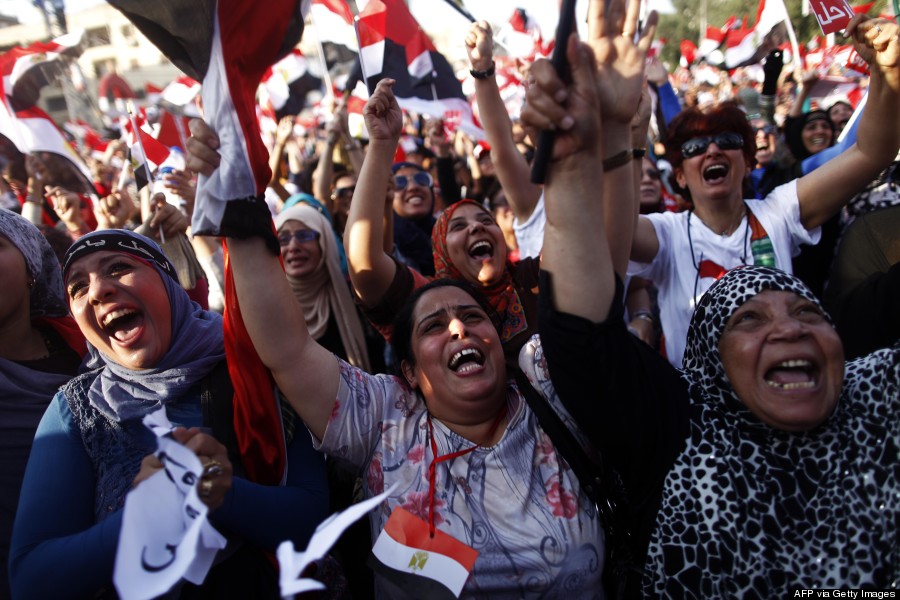 Egyptian women shout slogans against President Mohamed Morsi as they join hundreds of thousands demonstrating against the Islamist President and the Muslim Brotherhood outside the Egyptian presidential palace on July 3, 2013 in Cairo, Egypt. (MAHMOUD KHALED/AFP/Getty Images)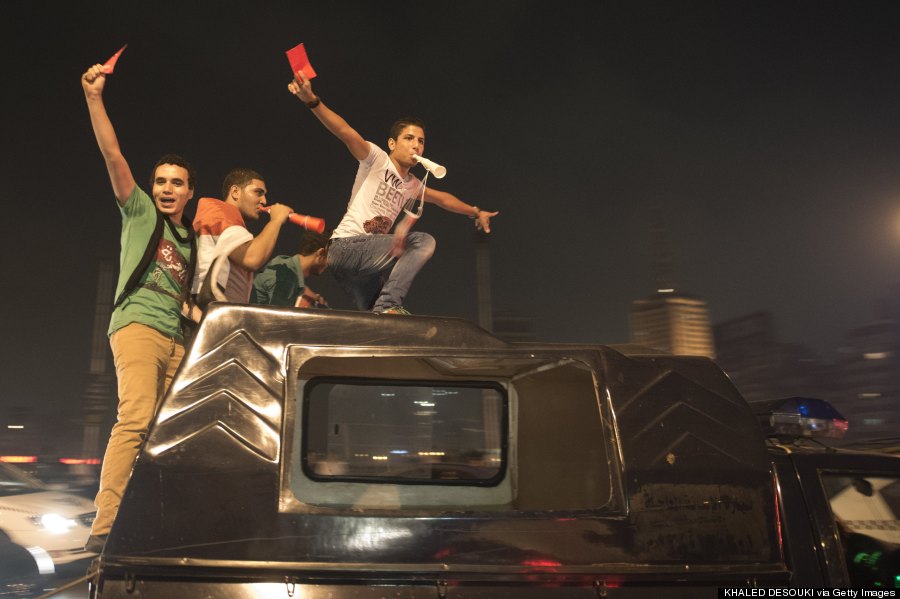 Egyptian youths on a police vehicle celebrate in Cairo on July 3, 2013 after a broadcast confirming that the army will temporarily be taking over from the country's first democratically elected president Mohamed Morsi. (KHALED DESOUKI/AFP/Getty Images)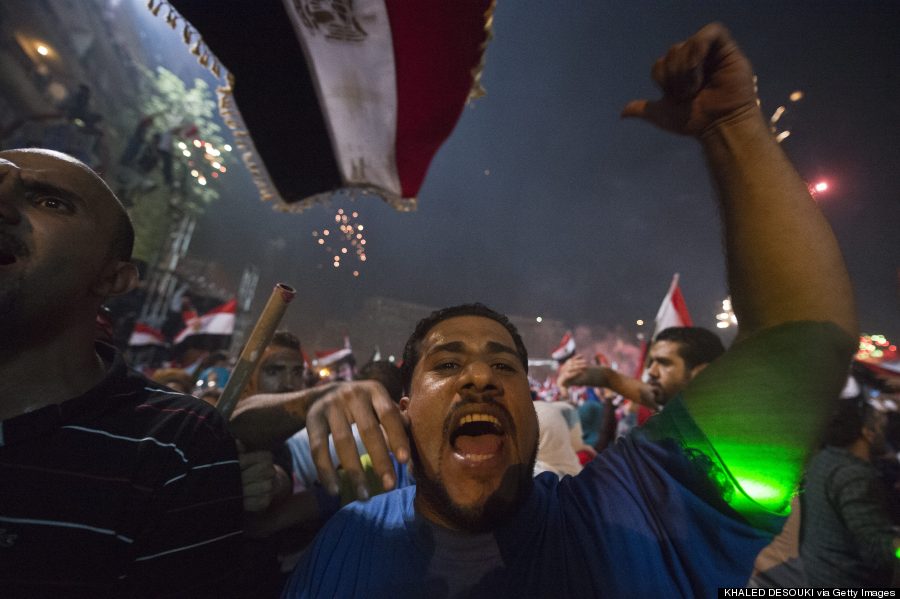 People celebrate at Tahrir Square after a broadcast confirming that the army will temporarily be taking over from the country's first democratically elected president Mohamed Morsi on July 3, 2013 in Cairo. (KHALED DESOUKI/AFP/Getty Images) Opponents of Egypt's Islamist President Mohamed Morsi shout slogans and wave a national flags in Tahrir Square in Cairo on July 3, 2013. (AP Photo/Amr Nabil) An opponent of Egypt's Islamist President Mohamed Morsi chants slogans during a protest outside the presidential palace, in Cairo, Egypt on July 3, 2013. (AP Photo/Khalil Hamra) Opponents of Egypt's Islamist leader Mohamed Morsi celebrate outside the presidential palace in Cairo, Egypt on July 3, 2013. (AP Photo/Hassan Ammar)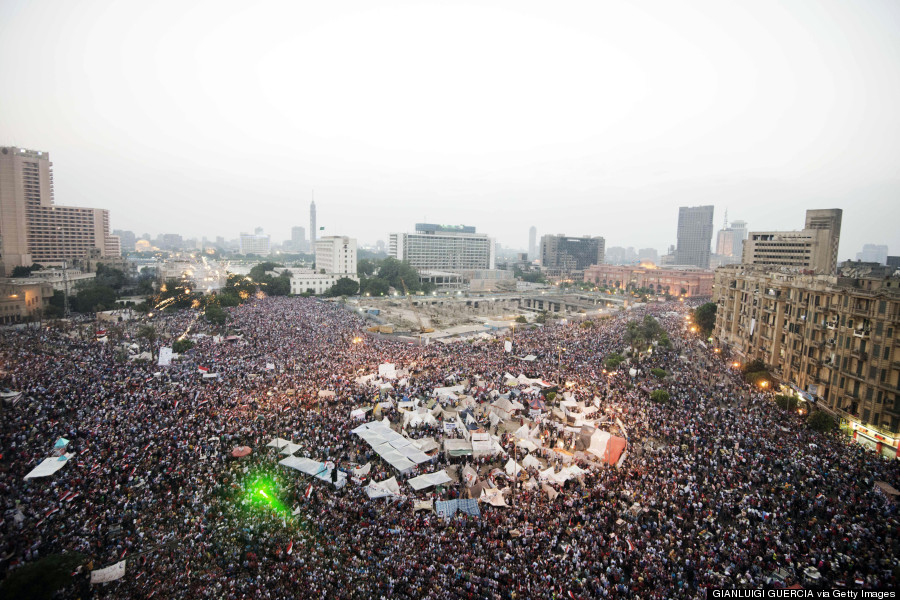 Egyptian protesters calling for the ouster of President Mohamed Morsi gather in Cairo's landmark Tahrir Square on July 3, 2013.(GIANLUIGI GUERCIA/AFP/Getty Images) Fireworks light the sky as opponents of Egypt's President Mohamed Morsi celebrate outside the presidential palace in Cairo, Egypt on July 3, 2013. (AP Photo/Khalil Hamra)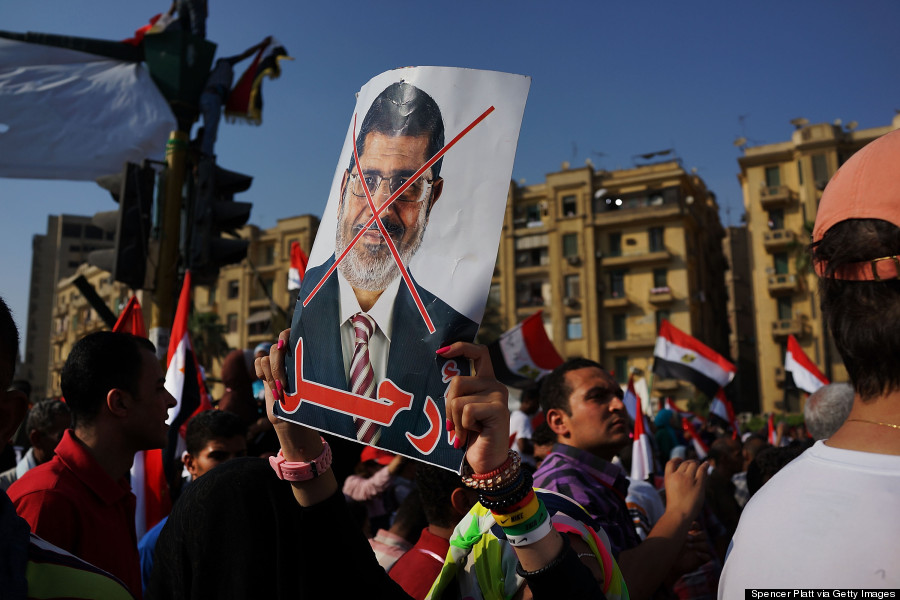 An anti-President Mohamed Morsi poster is viewed as thousands of Egyptian protesters celebrate in Tahrir Square as the deadline given by the military to the president passes on July 3, 2013 in Cairo, Egypt. (Spencer Platt/Getty Images) Opponents of Egypt's President Mohamed Morsi shout slogans and wave a national flag in Tahrir Square in Cairo, Egypt on July 3, 2013. (AP Photo/Amr Nabil)