 "I'm the best eater in the world."
Nobody has been able to argue with Joey "Jaws" Chestnut's famous line since 2007, when he gut-checked Takeru Kobayashi at the Nathan's Hot Dog Eating Contest and set the stomach-churning bar at 66 hot dogs and buns in 12 minutes. Chestnut hasn't lost since, and last year he raised the world record to 69 HDBs in just 10 minutes.
So it's no surprise that he wolfed 61 franks today and beat his only real competition on the big stage at Coney Island, Matt Stonie. The second-placer was neck and neck with the champ the entire time, and pummeled a formidable 58 HDBs, but let's be honest, he never stood a chance. So it was written, and so it was told. Chestnut, 30, was the favorite to take the Nathan's Mustard Belt all along.
He's won an unprecedented eight straight titles.
With Chestnut and Stonie going chew-for-chew and dog-for-dog down to the final minute of the competition, either eater could have won. With rain pouring down on Coney Island, the crowd of 30,000 started chanting "U.S.A., U.S.A." as the San Jose eating legend closed the deal.
The competition has become almost an afterthought to the all-American, 210-pound HDB goliath. The biggest surprise in Coney Island today wasn't Chestnut's stomach. It was his appetite for marriage. He proposed to his girlfriend of three years, Neslie Ricasa, on the big stage -- and she said yes!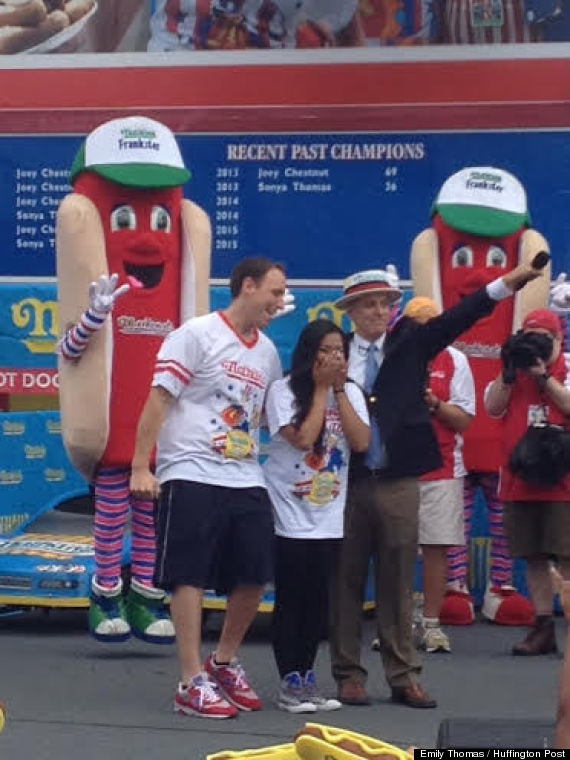 Earlier this week, Chestnut told HuffPost Live that he was even surprised that he has such a great companion to support his gustatory madness.
"I do a lot better than I should," he said with a smile. And she pushes him to do better. "She likes winner."
WATCH: JOEY TALKS ABOUT THE DAY AFTER
RELATED: This Is How You Eat 69 Dogs In Ten Minutes
There was only one upset during the Super Bowl of Super Food -- and that was Miki Sudo's upset of Sonya Thomas' three-year reign over the women's hot dog eating championship. Sudo ate 34 dogs -- 11 fewer than the women's world record -- in just 10 minutes.
The contest, organized by Major League Eating, attracts huge crowds to Nathan's iconic frankfurter stand near the Coney Island boardwalk. This was the 98th annual Nathan's Famous Fourth of July International Hot Dog Eating Contest.
Like Us On Facebook |

Follow Us On Twitter |

Contact The Author
BEFORE YOU GO
PHOTO GALLERY
Joey Chestnut On HuffPost Live