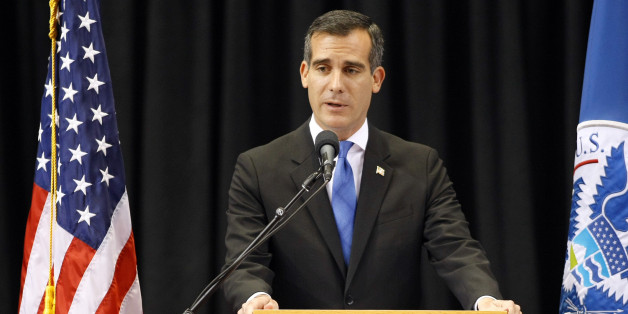 WASHINGTON -- Los Angeles Mayor Eric Garcetti dealt another blow on Monday to the Obama administration's deportation programs, saying city police will no longer hold people at the request of U.S. Immigration and Customs Enforcement without judicial review.
"The federal government must enforce minor federal immigration violations, not force the responsibility onto local police departments with stretched budgets," Garcetti, a Democrat, said in a statement. "This issue is also about the federal government passing the buck and the cost onto the shoulders of local government. ... I want us focused on gang crime, getting drugs off the street and stopping gun violence. So on behalf of our taxpayers, we're saying 'no more.'"
ICE frequently issues requests, called detainers, to local law enforcers, asking them to hold people who may eventually be deported. The practice has become more routine under the federal Secure Communities program, which allows ICE to screen fingerprints taken by local police to detect people in the U.S. without authorization. Immigration officials then ask local law enforcement to hold the person for 48 business hours, excluding weekends, so they can be picked up by federal agents.
But increasingly, local officials are saying no. They argue that they have enough to do without holding people who they'd otherwise release and that cooperating with ICE may cause local communities to see them as immigration agents rather than protectors. Many local officials are choosing to ignore detainer requests and are holding people only as long as they need to for law enforcement purposes.
Los Angeles will require a warrant or judicial determination of probable cause in order to comply with an ICE detainer request, CBS Los Angeles reported.
Part of the reason is cost. A 2012 report from Justice Strategies, a nonprofit research organization, estimated that Los Angeles County spent more than $26 million per year to hold people for ICE who would otherwise be released.
Los Angeles Police Chief Charlie Beck announced in October that the department would not comply with ICE detainer requests "without first reviewing the seriousness of the offense for which the person is being held, as well as their prior arrest history and gang involvement."
California recently enacted the Trust Act, which instructs law enforcement to hold immigrants for federal officials only under specific circumstances. Since that law went into effect at the beginning of the year, The Associated Press found that fewer people were being turned over to immigration agents.
Garcetti alluded in his statement to the need for local officials to lead on immigration as Congress makes no progress on reform.
"As mayor, I am committed to ensuring Los Angeles continues to be a place of opportunity, and a place where our local government can do our job to the best of our ability," Garcetti said. "Washington may be stalling when it comes to immigration reform, but it is within our power here in L.A. to make a real, on the ground difference in the lives of our residents."
BEFORE YOU GO
PHOTO GALLERY
Why Latin Americans Really Come To The U.S.