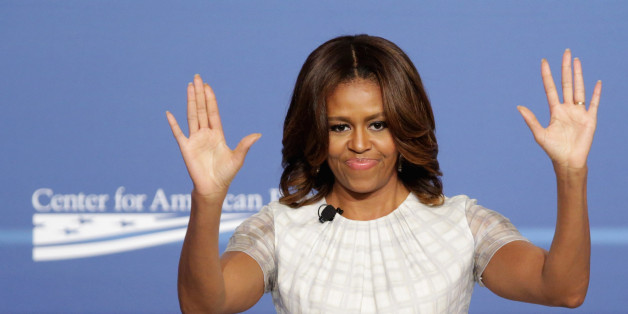 Andy Kohut explains why Michelle Obama's popularity continues to soar above her husband's. Most Americans continue to align with one of the two parties. And forget castrating hogs -- here's an Iowa candidate who weighted data. This is HuffPollster for Monday, July 7, 2014.
MICHELLE OBAMA STAYED POPULAR EVEN AS HER HUSBAND'S RATINGS FELL - Andrew Kohut: "Michelle Obama is a popular first lady. On average, her favorable ratings have been higher than those of her predecessors, Laura Bush and Hillary Clinton. This may well reflect the fact that more so than other first ladies, Mrs. Obama has a stand-alone personal image. Unlike other recent first ladies, her popularity has not fallen or risen with her husband's. How popular is Michelle? A steady two-thirds of the public has held a favorable view of Mrs. Obama, according to nationwide Gallup poll and Pew Research Center surveys, for most of her time as first lady….In-depth polling about perceptions of her by The Washington Post/Kaiser Family Foundation suggests that broad segments of the public hold positive views of Michelle's personal qualities that transcend partisanship, gender and race. Supermajorities of men and women, blacks and whites, Republicans and Democrats alike see Michelle as intelligent, a good role model for women and a good mother….In short, more so than other recent first ladies, the public views Michelle Obama as her own person, and her image has not been tied closely to swings in judgments about her husband." [Politico]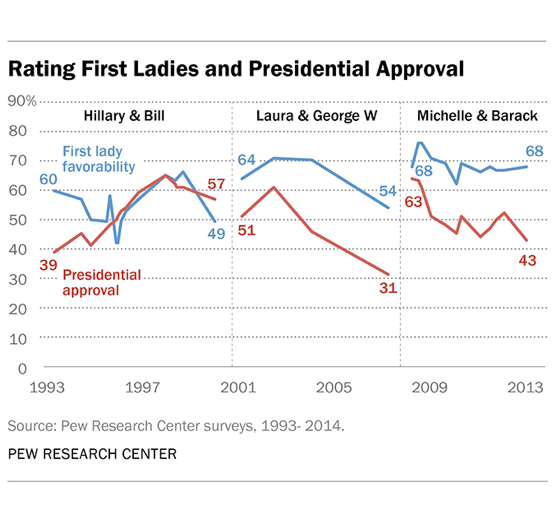 MOST AMERICANS STILL ALIGN WITH DEMOCRATS OR REPUBLICANS - Jennifer Agiesta: "Whether it's the Republicans or the Democrats, America's political parties are far from beloved. Yet most people continue to align with one or the other. Those who claim allegiance to the parties say they are driven by a mix of inertia, preference for one side's policies over the other and feeling that one can depart from the party line when necessary, according to an Associated Press-GfK poll. Despite heated politics, few say they prefer one party out of dislike for the other. But affiliation doesn't always equal admiration: One-quarter of Republicans and 13 percent of Democrats say they dislike their own party….Around 6 in 10 Americans say they identify with one of the nation's two major parties. That figure rises to nearly 8 in 10 when those who say they lean toward either party are included." [AP]
WHAT WOULD JESUS DO...ON GLOBAL WARMING AND HEALTH CARE? - Rachel Lienesch: "Jesus would have some pretty strong opinions about the biggest political issues being discussed in America today, according to the respondents of a new HuffPost/YouGov poll. Americans were most likely to think Jesus would weigh in on the issues of health care, carbon emissions, and abortion according to respondents. Fifty-five percent of adults said Jesus would be supportive of universal health care, compared to 19 percent who said he would oppose it. Fifty-two percent said Jesus would support reducing carbon emissions, while 13 percent said he would be in opposition. By a 52 percent to 20 percent margin, respondents also said Jesus would oppose legalized abortions." [HuffPost]
YES, 1 IN 20 POLLS IS 'WRONG', BUT... - Lynn Vavreck: "In the aftermath of Eric Cantor's loss and Thad Cochran's narrow runoff victory, you might be tempted to conclude that political polling is losing its utility. It isn't....Saying that 1 out of 20 polls is 'wrong,' and therefore polls cannot predict elections conflates the chance that comes from drawing a sample of voters with what happened in Mr. Cantor's poll — drawing the sample from the wrong set of people...Sure, the science behind polling tells us that 1 in 20 polls will 'miss the mark,' but that same science also tells us that the chances of missing by nearly 20 points in a survey of this size are 27,000 times less likely than winning the Powerball Lottery jackpot. Since Mr. Cantor's true level of support is 44.5 percent, it is terrifically unlikely that the survey estimate of 62 percent would be the result of the sheer chance associated with polling. Five percent of polls may be 'off,' but that doesn't mean the numbers are divorced from reality or randomly generated." [NYTimes]
HUFFPOLLSTER VIA EMAIL! - You can receive this daily update every weekday via email! Just click here, enter your email address, and and click "sign up." That's all there is to it (and you can unsubscribe anytime).
MONDAY'S 'OUTLIERS' - Links to the best of news at the intersection of polling, politics and political data:
-Aaron Blake notes that most political "bystanders" would likely lean Democratic -- if they voted. [WashPost]
-Micah Roberts finds continuing unpopularity for the ACA. [POS]
-Josh Katz charts how much a lead in the polls matters toward likelihood of winning as Election Day nears. [NYT]
-John Couvillon (R) says the greater Republican than Democratic enthusiasm in primary election turnouts bodes well for Republicans in 2014. [JMC via @jpodhoretz]
-John Sides reviews research finding that moderates are less likely to run for Congress. [WashPost]
-Brendan Nyhan explains why some people are not willing to endorse scientific consensus when it contradicts their political or religious views. [NYT]
-Market researcher Monica Vernon is Iowa's Democratic nominee for Lt. Governor. [MRA]