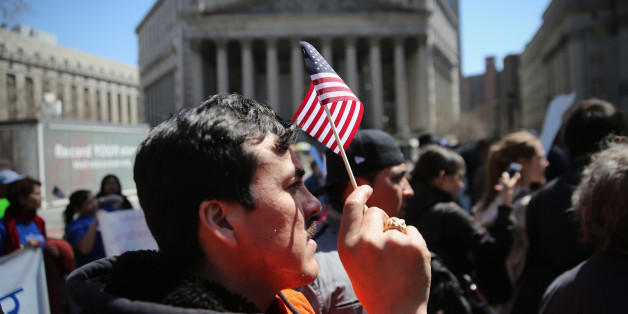 New York City Mayor Bill de Blasio (D) is urging urban areas across the nation to issue municipal identification cards for undocumented immigrants, to help prod the federal government into enacting substantial immigration reform.
"It's clear that the Republicans in the House aren't willing to move on this," de Blasio said Tuesday at an event hosted by the League of United Latin American Citizens. "If cities do it all across the country, it's a way of saying, 'The train is leaving, the time is now!' Show them what fairness and equality looks like! Do it yourself!"
By creating identification card programs on the local level, the country's largest cities have the power to eventually force a recalcitrant Congress to act accordingly, the mayor said.
De Blasio's call comes after New York City approved a new program for such cards, which allow all residents regardless of citizenship to easily prove their identity, thereby gaining access to basic local government programs and various financial services.
"It is a sound policy, and it is a humane policy," New York City Council Speaker Melissa Mark-Viverito said in June. "This legislation sends a simple and clear message, that we are a city that believes in including everyone."
In addition to municipal cards, New York City approved the expansion of an initiative that provides legal aid to foreign-born residents facing deportation.
At the convention Tuesday evening, de Blasio also expressed his support for President Barack Obama's decision to act on the child immigration crisis engulfing the U.S.-Mexican border, with or without the backing of Congress. Reports estimate an unprecedented 70,500 unaccompanied children will cross the border by the end of 2014.
In light of Republican inaction, de Blasio told the crowd, "the president is absolutely right to find any executive way he can to move on immigration reform now."
Obama recently requested $3.7 billion in emergency spending for the child immigration crisis, with nearly half earmarked for the care of unaccompanied children who come into the care of the Department of Health and Human Services. He is traveling to Texas today to discuss the crisis with (R) Gov. Rick Perry.
Immigration advocates have commended de Blasio for emphasizing the importance of issuing identification cards for undocumented immigrations. Steven Choi of the New York Immigration Coalition said the program will also spur economic activity for the city.
"The multiplier effect of the municipal ID is going to be huge because of the financial empowerment aspect," Choi said. "People who don't have IDs or a bank account can't participate in the financial system."