Have you ever wondered how Ptolemy pictured the globe in the first century AD? Or how architects mapped out the ground plan for the 1904 World Fair? Or what a visual history of Ireland circa 1936 would look like?
Thanks to the Digital Public Library of America, we're able to dig into the archives online and peruse the impressively detailed remnants of historical cartography. And, among many other things, answer these definitively nerdy questions.
Behold:
Celestial Atlas, 1822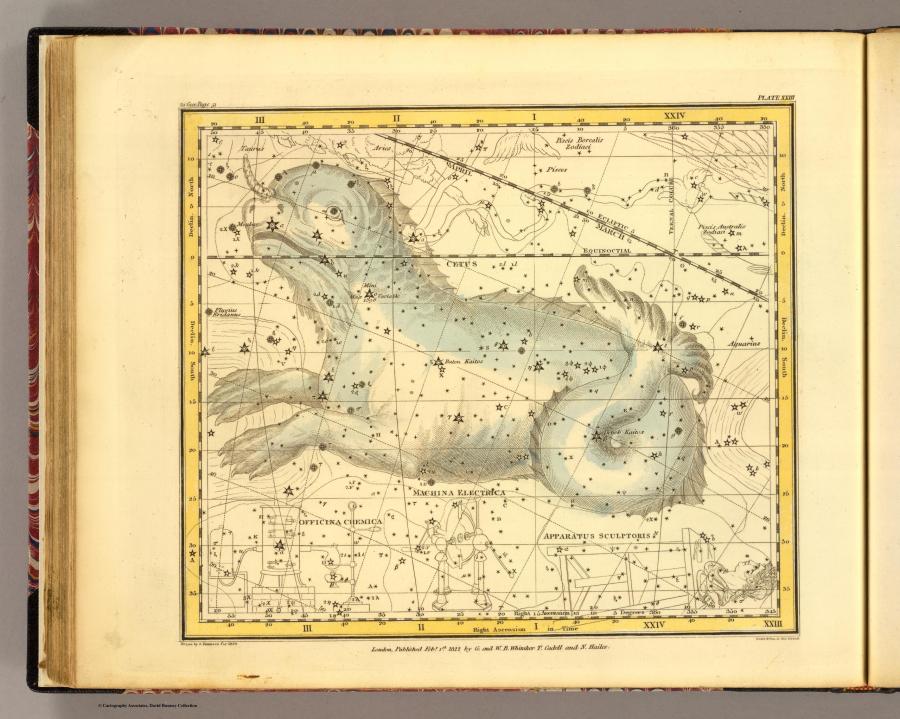 "A celestial atlas comprising a systematic display of the heavens in a series of thirty maps. Illustrated by scientific descriptions of their contents, and accompanied by catalogues of the stars and astronomical exercises, by Alexander Jamieson." (Enlarged version here)
A Chronological Picture Of Nations, 1836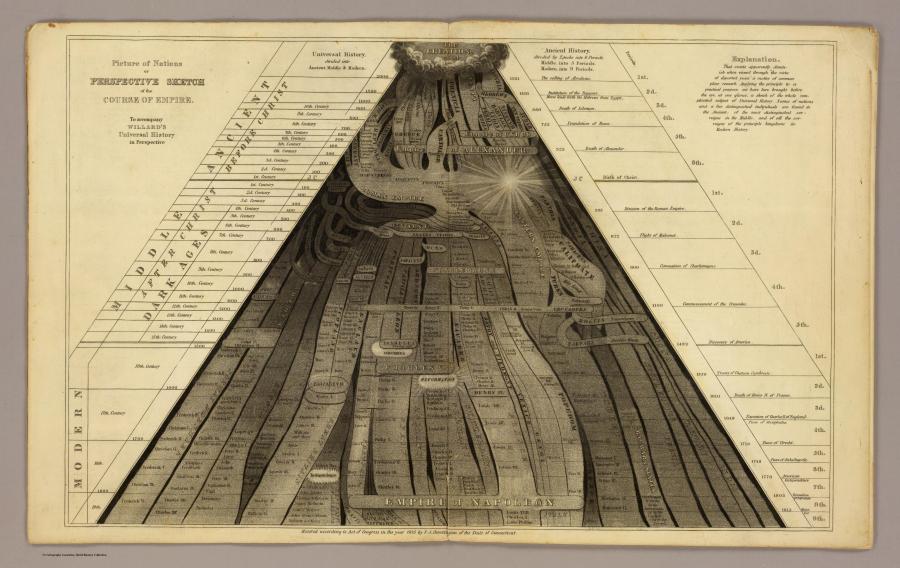 "Atlas to accompany a System of universal history; containing a chronological picture of nations, or a perspective sketch of the course of an empire. Also, the progressive geography of the World, in a series of maps, adapted to the different epochs of the history. By Emma Willard, Principal of Troy Female Seminary, and author of other geographical and historical works." (Enlarged version here)
Stream Of Time, Or Chart Of Universal History, 1842
"Stream of Time maps were popular in the second half of the 19th century (see the 1858 Tableau De L'Histoire Universelle by Eugene Pick) and later, but this map or diagram by J.H. Colton is an early example, at least in the United States. The period covered starts with the Creation in 4004 BC and extends down to 1842. The bottom of the map has an explanation which states that 'Each Nation is represented by a stream which is broken in upon or flows on undisturbed as it is influenced by the accession of Territory or the remaining at Peace.'" (Enlarged version here)
Orbits Of The Planets, 1850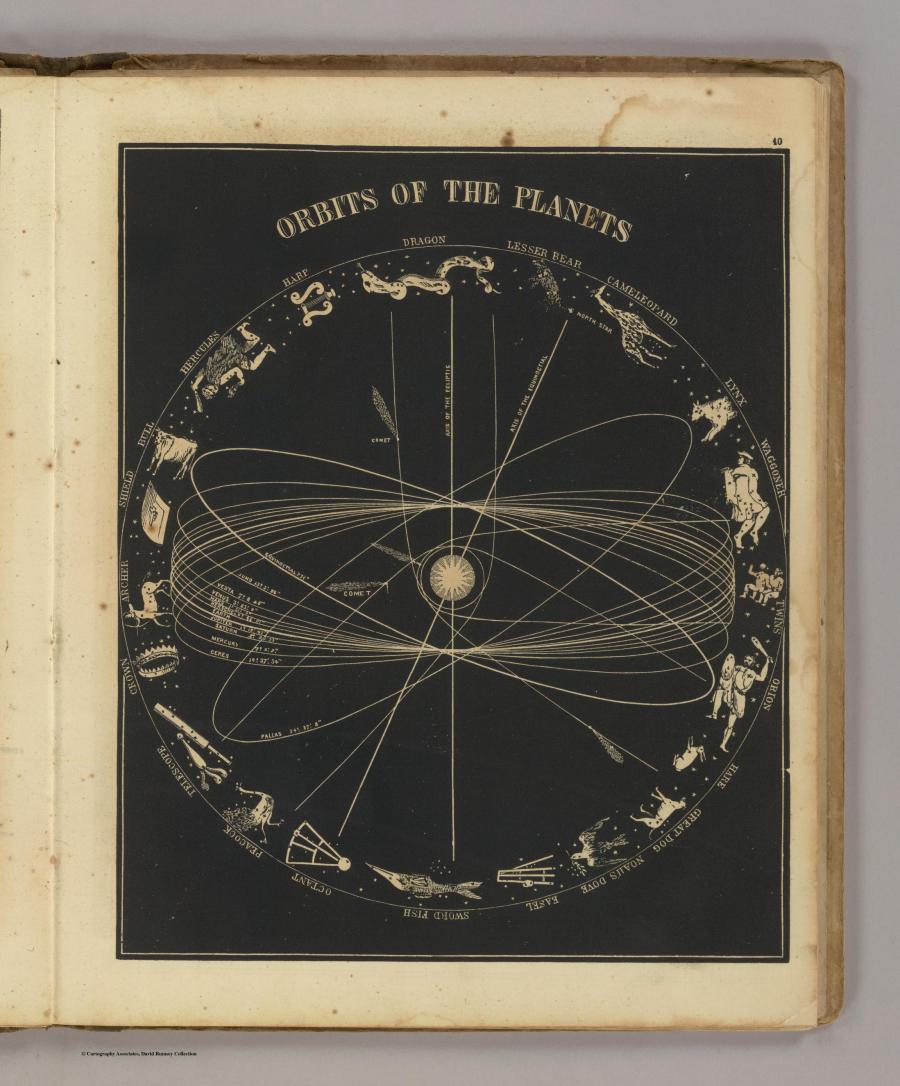 "An illustrated astronomy, designed for the use of the public or common schools in the United States. Illustrated with numerous original diagrams. By Asa Smith, Principal of Public School No. 12, City of New York." (Enlarged version here)
Synchronological Chart Of Universal History, 1881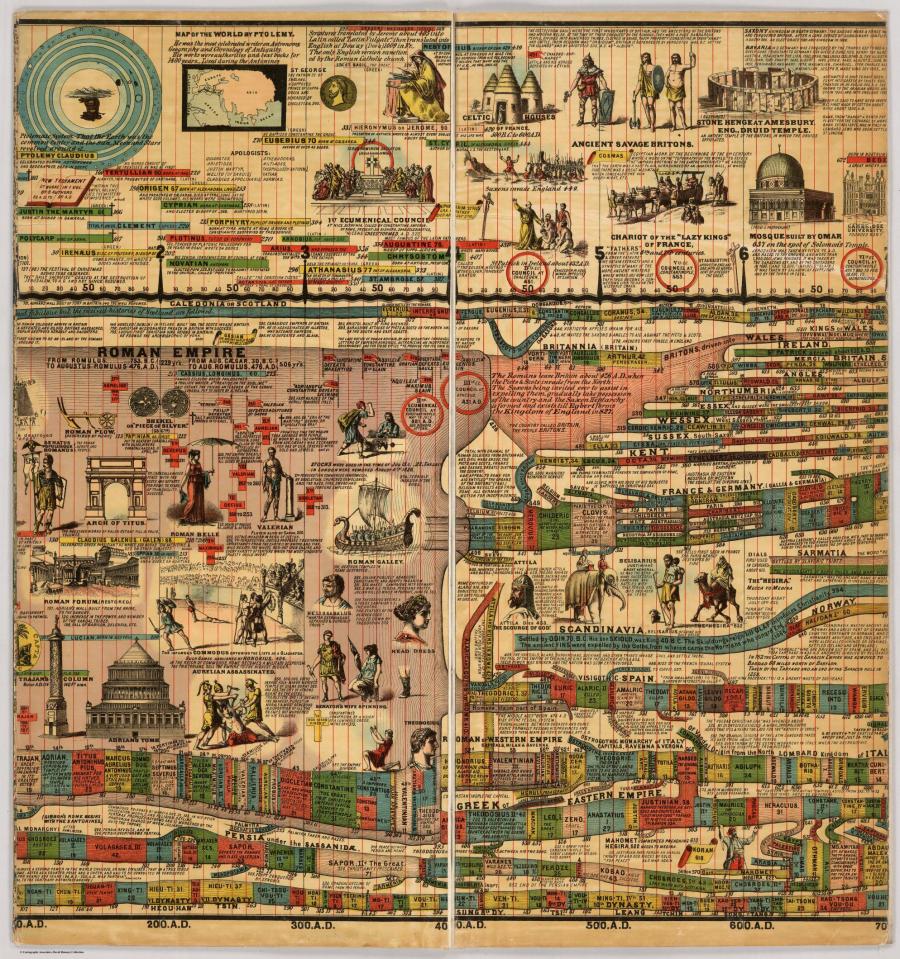 "A huge and impressive twenty three-foot long chart showing 5,885 years of history, from 4004 B.C. to 1881 A.D. First issued in 1871, creator Sebastian C. Adams put out several editions in many formats. Rosenberg and Grafton in "Cartographies of Time" say that as a timeline, Adams Synchronological Chart "was nineteenth-century America's surpassing achievement in complexity and synthetic power." (Enlarged version here)
Hemispherical Celestial Chart, 1886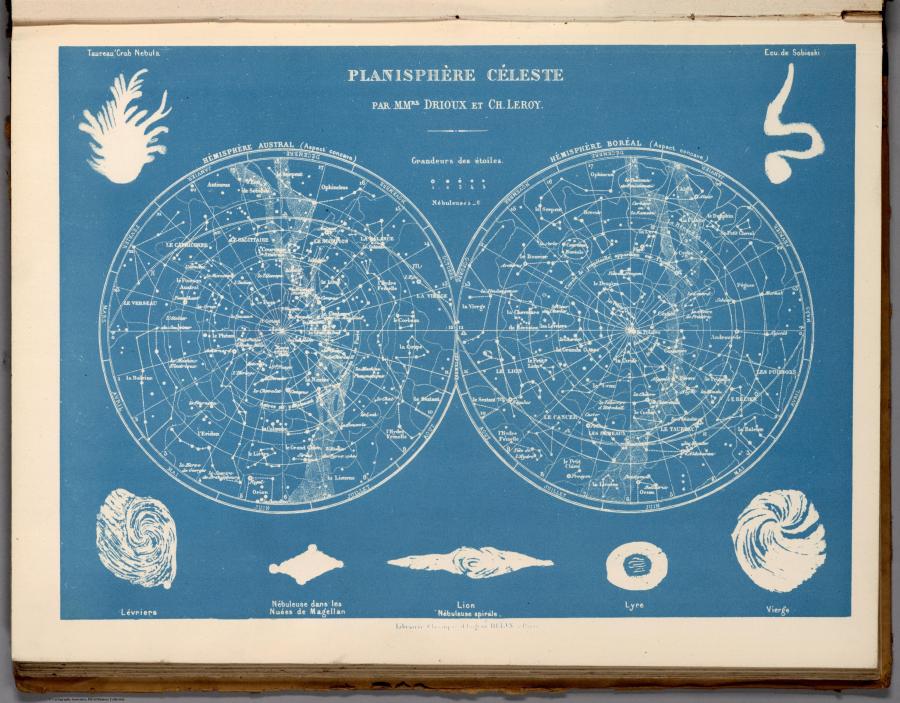 "Northern and southern sky hemispherical celestial chart with seven constellation signs. An amazing mix of political, physical, and historical maps. The physical maps are very sophisticated, showing economic information as well. Maps are printed and hand painted in full color and bound in quarter leather tan paper covered boards with the title from the title page printed on the front cover." (Enlarged version here)
Statistical Charts, 1897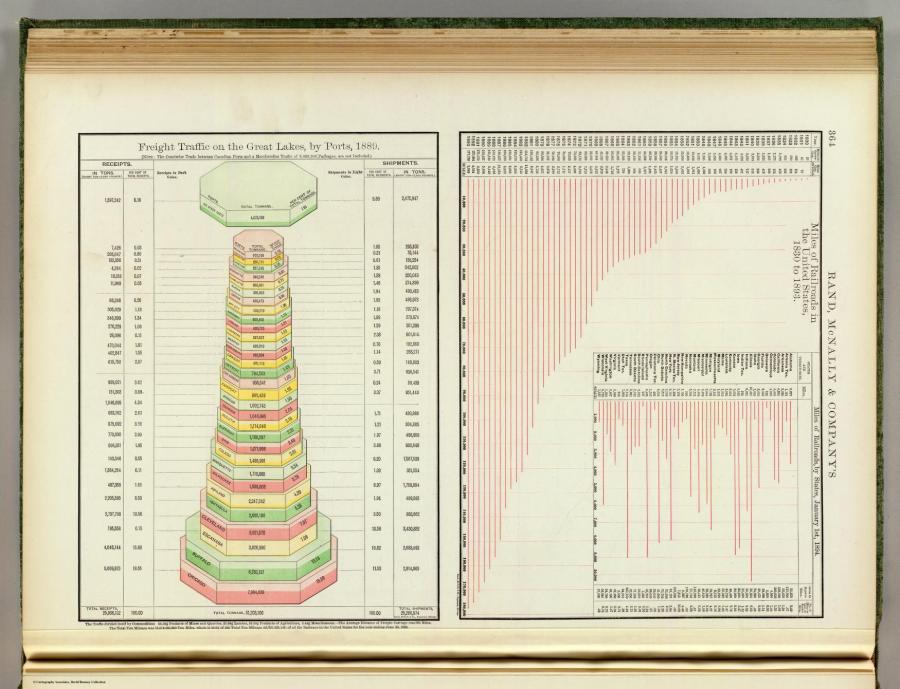 "This was Rand McNally's highwater mark for its 19th century atlases. No obvious changes from the 1896 edition. Similar to the 1897 Standard Atlas of the World. Vol 1 - Foreign Countries, Vol 2 - United States. Map in full printed color. Atlas is bound in green cloth covers with 'The Rand-McNally indexed atlas of the world . Foreign countries' and '... United States' stamped in gilt on Volumes 1 and 2, respectively." (Enlarged version here)
Ground Plan Of The Louisiana Purchase Exposition At The 1904 St. Louis World Fair, 1904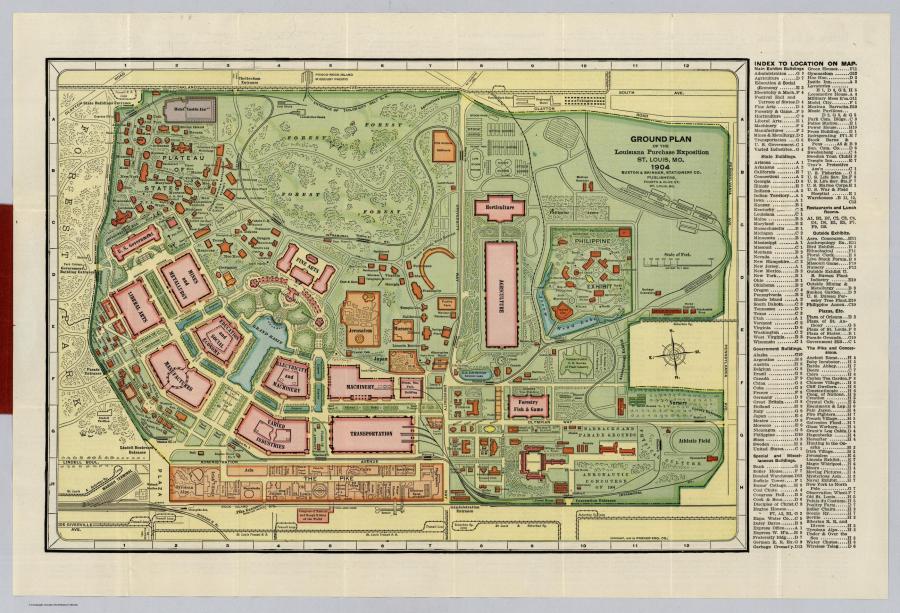 "The map shows the exposition grounds in printed color, and the text on the verso gives some interesting facts: at 1240 areas, this was the largest world fair to date; exhibits included 'cane used by Benjamin Franklin, Battle Monument, Baltimore, in canned goods, Statue of Miss Louisiana in sugar, Wireless telephone station in operation, and Fanatic desert tribes of Morocco,' plus of course many others totaling 'twelve thousand carloads of exhibits.'" (Enlarged version here)
Day And Night, 1906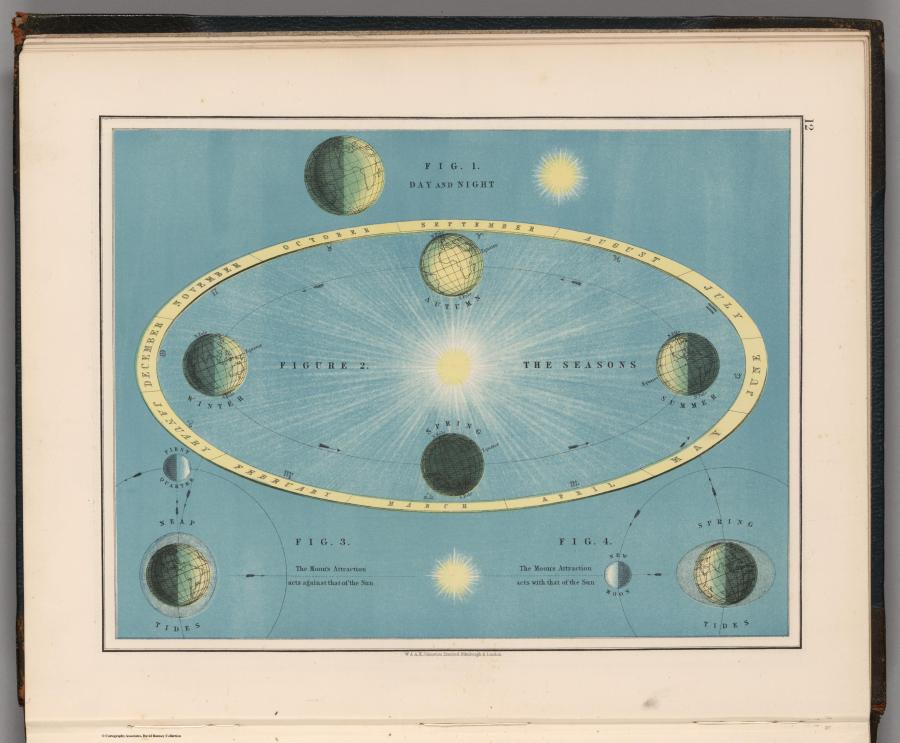 "From the 'Victoria Regina Atlas, Political, Physical & Astronomical. Containing Two Hundred Plates and Complete Index' (1906). First edition was in 1897. Relief shown by hachures." (Enlarged version here)
Shipping Routes Across The Arabian Sea, 1922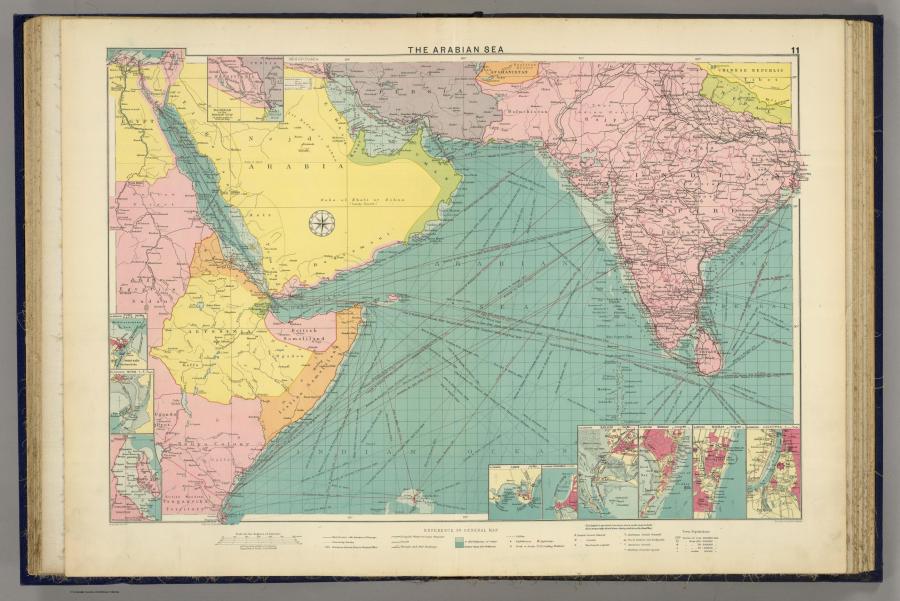 "Color lithographed map. Inset maps at 1:100,000 scale: Port Said--Suez--Colombo--Karachi--Bombay--Madras--Calcutta. Includes also 1:500,000 map of 'Aden,' Zanzibar at 1:2,000,000 and Baghdad to Persian Gulf at 1:10,000,000. Depths shown by layer tints. Shows mail routes and duration, steamship routes, distances, navigable waters for large steamers, canals, principal railways, cables, lighthouses, lightships, docks, coaling stations, British and American consular offices, naval stations, dockyards, etc." (Enlarged version here)
Atlas Of The Historical Geography Of The United States, 1932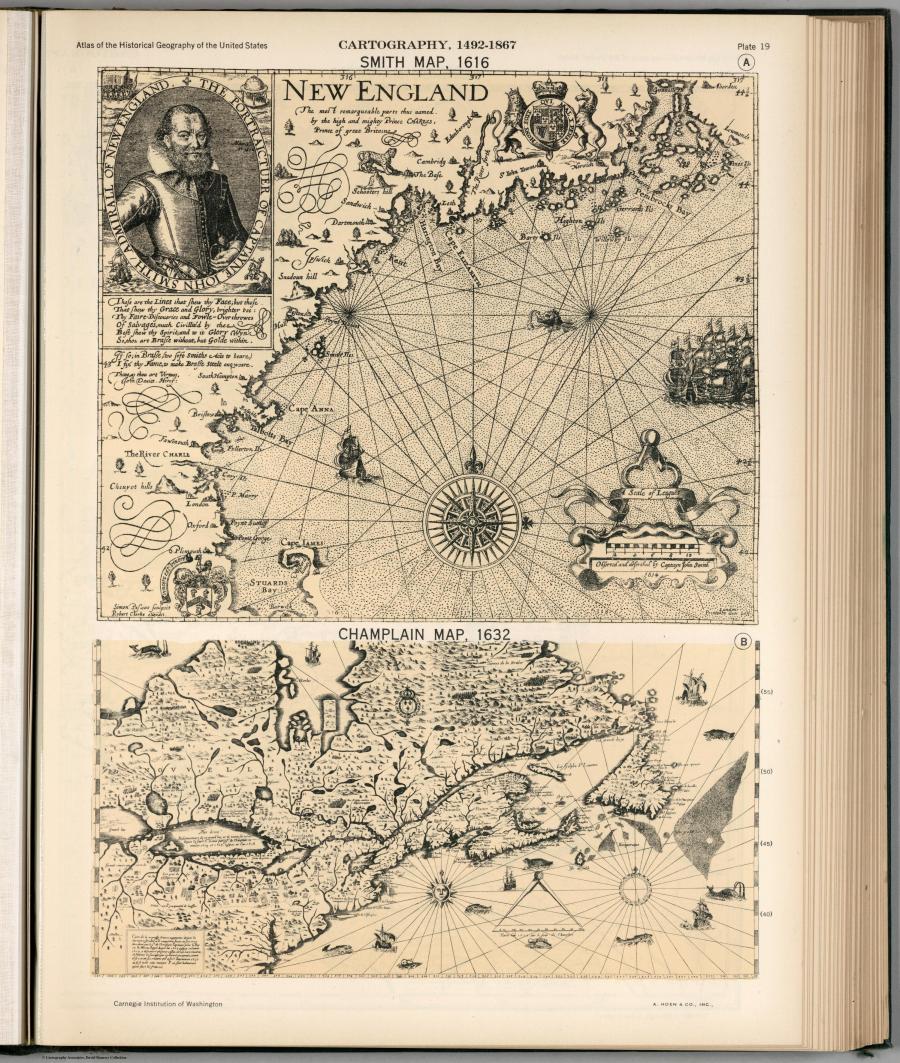 "This is one of the best historical atlases published in the early 20th century. It combines history and geography, facsimile historical maps and new historical maps, and incorporates time and statistics in imaginative map visualizations. The text and maps are based upon information supplied by prominent authorities on the various subjects." (Enlarged version here)
Story Map Of Ireland, 1936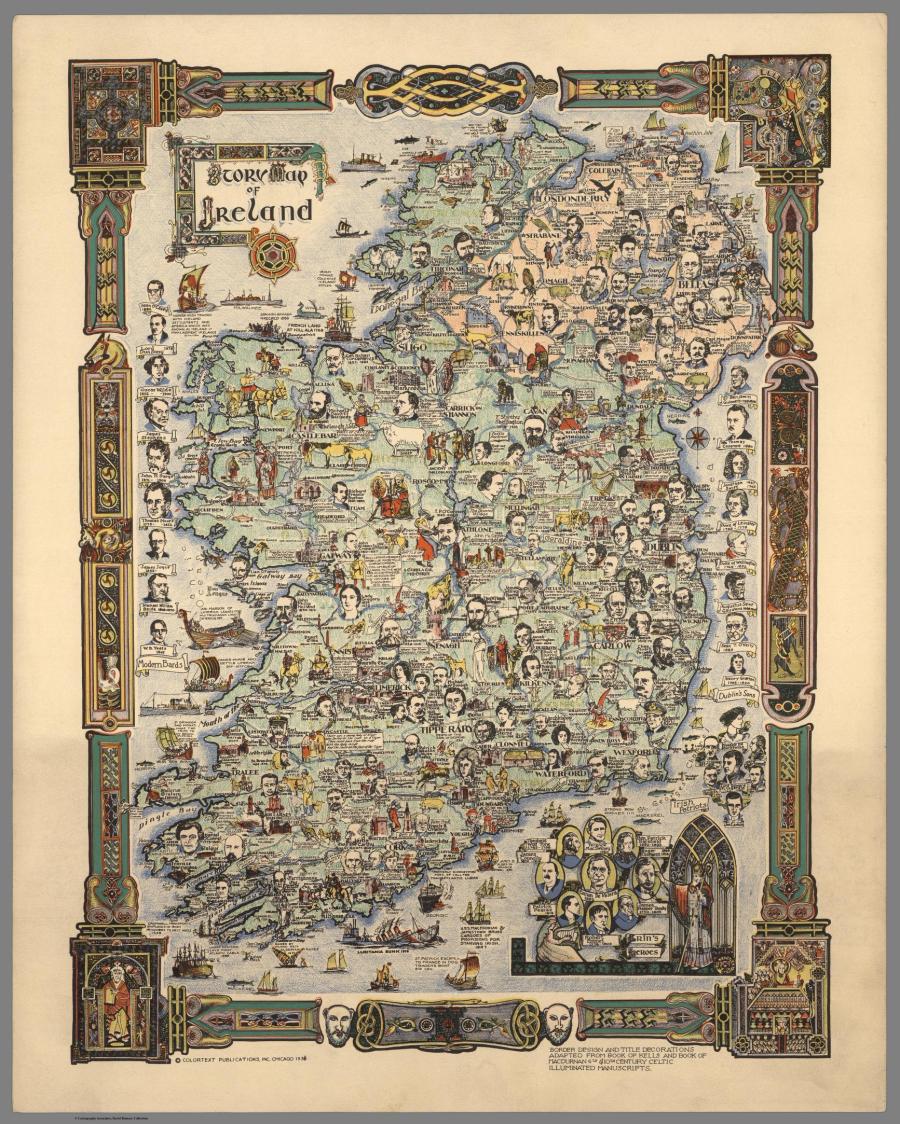 "Colorful map of Ireland featuring portrait illustrations of historical figures and writers, buildings, literary figures, landscape features, ships and boats, animals, etc.. Border Design and Title Decorations Adapted from Book of Kells and Book of MacDurnan 6th & 10th Century Celtic Illuminated Manuscripts."
Recreational Map Of New Mexico, 1946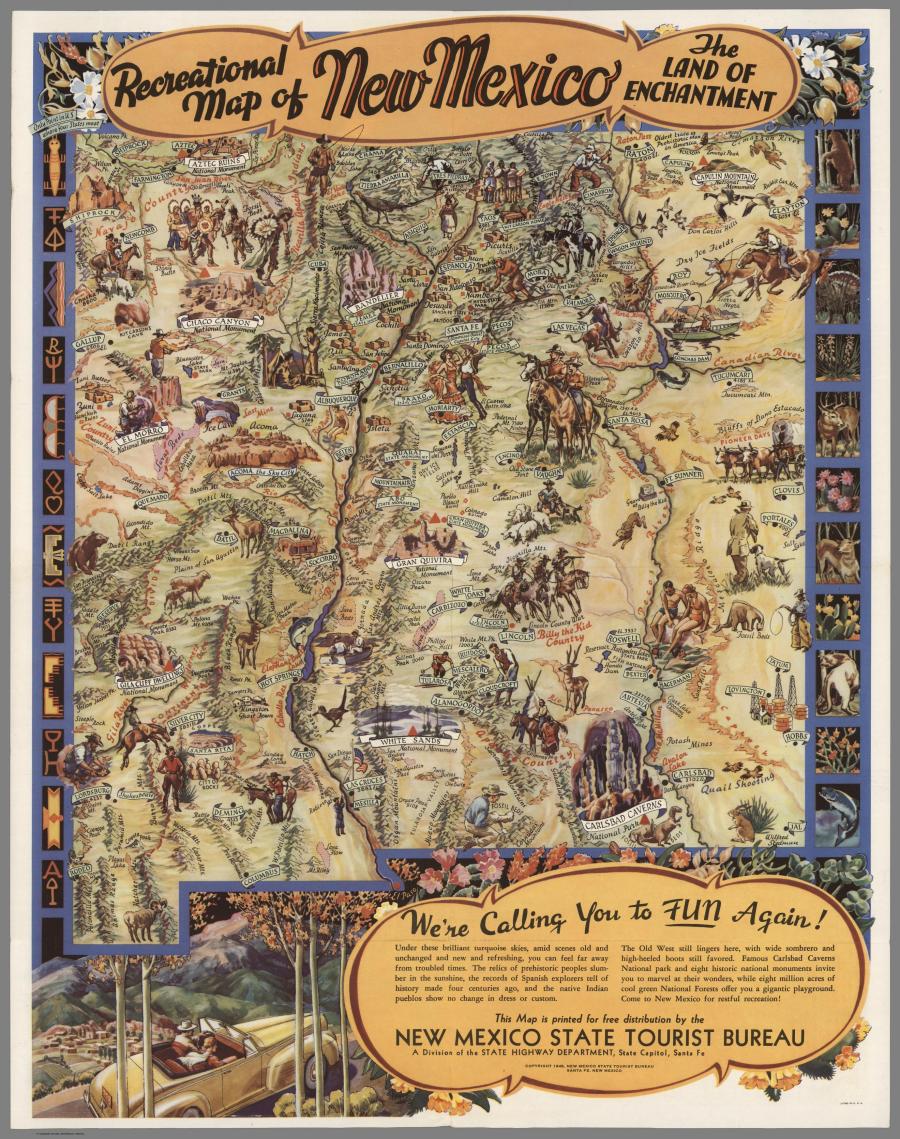 "Printed and distributed by the New Mexico State Tourist Bureau a division of the State Highway Department, State Capitol, Santa Fe. Full color pictorial map by the illustrator Wilfred Stedman, folded to 22 x 10. Relief shown by spot heights and pictorially. On verso: descriptive tourist information: Parks and monuments, Highways, Climate, Sports, Indians, Mountains, The old West." (Enlarged version here)
London Underground Diagram, 1947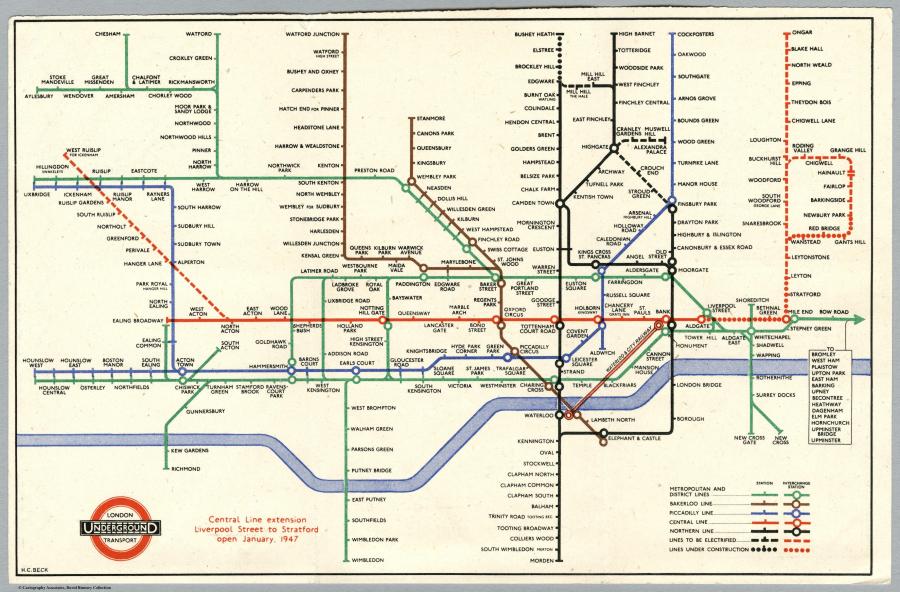 "Diagramatic subway system map of London. Two full color maps printed on both sides, folded into self wrapped cover, 15x8, showing logotype and diagram of lines." (Enlarged version here)
For more on all things DPLA, check out their Reddit postings here.
CORRECTION: A previous headline incorrectly described these maps as originating in the 18th and 19th century. They, as the captions and article note, are from the 19th and 20th century. We regret the error.
BEFORE YOU GO
PHOTO GALLERY
Scientist-Inspired Typography