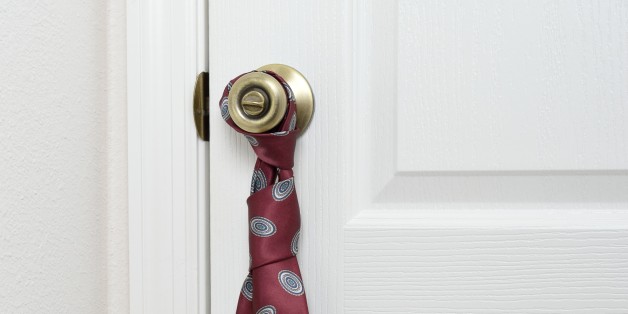 Imagine this scenario: You finish washing the dishes after an hour of feeding the baby. When your head finally hits the pillow, your partner turns over and starts kissing you, but either a) you fall sleep or b) you are interrupted by the toddler who snuck his way into your bed.
Perhaps you don't have to imagine. Maybe that happened last night.
Parents magazine along with Quester, a Des Moines-based research company, surveyed more than 200 moms to find out how often the above situation plays out. Hint: a lot. Their survey revealed that only 60 percent of moms feel satisfied with their sex life, which isn't good, considering 91 percent of those moms were satisfied at one point: before kids.
Although 58 percent of mothers said their sex drives decreased after kids, even more of them -- 61 percent --want to have sex more. The question is, how? Parents mag interviewed a slew of experts to help answer that.
Just go for it
Moms surveyed revealed that, by the end of the day, they feel checked out, but also feel "touched out." While completely understandable, doctors still advise to push through. Research has shown that although you won't feel turned on at first, you'll become aroused once things get going. Your body will also release the bonding hormone oxytocin.
"For millions of women, stages one and two are actually reversed: You have to be physically aroused before your brain registers desire," Michele Weiner-Davis, author of The Sex-Starved Marriage: Boosting Your Marriage Libido: A Couples' Guide, told Parents magazine.
Get away if you have to
The survey revealed that 65 percent of moms feel their biggest sex challenge came down to privacy. Yes, the whole sneaking-into-the-bed thing kids love to do takes part of the blame. Even if they don't barge in on a nightly basis (lucky you), it isn't always easy to disassociate yourself from the home. Sex Therapist Laurie Watson points out that moms sometimes need a separation from the home, or their "workspace," to feel at ease. Watson suggests renting a hotel room or sending the kids to a sitter for the night.
All the planning may seem like an extra hassle at first, but it will be worth it. For one, you'll have something to look forward to, and two, you'll have uninterrupted sex -- which is the goal.
Push your boundaries
So you have sex, but the whole ordeal lasts 30 minutes at most. Sound familiar? Thirty-six percent of the mothers surveyed said their sex ranges between 10 and 20 minutes from start to finish. The lack of sex-citement could stem from feeling that sex is more of a chore -- another reason could be that you're playing it too safe. In either scenario, Dr. Laurie B. Mintz, author of A Tired Woman's Guide to Passionate Sex, explained to Parents that moms should push their boundaries -- whether that means trying different positions or using toys. "It's really good to experiment," she said.
Try not to focus too much on your postpartum body
Twenty percent of moms admitted they feel self-conscious about their bodies and that negatively affects their sex life. If you fall into that category, don't beat yourself up about it. Dr. Weiner-Davis advises to be patient and try to focus on your role as mom instead of your body. "We need to change what we can and accept what we can't," she says. Yes, easier said than done, but doing so could free your mind from insecurities.
Ian Kerner, Ph.D., sex counselor and author of She Comes First: The Thinking Man's Guide To Pleasuring A Woman, explained to Parents that women should certainly clue her partner in, too, about what will make them help her feel sexy.
Check out the August 2014 issue of Parents magazine for the "Heat Up Your Sex Life" feature.
BEFORE YOU GO