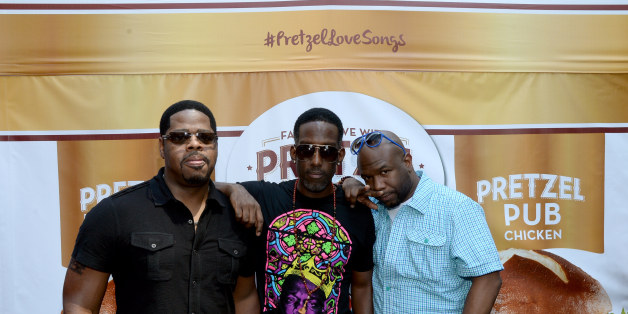 Boyz II Men is singing about its love for Wendy's Pretzel Bacon Cheeseburgers, proving that the fast-food chain is trying to get you out of those clothes, and into their restaurants.
The song starts off with the group saying, "Boyz II Men -- Turnin tweets into songs for @Wendys" and it only gets better from there. The crooners waste no time in getting down to business, praising Wendy herself, and then going straight into some bun lovin.' As the Boyz told Mashable, this isn't the first time the group has sung about buns, but it is the first time they've sung about pretzel buns.
Watch @BoyzIIMen do their thing with the things you said. #PretzelLoveSongs
https://t.co/a2dkDsCDHf

— Wendy's (@Wendys) July 10, 2014
This isn't the first time Wendy's has introduced (or sung about their love for) their pretzel products. Last year, Nick Lachey sang fans' tweets in yet another pretzel ballad as part of Wendy's "Pretzel Love Stories" campaign. The campaign was so successful that they decided to make more songs, including the recently released song, "Desire: A Wendy's Pretzel Love Song Encore." The tune is dripping with all the fake drama and over-acting typically seen in such love ballads, but it also happens to be surprisingly catchy.
So far people are loving the ads, and even taking the time to show some pretzel love themselves. To become a part of the conversation (or the next pop ballad) keep submitting tweets, pics and posts to all Wendy's social media accounts. In the meantime, you can catch us singing "I'll make pretzel to you..." #platiNOM.
Want to read more from HuffPost Taste? Follow us on Twitter, Facebook, Pinterest and Tumblr.
BEFORE YOU GO
PHOTO GALLERY
Pretzel Recipes