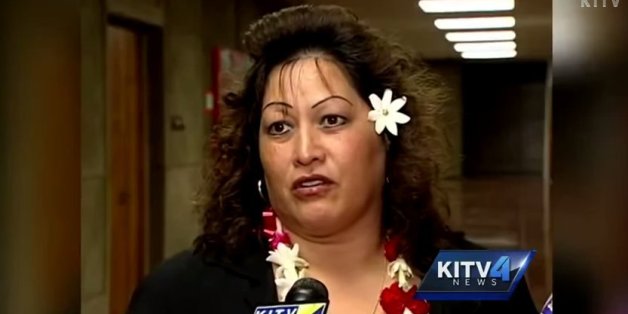 A Hawaii woman is dead after her foster son allegedly stabbed her to death on Saturday.
Fifty-two-year-old Jolyn Kipapa was found dead by police after responding to an assistance call at 8 a.m. Police said the 16-year-old suspect was arrested without incident that morning and charged with second-degree murder on Sunday, according to the Honolulu Star-Advertiser.
The teenager -- whose name has not been released due to his age -- is now in the jurisdiction of family court where it will be decided if he will be tried as an adult, a prosecutor's office spokesman said.
Kipapa and her husband, Kurt, were long-time foster parents for dozens of children over the years, according to KHON2. The couple, who were well known in the community of Waimanalo on Oahu, currently has 11 foster kids.
"This is really tragic. I know the Kipapas' hearts," family friend Andy Jamila told KHON2. "They're not going to stop taking in and always helping to shelter foster kids. This was their lifelong dream."
Jolyn Kipapa was proud of her foster children. In 2005, she boasted to KITV about the accomplishments of one of her foster kids: "I have a daughter who is a [Hawaii Pacific University] student. She's graduating this year in December. And she's going to make a difference."
In an exclusive interview with Hawaii News Now, the suspect's biological mother and his paternal aunt said they believe the tragic event could have been prevented and that their family has a long history of schizophrenia and bipolar disorder.
"He has a condition that is passed along through his family on his father's side," the boy's mother said, whose identity was concealed to protect the teen's identity. She said she lost custody of him 14 years ago.
The boy's paternal aunt told Hawaii News Now she too suffers from mental illness, and has been hospitalized because of it.
Both of them said the 16-year-old needs treatment and don't believe he should be locked up. However, they send their condolences to the Kipapa family.
The teenager is being held at a juvenile detention facility on Oahu.
BEFORE YOU GO
PHOTO GALLERY
10 Major Crimes That Shocked America (SLIDESHOW)