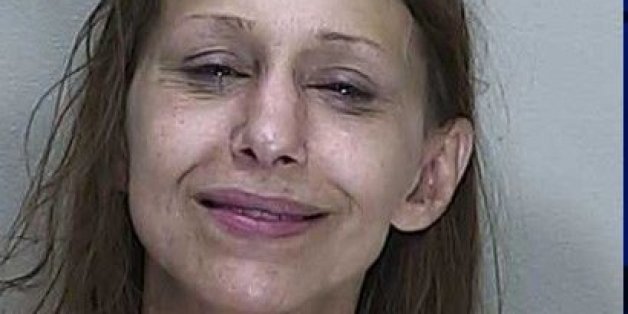 Yoga is a great way to keep fit, but doing it half-naked in the middle of a road is a bit of a stretch.
That's how police in Ocala, Florida, first saw Michele Rene Cernak, 51, Wednesday afternoon.
Witnesses called police after they noticed Cernak doing yoga around 3:40 p.m. just a few blocks from a middle school.
In between stretches, she removed various bits of clothing, and had her pant legs around her ankles by the time officers arrived, MyNews13.com reports.
While Cernak was doing her stretches in the middle of the road, her gold Chevy GMC pickup truck was on the side of the road still running, according to a police report.
Cernak's ID and car tags showed she is a resident of Texas.
Officers searched the vehicle and found heroin, a syringe, and a crack pipe.
She was also found with three different types of prescription pills, according to WESH TV.
They also noticed Cernak had a bleeding wound on her left ankle. During questioning, she allegedly admitted she had been shooting heroin.
Cernak was arrested on possession of a controlled substance without a prescription, possession of heroin and possession of drug paraphernalia, according to Ocala.com.
The Smoking Gun reports that while the police neglected to mention which yoga moves Cernak performed, she did have to assume the position when the officers searched and handcuffed her.
She is currently in the Marion County Jail in lieu of $5,000 bond.
BEFORE YOU GO
PHOTO GALLERY
Things You Can't Do Naked