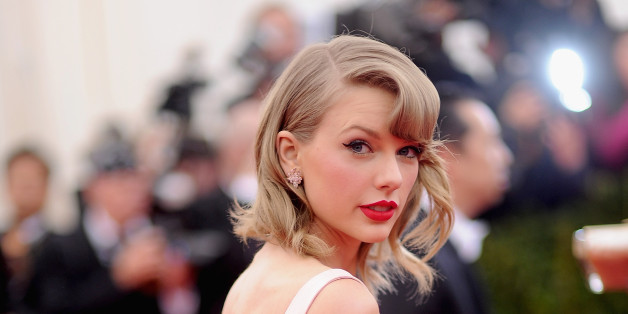 Middlebrow is a recap of the week in entertainment, celebrity and television news that provides a comprehensive look at the state of pop culture. From the rock bottom to highfalutin, Middlebrow is your accessible guidebook to the world of entertainment. Sign up to receive it in your inbox here.

On Monday, Taylor Swift wrote an op-ed about the music industry that read like a delusional fairy tale in which music and fans fall in love via "Arrows Through The Heart." Once you get past the confusion over why there's even a Taylor Swift op-ed in the first place, there's a lot of problematic stuff to mull over, like the idea that pure hard work is ever enough to sell an album or that price points should be determined based on a metric of total amount of "heart and soul." The unfortunate reality is that the measure of success in music has long since been shifted to rob anyone except mega-stars of a lucrative career, and even they are struggling. With mediums like Spotify and Pandora failing to turn a profit, and more artists turning to Kickstarter for their projects, crowd-funding seems like a more probable future than ever before.
Put plainly: People are not buying records. In January of 2014, record sales hit their lowest point since Nielsen SoundScan began tracking stats in 1991. That's hurting sales for the major pop stars and just decimating them for lesser-known acts. As a New York magazine profile of Grizzly Bear said in 2012, "For much of the late-twentieth century, you might have assumed that musicians with a top-twenty sales week and a Radio City show -- say, the U2 tour in 1984, after The Unforgettable Fire -- made at least as much as their dentists." That's simply not the case anymore. Hits are being defined by decreasing numbers, and flops are becoming almost shocking in their paltry sales. (You'll note that Robin Thicke's sad sack of an album, "Paula," sold a mere 530 copies during its first week on sale in the U.K.)
Digital sales aren't faring much better. People are (illegally) downloading or streaming music, but even the legitimate options aren't working. Back in May, Spotify announced its 10 millionth paid subscriber along with a continued inability to turn a profit. Pandora's numbers reflect a similar issue, not being able to make money, and before all of that, a February study said that such streaming services would never turn a profit. Sadly, this is not a problem fixed with "Arrows Through The Heart," but a commerce issue, in which the music industry needs to reevaluate the way it makes money.
Meanwhile, as Taylor Swift (probably) curled up by the fire to pen her op-ed on a typewriter while sipping herbal tea, a random guy was able to raise $60,000 for a single potato salad, and LeVar Burton's revamping of "Reading Rainbow" pulled in $5.4 million across 100,000 backers. These are absurd and nostalgic projects, respectively, but there are plenty of music artists that have realistically shifted their efforts to Kickstarter. Take Amanda Palmer or Rufus Wainwright, for example. She raised $1.2 million to support her album and tour. Looking to fund his opera, "Prima Donna," he took to PledgeMusic and reached 103 percent of his goal. "I think the obvious answer is: OK, pay me up front," he said to HuffPost Entertainment. "I think any customer would be satisfied with that process. It's fair."
Wainwright has a point. The problem that emerges in this apparent death of the music industry is people being willing to pay for music. Whether they opt to stream or pirate, the way the consumer is procuring the goods is simply not turning a profit. So, why not have them pay for the product in advance? This is not something that is going to work for every artist every time, but the music industry has never been built on a 100 percent success rate. Since Kickstarter rose to prominence in 2012, there have been meager successes that mark it as a serious alternative to the current system. Cast among the mounting failures and rising return rates of what we might call the Potato Salad Phenomenon, crowd-funding is looking more promising than ever before. Sure, it's not a perfect or even entirely clear-cut solution to the daunting reality of the industry's current failings, but it's certainly more probable than, say, a Swiftian essay about how to succeed in music without really trying.
Follow Lauren Duca on Twitter: @laurenduca
BEFORE YOU GO
PHOTO GALLERY
Taylor Swift