As part of our Blended Family Friday series, each week we spotlight a different stepfamily to learn how they successfully blended their two families. Our hope is that by telling their stories, we'll bring you closer to blended family bliss in your own life! Want to share your own story? Email us at divorce@huffingtonpost.com.
Married couple Kacy and Glen were sure their three boys would embrace having additional siblings when they first got together. "We thought it would be a blessing," Kacy told us via email.
The boys thought otherwise.
In our Q&A below, Kacy shares with us how she and her husband convinced their sons that blended family life was not so bad after all. "It took some time, but today, we all see each other as family," she says.
Hey Kacy. Want to introduce us to your family?
We have five in all: There's me, my husband Glen and and our three sons: Tyler is 19, Logan is 16 and Riley is 12. Tyler and Ri are my sons and Logan is Glen's son. We also have three dogs, two cats, a tarantula and two fire-bellied toads. Most of the pets are male. Clearly, there are a lot of boys in my house.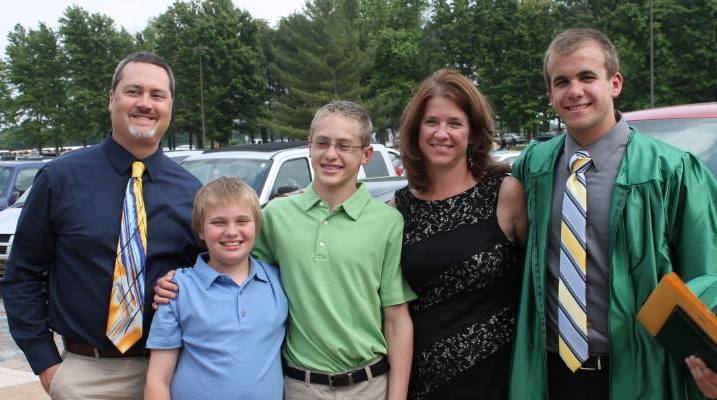 (Photo courtesy of Leah Jennings)
How long have you all been a family?
Glen and I will be married seven years at the end of this year, but we've been together a total of nine. Our kids have been around each other since the beginning. In our home there aren't any "steps" -– we have bonus sons and bonus parents. We also are big on using a combination of the two surnames of the boys in referring to our household and even in naming our pets. I feel like this helped us identify as one family while recognizing the importance of Tyler and Riley's last name even though I have remarried.
What are some of the biggest challenges of blended family life?
One is having two different parenting styles and blending them into something that really works. Glen told me early on to treat Logan as my own, which didn't go as well as I thought. Instead, I've had to learn that at times that the kids respond better to their own parent with the bonus parent there for support. We had to find our own way of handling discipline but when it comes to encouraging the kids we're a team. Another challenge has been giving the boys the gift of brothers. We thought it would be a blessing but it hasn't always been easy making the adjustment. In addition, the boys have had to learn to share their parent's attention, particularly Logan who was used to having his dad's one-on-one attention. Another challenge is just juggling schedules and distance so that the boys can see their other parents, and being there for them when they miss them.
What's the best thing about being part of a blended family?
I thought the boys might say having two Christmases, one at home and one with their other parent. I just asked them, though, and Ri told me it's great having a cool stepdad to take him fishing while Logan said it's having a great stepmom to offer advice. (I think they're being serious!) Tyler mentioned that there are things we wouldn't have experienced as a family if we hadn't gotten together. Tyler introduced competitive swimming to Logan, for instance. Tyler also said he appreciates the diversity we have from bringing two worlds under one roof. As for me, I believe it's a great thing for the boys to see two parents happy and in love. As loud and busy as our household is, there's nowhere else we'd rather be.
What makes you proudest of your family?
The way Glen and I are able to watch the boys grow up together, through the good and the bad, and how we've successfully guided them to this point. I would also say the way we laugh together and completely forget that we didn't all start out this way. In our minds we are a family.
How do you deal with stress in your household?
For the boys it's all about having their own space; they're fortunate enough to have their own rooms. We are all good at taking a moment to ourselves to take a breather and then coming back together to talk about things. I'm not going to say there haven't been slammed doors or yelling from time to time, but the important thing is discussing the issues and trying to come up with a resolution.
What's your best advice for parents who are struggling to blend their families?
We have lots of advice! Some key things are to talk about everything, have a lot of patience with each other and make the most of every moment. Don't force the family dynamic to occur as it will happen naturally and don't expect everyone to be happy all the time. It's also important to find things to do as a family as well as individually. As a parent, do things with just your biological kids and reserve some time to spend with just your bonus child, too. The goal is to make sure the kids feel they have a special place in the family. You want to remind them that they are all valued every day.
BEFORE YOU GO
PHOTO GALLERY
Blended Family Friday