This week, a dad in India is inspiring us all to wear our hearts a little more obviously on our sleeves.
Not content to merely support his son in private, the dad chose to take to the streets during a gay pride event in Chennai to let the world know just how much he loves his child: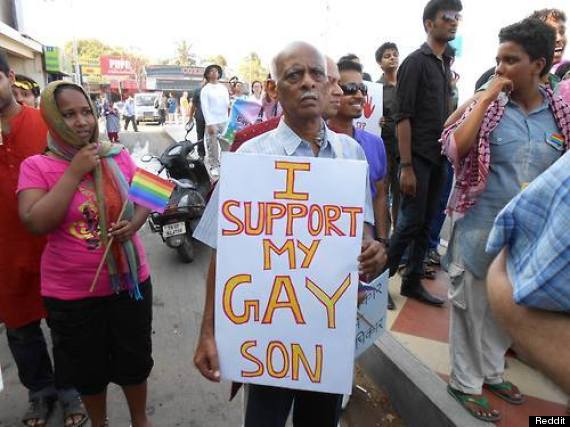 According to gay rights group Satrang, the inspiring photo was originally taken during the annual Chennai Rainbow Pride march in 2012. The photo has experienced a viral resurgence this week, however, after it was posted on Reddit.
"Definition of unconditional love," one Redditor wrote in response to the inspiring picture.
"He is a brave man," wrote another.
Lesbian, gay, bisexual and transgender rights remain a controversial issue in India. Last year, the country's Supreme Court decided to reinstate colonial-era legislation that criminalizes gay sex, prompting human rights organizations to lament a major setback for gay rights in the country.
The law, which demands imprisonment for anyone who "voluntarily has carnal intercourse against the order of nature," has been used "repeatedly and damagingly" against members of India's LGBT community in the past, Columbia Law School professor Suzanne Goldberg said in a December blog post.
She added, however, that there seems to be a sea change of public opinion in the country regarding gay rights, with more LGBT individuals and allies being willing to make their voices heard.
"I believe this is a setback for democracy in India. But I also know that the Indian people, irrespective of their sexuality, are joining hands to protest this ruling," wrote writer and queer activist Prerna Lal in a blog post last year following the Indian Supreme Court ruling. "Sometimes, a defeat is vital and necessary for social change, and to ultimately pave the way to victory."
And with dads like the one in the picture above, it's hard to not harbor faith that love will eventually prevail.
BEFORE YOU GO
PHOTO GALLERY
Powerful Images Of Equality