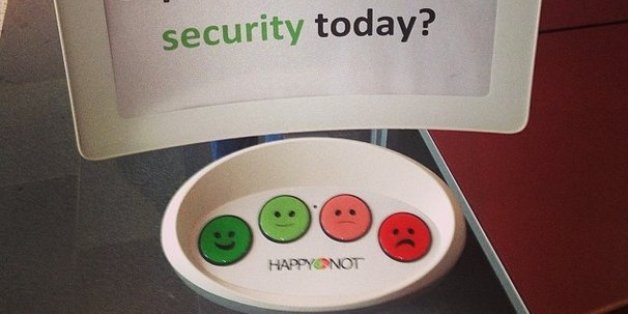 How happy do you feel in the airport security line?
In more than 40 airports worldwide, travelers now have a chance to vent their feelings at "happiness readers" near security checkpoints, baggage claims and more.
After making it through security in Spain, for example, passengers choose from a variety of emoticon-ish buttons to let the airport know they feel "very happy," "ok," "meh," or downright mad.
Travelers in Orlando have taken to posting photos of the machines on social media. The machines ask passengers if they're "comfortable" in the terminal and to describe their "restroom experience." Greenville-Spartanburg International Airport in South Carolina also installed the machines earlier this year, near baggage claim.
The machines -- called HappyOrNot and used at retailers like IKEA and Domino's Pizza -- help measure airport quality control, officials say.
Heathrow has used HappyOrNot to collect over five million happiness measurements from travelers so far (we would LOVE to meet anyone who feels "very happy" after the epic battle known as the security line).
Here's hoping this whole communication-with-your-airport thing makes for a brighter future of travel. What would you say to a HappyOrNot?
Pic of our device at the #Orlando #airport, courtesy of Joonas Julkunen. #HappyOrNot #customerhappiness #feedback pic.twitter.com/XhRX36nB8X

— HappyOrNot Ltd. (@happyornotcom) May 23, 2014
BEFORE YOU GO
PHOTO GALLERY
The World's Best Airports For 2014