A young Texas couple have been arrested in the murder of an 18-month-old child who was brutally abused before being stomped to death and buried under a bridge wrapped in a blanket, police said.
Joshua Beard, 20, and Alexis Botello, 17, had only been dating for a few months prior to the death of Botello's daughter, Tylea Moore, on July 4.
In an Arlington, Texas, police affidavit obtained by The Huffington Post, officers said that Beard had called the toddler a "little demon" while punching her and that he also abused Botello when she attempted to stop him.
"Botello said Beard was pushing and yelling at Tylea," the report reads. "Botello kept yelling at him to stop, that she was just a baby and didn't understand. Beard then started yelling and hitting Botello."
The alleged abuse only grew worse from there. According to the report:
"Botello went into Tylea's room and picked her up. Tylea looked awful. Her bottom was swollen, she had bruises on her ribs, chest, arms, legs, and even on the top of her feet. She also had bite marks all over her. Tylea had two cuts on her mouth, one on the top lip and one on the bottom lip."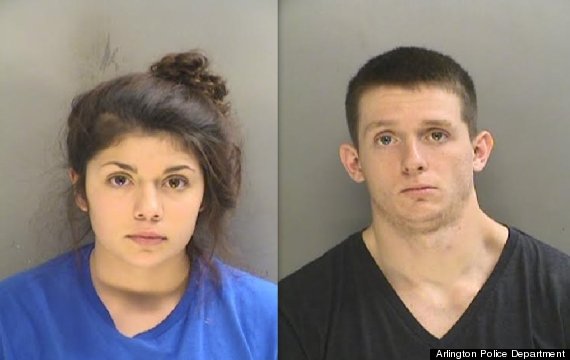 Botello told police that Beard began punching her as she tried to help her child. Beard allegedly then took the little girl and slammed her down on the bed so hard that she bounced off and landed on the ground. He continued to hit the child with closed fists, police said.
Beard then began stomping on Tylea's stomach "over and over again," according to the police report. When Botello tried to stop him, he allegedly hit and choked her.
The child died a short time later, police said.
Ricardo Botello, the grandfather of Tylea and father of Alexis Botello, spoke to The Huffington Post shortly after the arrest of Beard on Tuesday.
"I'm praying my daughter didn't have anything to do with this," Ricardo Botello said prior to his daughter's arrest Wednesday night.
While Tylea's grandfather was desperately searching for answers, police were gathering evidence.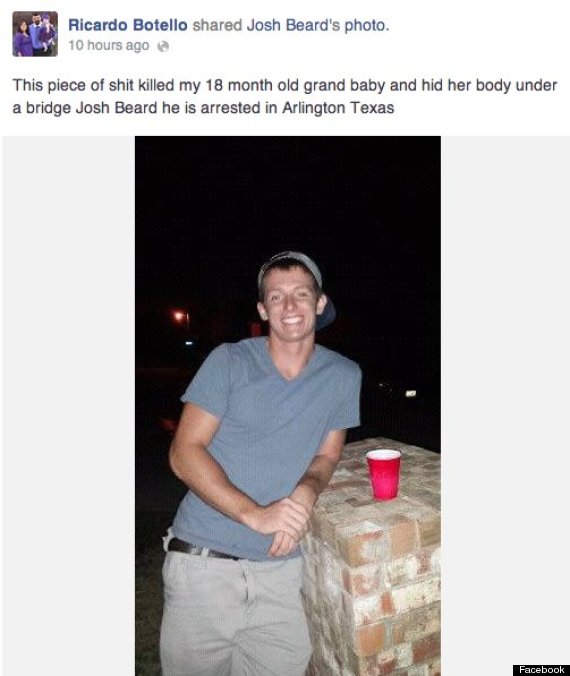 Police said that after Tylea died, Beard and Botello went to a Walmart where they bought gloves and two shovels. Investigators said the couple was easily identified leaving the store from surveillance video.
The couple then drove to a remote area, dug a grave under a bridge, wrapped the little girl in a small blue blanket and buried her, according to the police report.
Investigators said they uncovered the body after Botello admitted her involvement and showed police the location.
Tylea's father, Chris Moore, is mourning the loss of his daughter. Moore, a Marine, told KDFW that despite his grief, he doesn't believe his former girlfriend was a willing participant in the crime, but instead scared for her own life.
"I hope that they see that she was in an abusive relationship," Moore told the station. "I mean, we have pictures of bruises all over [Alexis]."
Beard has been charged with capital murder. His bail has been set at $1 million. Botello has been charged as an adult with tampering with evidence of a human corpse and injury to a child. Her bail has been set at $125,000.
Now, Ricardo Botello must bury his granddaughter. "We're Catholic, and the baby was not baptized, unfortunately," he said. "But we found a diocese who will conduct the service for us, and we're thankful for that."
Botello said the grief is overwhelming.
"It hasn't been good. I'm not doing well," he said. "My family is in disarray."
Like Us On Facebook |

Follow Us On Twitter |

Contact The Author