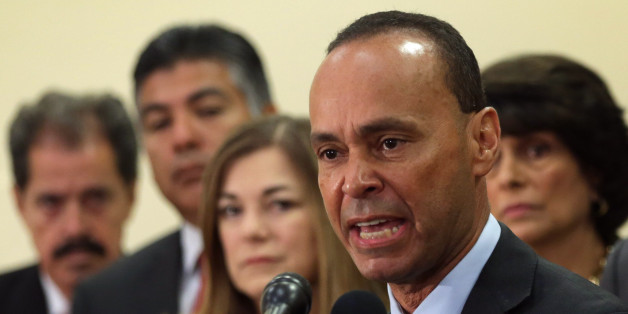 Rep. Luis Gutierrez (D-Ill.) slammed a fellow member of Illinois' congressional delegation Friday, saying Sen. Mark Kirk (R-Ill.) "should be ashamed of himself" for seeking criminal background checks on undocumented children who have entered the United States.
In a statement, Gutierrez accused Kirk of trying to paint the undocumented minors as criminals and "make Americans afraid of children."
"That is shameful behavior," Gutierrez said. "It is hypocrisy, it is immoral, and it ought to stop. Among the children are little girls who are fleeing those who would abuse their bodies. Sen. Kirk, open your heart."
Kirk, who supported the Senate immigration reform bill, made the call for background checks in a Thursday press release. He said the federal government has a duty to make sure undocumented minors "pose no threat" to others and noted that he has sent letters to the U.S. embassies in Guatemala, Honduras and El Salvador regarding the background checks.
The senator also said that 429 unaccompanied, undocumented children were then in Chicago in the custody of the U.S. Department of Health and Human Services. Gutierrez said Friday that when he asked, the department was not able to confirm Kirk's claim.
Earlier on Friday, Gutierrez appeared with other members of the Congressional Hispanic Caucus to urge that existing legal protections for unaccompanied migrant children remain in place, echoing a proposal adopted Wednesday by the Congressional Progressive Caucus. They were all responding to calls to make it easier to deport undocumented children from Central America.
According to the Associated Press, 57,000 unaccompanied children have entered the U.S. across its southern border since October -- and tens of thousands more have arrived while traveling with family members. President Barack Obama has requested $3.7 billion in emergency funding to deal with the crisis. But congressional Republicans denounced his proposal as a "blank check" and said they won't support it unless the administration increases deportations.
BEFORE YOU GO
PHOTO GALLERY
Overwhelmed Border Patrol