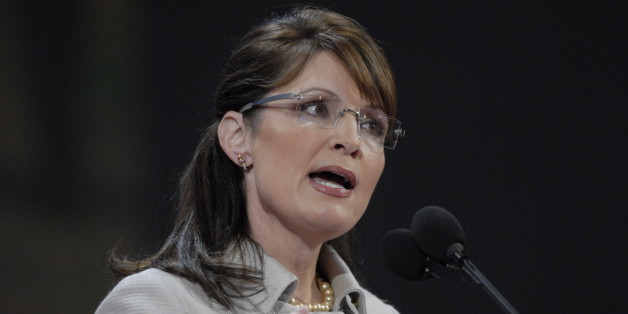 Instead of visiting the "porous U.S. border" during his three-day Democratic fundraising trip across the country, President Barack Obama was too busy "hobnobbing" and "getting buzzed on suds," Sarah Palin claimed in a Fox News op-ed Friday.
On Tuesday, a day before a scheduled speech on Denver's economic progress, Obama ran into Gov. John Hickenlooper (D) at Wynkoop Brewing Company, where they played a highly publicized game of pool.
Palin viewed the pit-stop as one of the president's many "frivolous, inefficient, über-partisan, distracting events."
"President Obama was absolutely swamped the other night, staving off the munchies at a pizza party in the Mile High city," the former Alaska governor wrote, accusing Obama of "satisfying those munchies" as "Rome Burns."
In 2012, Colorado and Washington became the first U.S. states to approve the sale of recreational marijuana to adults.
"Whew. Racking balls, getting buzzed on suds, maybe humming 'Rocky Mountain High' while kicking it in those Rockies, hard choices had to be made -- stripes or solids?" Palin continued.
Although the 2008 GOP vice-presidential candidate didn't get into any specifics, she maintained that the president's tyrannical abuse of executive powers warranted impeachment, echoing an earlier rallying call.
"Enough is enough of the years of abuse from this president. His unsecured border crisis is the last straw that makes the battered wife say, 'no mas,'" Palin wrote in a Breitbart column published Tuesday. "It's time to impeach; and on behalf of American workers and legal immigrants of all backgrounds, we should vehemently oppose any politician on the left or right who would hesitate in voting for articles of impeachment."
BEFORE YOU GO
PHOTO GALLERY
Top Palinisms