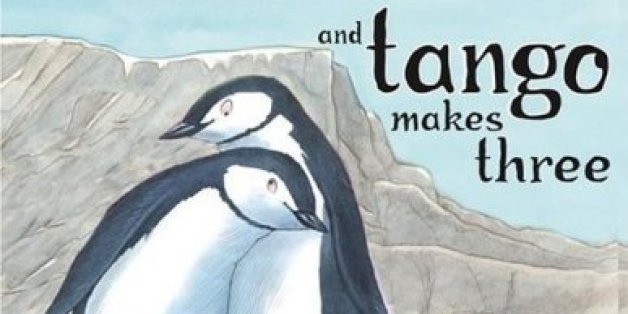 The National Library Board (NLB) in Singapore is standing by its decision to permanently remove from its shelves three children's books featuring plots with gay or unconventional families.
In a statement issued Thursday, the NLB said it will not only remove the titles -- which purportedly go against "pro-family" values -- but will also destroy them. The decision comes after a few library users launched a complaint against the books.
The titles on the chopping block are And Tango Makes Three, inspired by the real-life story of two male penguins raising a baby chick at the Central Park Zoo; The White Swan Express: A Story About Adoption, which revolves around a lesbian couple's adoption journey; and Who's In My Family: All About Our Families, which depicts unconventional family setups.
Defending its actions, the NLB, home to 5 million books and audio-visual materials, said in part:
NLB's collection development policy takes special care of our children's collections to ensure they are age-appropriate. We take a cautious approach, particularly in books and materials for children. NLB's understanding of family is consistent with that of the Ministry of Social and Family Development and the Ministry of Education.
On Friday, Communications and Information Minister Yaacob Ibrahim issued a statement on Facebook, supporting the NLB's move. "NLB's approach is to reflect existing social norms, and not to challenge or seek to change them," he wrote, in part.
Gay sex remains illegal in Singapore, and homosexuality is a taboo topic. As news of the book pulping spread, gay rights activists and education proponents went on the offensive.
"This is a very unfortunate step backwards," Kirpal Singh, associate professor of English literature at Singapore Management University, said of the decision to ax the books, per TIME.
Deborah Tan, founder of Singapore-based women's site Material World, slammed the library in a blog post. "Do you not think it is important for children to grow up understanding that such topics are not taboo and that they are not society's outcasts for thinking they might want something different?" she wrote, "It's not just an education for the kids, but also an education for parents who need to learn how to embrace their children for who they will become."
Alvin Pang, an award-winning poet based in Singapore, echoed Tan's sentiment. "This is a serious impoverishment of what books are and what knowledge means, and it can only harm our intellectual development and broader social discourse," he wrote on his personal blog. "This is at odds with the spirit of the National Library I have grown up with, come to love and continue to support. The best thing any library can do to serve society is to be resolutely neutral in making accessible the world's available knowledge."
Critics of the NLB's move also took to social media to air their frustrations, using the hashtag #FreeMyLibrary.
Since when is it a social norms to marry a girl that you just met at a party? Will NLB ban cinderella too? #FreeMyLibrary

— Darryl Kang (@dk) July 11, 2014
Local writers are boycotting NLB in retaliation to the ridiculous ban of the books - I support this! #FreeMyLibrary

— 【NOYA #秘密UKE 】 (@salmondesu) July 11, 2014
What does Singapore have against gay penguins? #FreeMyLibrary

— Ben Thambiah (@benedictjt) July 11, 2014
As The Washington Post points out, And Tango Makes Three has appeared a number of times on the American Library Association's annual list of "frequently challenged books."