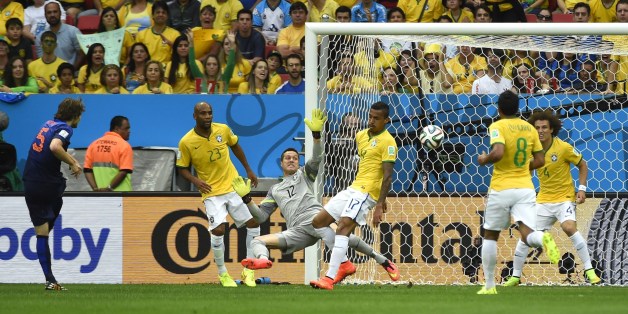 It was a case of the player named "Blind" leading the seemingly blind Brazil defenders in a chase for the ball in the third-place game at the 2014 World Cup. The Twitter comedians and resigned Brazil fans took notice.
With its World Cup campaign ending in ignominy after a historic 7-1 defeat to Germany in the semifinals, Brazil quickly fell behind the Netherlands early in the third-place game on Saturday at Nacional in Brasilia. After an early penalty surrendered by the Selecao produced another deficit, an unlikely goalscorer soon doubled the Dutch advantage: Daley Blind.
While Blind is far better sighted than his surname suggests, the 24-year-old midfielder had never previously scored an international goal for the Netherlands. His career milestone score pushed the Netherlands' lead to 2-0 in the 16th minute.
David Luiz's header fell right to Blind, who gave #NED a 2-0 lead. WATCH » http://t.co/dJ6kdcj6G6 #BRAvsNED

— ESPN FC (@ESPNFC) July 12, 2014
Given Brazil's struggles in its last two matches, the football followers on Twitter couldn't resist the jokes about a player named "Blind" finding the back of the net.
Brazil so bad even the Blind are scoring

— Tanmay Bhat (@thetanmay) July 12, 2014
Come on this guy's name is Blind and he still scored against Brazil.... Smh

— Mollz (@mollyzhu) July 12, 2014
2-0...Blind...the scorer, not just Brazil

— tigerrrrrr (@tiger_thoughts) July 12, 2014
it's too humid to figure out a 'Blind'/Brazil defense joke but pretend I did

— Brandon Wall (@Walldo) July 12, 2014
Blind defending from Brazil

— Daquan (@MohdAlAdam) July 12, 2014
Blind scored and Brazil saw it coming! 2-0

— Rafael Hernández (@RafaelH117) July 12, 2014
Blind because Brazil was blind. Teaarrssss.

— R. (@Rosebxd__) July 12, 2014
BEFORE YOU GO
PHOTO GALLERY
PHOTOS: The Netherlands vs. Brazil