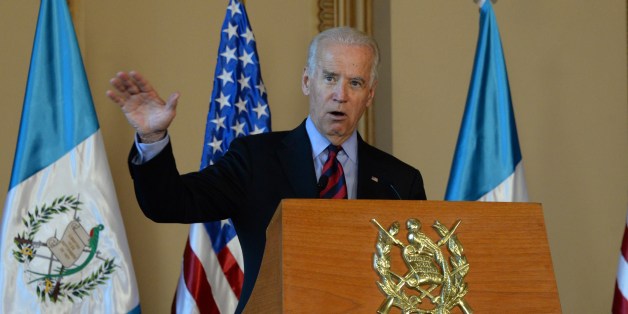 Over at the Columbia Journalism Review, Steven Brill has a "story he'd like to see." Specifically: What's the deal with "the Hillary alternatives?" You know, those other people who might compete in a Democratic primary in 2016.
Can it really be such a certainty that Hillary Clinton is going to be the Democratic presidential nominee in 2016 that the media is taking the right approach in essentially ignoring other possible Democratic candidates?

In any other situation we would be seeing profiles of a half dozen or more alternatives. But not now. Yet there has to be some possibility that the former secretary of state will opt not to run and some possibility that, for a variety of reasons, she will not win the primary contest.
This is worth some discussion. Among the reasons I can think of that speak to why there isn't block-to-block coverage of other potential Democratic contenders (besides maybe Elizabeth Warren, more on that later) are: 1) it's 2014 at the moment, and maybe people are showing a modicum of restraint, and 2) Hillary Clinton is currently "freezing the field." Which is a way of saying that she looms so large over the landscape as a potential frontrunner for the nomination, despite not actually campaigning, that it's inhibiting other candidates from doing the sorts of things they need to do to carve out a place in the firmament (hire top strategists, set up donor networks, etc.). And yes, if she waits a long time and decides to not run, that could touch off a last-minute dash for the resources she won't be using.
But beyond that, if you want to know why we're not talking about other potential Democratic candidates, it's simply because -- well ... I mean, have you seen who those people are? I've been diligently tracking the 2016 chatter for some time, and I can tell you that most of the people who are the beneficiaries of speculation are either far more interesting because of the things they are doing that are not related to running for president, or they aren't that interesting in any event.
There are, of course, exceptions. Here's a ridiculously good profile of former Montana Gov. Brian Schweitzer by the inimitable Marin Cogan, if you want. But by and large, I can look at who's out there and just sort of understand why there's not a lot of stylish profiles being written about these people.
I think you'll see what I mean after you check out "The Brutalist Guide To 2016's Democratic Contenders (Not Named Hillary Clinton)."
(Coming soon: "The Brutalist Guide To 2016's Democratic Contenders (Who Will Also Not Be Named Hillary Clinton)" as well.)
THE NOT-HILLARYS
Joe Biden
Who is this person? Former Delaware senator, current vice president. To his supporters, he is America's Fun Uncle. To his detractors, he is a walking gaffe machine. Political reporters typically side with the detractors. (To political reporters, Biden giving support to marriage equality on "Meet The Press" was a "gaffe")
Why do people think this person is going to run for president? Because that's what the veep gig is supposed to provide: A path to the presidency. Also, Biden is said to be "laying the groundwork." His team is said to be "confident."
What's the problem? The thing about being known as either a gaffe-machine or a fun uncle, is that the consistent idea that underlies these sentiments is a struggle to be taken seriously. Is that fair? No, but if you recall, everyone loved "maverick" back-slappy John McCain until they had to start seriously contemplating him as president. And when the headline of a post that asks readers to seriously consider a Biden campaign contains the words "not so crazy," you see the obstacle.
Key quote: But it's not insurmountable. Here's Jeanne Marie Laskas: "Washington had been hyperventilating about the fiscal cliff, and Obama sent Biden in to broker a deal. Then came the killings in Newtown, Connecticut, and Obama sent Biden out to rally the public, Biden in to reason with Congress, Biden over to talk to the NRA. In 2013, Biden has emerged increasingly more visibly potent than his boss."
Andrew Cuomo
Who is this person? Governor Of New York, marriage equality champion. Prickly.
Why do people think this person is going to run for president? He is basically #3 on everyone's "Who Will Run Against Hillary Clinton in 2016" list.
What's the problem? He's actually not a great fit with the Democratic base, and he's gone out of his way to scuttle the ambitions of New York Democrats. The National Review is unrestrained in its ardor for him. On the issue of public sector unions, he's kind of Scott Walkery. And if he ever goes to Iowa, the anti-fracking forces will greet him with jeers.
Key quote: Well, "When asked in a recent interview with CBS News if he was thinking about a 2016 bid, Cuomo said 'not at all.'"
Martin O'Malley
Who is this person? Former mayor of Baltimore, current governor of Maryland. Plays in a céilí band.
Why do people think this person is going to run for president? Well, because Martin O'Malley keeps telling people that he's going to. In early August, O'Malley "told a group of reporters Saturday he was laying the 'framework' for his 2016 presidential bid." ("Framework" is the same thing as "groundwork," except you use frames, not ground.)
What's the problem? A near total lack of charisma. Daily Kos calls his message "timid." The ironic thing is that political reporters find his message to be too boldly liberal, as is their wont. (That is to say, not timid enough.)
Key quote: Per Jamal Simmons, "Ultimately, there's no reason for O'Malley to sit this one out. He should run. What's the worst thing that could happen? (Famous last words!)"
Bernie Sanders
Who is this person? Independent U.S. senator from Vermont. Self-described socialist. Has some notable examples of partisan gridlock-breaking, however.
Why do people think this person is going to run for president? He's been threatening to do so, and has taken his talents to New Hampshire. (Significant!) Back in March, he told The Nation's John Nichols, "I am prepared to run for president of the United States. I don't believe that I am the only person out there who can fight this fight, but I am certainly prepared to look seriously at that race."
What's the problem? Well, as Nichols points out: "In some senses, Sanders is the unlikeliest of prospects: an independent who caucuses with the Democrats in the Senate but has never joined the party, a democratic socialist in a country where many politicians fear the label 'liberal,' an outspoken critic of the economic, environmental and social status quo who rips 'the ruling class' and calls out the Koch brothers by name."
Key quote: Well, as Sanders says: "If the question is, am I actively right now organizing and raising money and so forth for a campaign for president, I am not doing that."
Brian Schweitzer
Who is this person? Former governor of Montana.
Why do people think this person is going to run for president? Back when Schweitzer decided that he did not want to run for the Senate, he kept stoking the idea that he's contemplating a run by saying things like this: "I hold the people of Iowa, New Hampshire and South Carolina in high regard. ... If I were running for U.S. Senate, I'd be so goldarn busy I wouldn't be able to get out and visit with my friends in Iowa, New Hampshire and South Carolina." And he also keeps talking about he'd "make a better president than Hillary Clinton." Say that enough times and I'm afraid you've got to try to prove it.
What's the problem? He despises Washington like it was feline leukemia, saying, "Most of the people you talk to are frauds." As president, he would spend all of his time with those frauds.
Key quote: Per Chris Cillizza: "Schweitzer has a ton of charisma but his schtick can also wear thin over time." You don't say!
BLASTS FROM THE PAST
Jerry Brown
Who is this person? Former and current governor of California. Depending on how old you are, you may have voted for him in a Democratic presidential primary.
Why do people think this person is going to run for president? Not many do, up to and including Jerry Brown himself. But as Paul Bedard wrote: "He's in his third term as governor of California, is a lock to win a fourth, and has won glowing media reviews for reining in the state's budget mess. So it's natural that allies of Jerry Brown are starting to talk up a possible 2016 presidential bid."
What's the problem? Paul Bedard also writes: "Other associates, however, [say] Brown is nearly done with politics, that he ran for statewide office only to end the budget crisis."
Key quote: "I asked an astute Californian about Brown's prospects for national office," wrote Bernie Quigley, who added, "He said he will be too old in 2016. But Brown, Zen man of contemporary politics, is in a sense timeless." This is the first time I've ever seen a politician receive an endorsement based on metaphysics.
Howard Dean
Who is this person? Former governor of Vermont. Enthusiasm and poor microphone technique combined to be his undoing in the 2004 presidential primaries. Went on to be the most effective chair of the Democratic National Committee in your lifetime.
Why do people think this person is going to run for president? Dean has been giving pretty persistent clues that he's contemplating a run.
What's the problem? He's scuzzed up his legacy a little bit by becoming one of those lobbyists-that-aren't-officially-lobbyists-but-really-totally-are, specifically one shilling for the health care industry, and providing material for anti-Obamacare Republicans (I realize that's redundant) to gleefully quote.
Key quote: Per Jonathan Chait, "If you are old enough to remember when Howard Dean was running for president in 2004, excoriating fellow Democrats like John Kerry as a 'handmaiden of special interests,' it may be a surprise to find him opining in The Wall Street Journal today in favor of a repeal of the Independent Payment Advisory Board."
Mark Warner
Who is this person? Former governor of Virginia, current Virginia senator
Why do people think this person is going to run for president? Pollsters, I guess? Also, people remember that he was maybe going to run in 2008. He is a handsome white dude with business experience from a purply battleground state, and sooner or later everyone thinks that handsome white dudes with business experience from a purply battleground state should run for president.
What's the problem? The persistent sense that his window has closed, and the fact that he's polling in Iowa in single digits.
Key quote: In a 2012 appearance in Iowa (significant!) Warner boldly stated, "I'll match my business credentials with anyone on the Republican side." Minutes later, he said, "I've got no [2016] plans."
Jim Webb
Who is this person? Former U.S. senator from Virginia. Served as the secretary of the Navy from 1987 to 1988. Was "born fighting."
Why do people think this person is going to run for president? Oh, the standard dropping of hints, you know the deal. Asked about a potential 2016 run, Webb told NPR's Susan Page, "My wife and I are just thinking about what to do next. I care a lot about where the country is, and we'll be sorting that out."
What's the problem? He has fewer problems than you might think. He's got that Scotch-Irish background and an affinity for those "working class white" voters who are sometimes all the rage. His career in the Senate was long enough to expose him to an array of issues and policy choices, but not so long that his votes will trip him up. And he's maybe the only articulate person to ever show up on a Sunday morning show. So, that leaves a lack of name recognition, a lack of a fundraising base, and a lack of a connection with a younger generation of voters as his stumbling blocks.
Key quote: "Well, if you look at how I ran for the Senate. I announced nine months before the election with no money and no campaign staff," Webb said, adding, "It takes me a while to decide things and I'm not going to say one way or the other." Oh, hey, that's okay, everyone's totally looking for a guy who spends a long time deliberating in a president these days.
EHHH, THEY PROBABLY WON'T HAVE ANYTHING BETTER TO DO
John Hickenlooper
Who is this person? Governor of Colorado.
Why do people think this person is going to run for president? He's thought of as a "dark horse" by political reporters.
What's the problem? He's thought of as "a guy who I wouldn't vote for president" by Colorado voters.
Key quote: Mitt Romney adviser Stuart Stevens told Buzzfeed's Ruby Cramer that Hillary Clinton would probably lose the 2016 primary. "Asked what Democratic candidate might beat her, Stevens tossed out just one name: John Hickenlooper." (Stuart and I maybe need to have a talk.)
Janet Napolitano
Who is this person? Former governor of Arizona, recently departed head of the Department of Homeland Security.
Why do people think this person is going to run for president? Well, she's not ruled it out. Which, to political reporters means she "may indeed be quietly laying the ground for a 2016 presidential bid."
What's the problem? For better or worse, she's inextricably knit up in the immigration reform issue -- the knotty border security part of it.
Key quote: "My plate is so full now that that kind of contemplation would be the kind of thing that would keep me up at night, and I lose enough sleep as it is," Napolitano said.
Kathleen Sebelius
Who is this person? Former governor of Kansas, recently departed Secretary of Health and Human Services
Why do people think this person is going to run for president? The folks at Emily's List consider Sebelius to be "waiting in the wings" if Hillary bows out. And some hopeful soul has set up a Sebelius2016 Twitter account.
What's the problem? For better or worse, she's inextricably knit up in Obamacare -- the knotty implementation part of it.
Key quote: "2012 is almost sewn up. Its time to start thinking about 2016 presidential election! Sebelius for President 2016!" says that "Sebelius2016" twitter account, in its last post on March 23, 2011.
Antonio Villaraigosa
Who is this person? Former mayor of Los Angeles.
Why do people think this person is going to run for president? Per the National Journal: "Villaraigosa is one of the highest-profile Latino leaders in the Democratic Party, and he got more attention as chair of the Democratic convention this year."
What's the problem? "He has said that his eyes are on the governorship of California, not the presidency."
Key quote: "After Clinton, Biden, and Cuomo, the next most mentioned Democratic candidate in the 2016 field is Maryland Governor Martin O'Malley, who was listed in 10 reports," [according to a Smart Politics media analysis. "... Massachusetts Governor Deval Patrick was fifth after being named in nine outlets, followed by Virginia U.S. Senator Mark Warner at eight, and another four possible candidates tied at seven each: New York U.S. Senator Kirsten Gillibrand, Massachusetts U.S. Senator Elizabeth Warren, Montana Governor Brian Schweitzer, and Los Angeles Mayor Antonio Villaraigosa." Hey, he made a list!
WAIT, WAIT. WHO, NOW?
Steve Bullock
Who is this person? Governor of Montana.
Okay, but why? Some guy named Jeff Chidester mentioned him in passing in a generic "Democrats to watch in 2016" article, and that was enough to convince the The Fix to put him on a similar listicle.
Ehhh, I'm skeptical: Yeah, that The Fix listicle is titled, "Are you a governor? You are probably thinking about running for president" and Bullock is on that, for some reason, despite there being not one scintilla of evidence that Bullock is thinking about doing so.
Rahm Emanuel
Who is this person? Current nine-fingered mayor of Chicago and former White House chief Of staff.
Okay, but why? Because The Daily Beast's Lloyd Grove wrote a story that claimed Emanuel was "toying with" a bid in the event that Hillary Clinton doesn't run, and then -- you guessed it! -- The Fix got the itchy keyboard finger.
Ehhh, I'm skeptical: Ha, yes, well, here's an amazing passage from the Washington Times: "The take-away suggestion: Chicago Mayor Rahm Emanuel is seriously being groomed as a White House contender. 'Maybe in the lead role, maybe the running mate. Hey, he's already been in the White House anyway,' one strategist said to the other." So, that's TWO anonymous "strategists" that were like, "I dunno, there was that one time I totally saw him in the White House." (This is about the level of deep political intel you get from anonymous "strategists.")
Russ Feingold
Who is this person? Former senator from Wisconsin. Campaign-finance reform crusader. Bailout opponent who was deposed by the anti-bailout tea party in favor of a bailout beneficiary.
Okay, but why? Because Public Policy Polling spends most of the time between elections sticking random people into presidential polls and in April of 2014 they jammed Feingold into a poll in Wisconsin. ("Voters in the state clearly favor Clinton as the Democratic candidate. She's at 57 percent, Russ Feingold is at 19 percent, Joe Biden is at 8 percent and Elizabeth Warren is at 5 percent.")
Ehhh, I'm skeptical: Well, I'll let Ryan Cooper and Conor Friedersdorf try to convince you otherwise.
Amy Klobuchar
Who is this person? Senator from Minnesota.
Okay, but why? ABC News reported on a Klobuchar trip to Iowa and said, "There is, after all, no accidental reason for a politician to be in Iowa -- ever."
Ehhh, I'm skeptical: For Klobuchar's part, she said, "It simply means I was invited to a wingding, and I think anything in Iowa makes a wingding out of a wingding, and that is all it is."
Joe Manchin
Who is this person? Senator from West Virginia.
Okay, but why? Bloomberg's Jonathan Allen says that Manchin is "fed up with the Senate" and "chewing on 2016," whatever that means. There is also an "Iowans For Joe Manchin" Twitter account.
Ehhh, I'm skeptical: Yeah, well, Manchin is a pretty big cheese with No Labels so he'd potentially emerge as the preferred candidates of hedge funders and people who like to shout management-cult buzzwords at low-income children and call that a "charter school education."
Jack Markell
Who is this person? Governor of Delaware. I once interviewed him on a step-and-repeat, so he's got that going for him.
Okay, but why? The Washington Post needed a name to fill out a 2016 "March Madness Bracket," and they used Markell's. (He was a 14 seed.) The Post's Chris Cillizza told people, "I've heard people whisper in my ear about Jack Markell potentially for president," which tells me more about Cillizza needing to be checked out for auditory hallucinations than it does about anything else.
Ehhh, I'm skeptical: "I'm a Biden guy," says Markell, so I'd say you're right to be.
Jay Nixon
Who is this person? He is the ... hold on, hold on, I know this ... uhm ... governor of something? Oh, right! Missouri. He is the governor of Missouri.
Okay, but why? Jay Nixon fills out a list of people that Politico seems to think Hillary Clinton is freezing out of jumping into the race. A hometown newspaper picked that up and ran with it.
Ehhh, I'm skeptical: What, you don't think "President Nixon" has a nice ring to it? Well, Nixon says, "I'd be very energetic about hitting the trail for [Clinton] if she decides to make that step forward."
ANY OTHER NAMES I SHOULD REMEMBER?
Yeah, sure! Cory Booker, Julian Castro, Deval Patrick, Elizabeth Warren. These are people who have publicly professed that they are not running for president, but they will continue to be asked whether they are by reporters who think they are one inquiry away from breaking them and getting them to confess. Still, there are couple of names on that list that I can see showing up on vice presidential short lists. Elizabeth Warren will continue to be a useful foil to Hillary Clinton by a media that's not interested in the staggering economic problems faced by Americans beyond the cheap contrasts that playing Warren off Clinton will provide for their cocktail parties.
Hope this helped, Steven Brill! I'm guessing it probably didn't, but look at what I had to work with, dude.
[Would you like to follow me on Twitter? Because why not?]
BEFORE YOU GO
PHOTO GALLERY
Which Women Might Run In 2016?