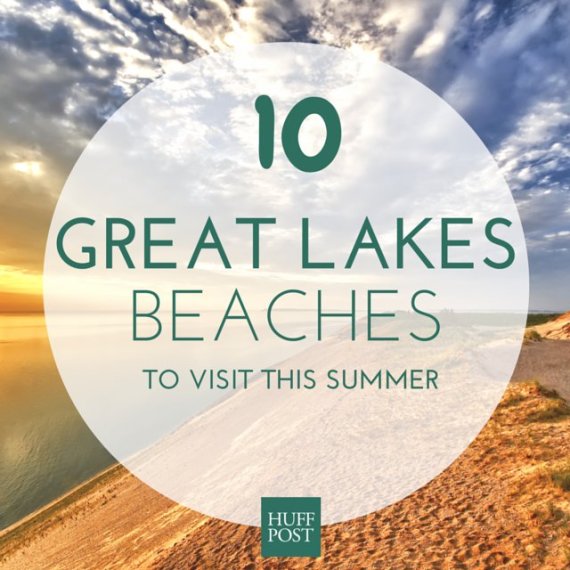 Here's a problem we love to have: too many stunning beaches to choose from.
That's the constant conundrum with the Great Lakes, where you could spend an entire summer adventuring, swimming and sunning at a new spot each day and still not see most of the shoreline.
Though there are many reasons the Great Lakes are a truly incredible (and under appreciated) destination, we definitely put the beaches at the top of the list. And apparently so does Pure Michigan, the state's hub for tourism and an arm of the Michigan Economic Development Corp., which held a photo contest to celebrate state beaches.
Beach enthusiasts submitted more than 1,900 photos of their favorite spots to the Pure Michigan contest, with winners that captured the best of what Michigan beaches have to offer. Whether you're just looking for fishing, the clearest water or a good place to relax with family, there is over 3,200 miles of shoreline in the state. It's hard to narrow it down, but these are some of the top beaches -- with stunning photos to prove it.
Best beach for sunsets: Grand Haven State Park Beach.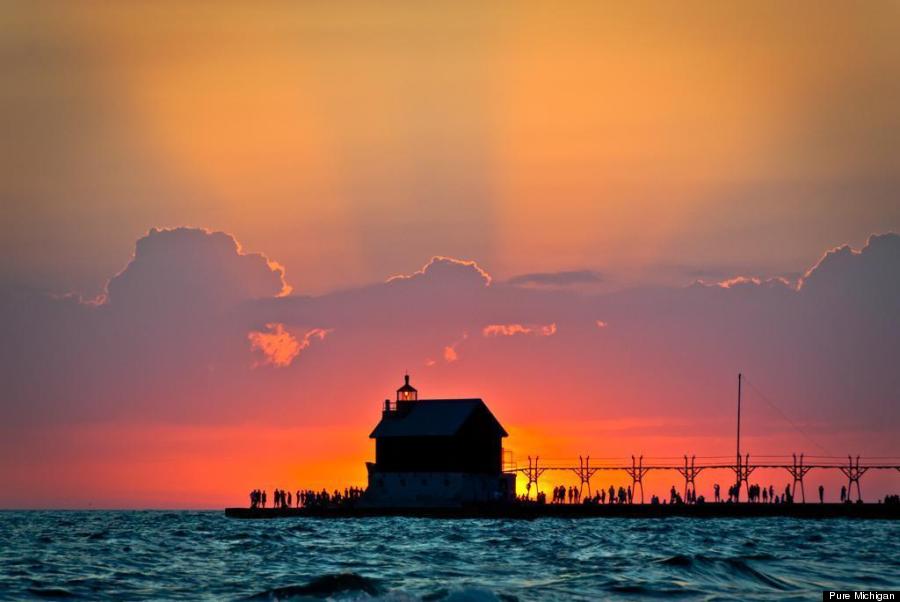 Photo by Bob Peskorse Jr., courtesy of Pure Michigan.
Bob Peskorse Jr. submitted a photo of the beach on Lake Michigan, where people line up to catch a view of the breathtaking sunsets. The state park has camping and is near the quaint town of Grand Haven, the pier and lighthouse.
Best beach for pets: Empire Beach.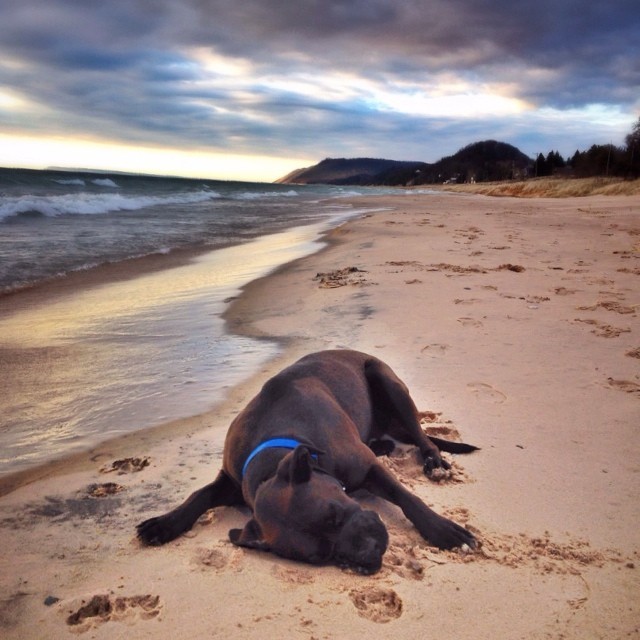 Photo by Sarah Hunt, courtesy of Pure Michigan.
As the gateway to the sand dunes, Empire Beach offers stunning views for humans and their four-legged companions. The small town delights visitors (especially the annual asparagus festival). If you somehow tire of the beach, you can always head to nearby Elberta to check out the eclectic animal-themed art at Trick Dog Gallery and Cafe.
Best beach for long walks: Sleeping Bear Dune National Lakeshore.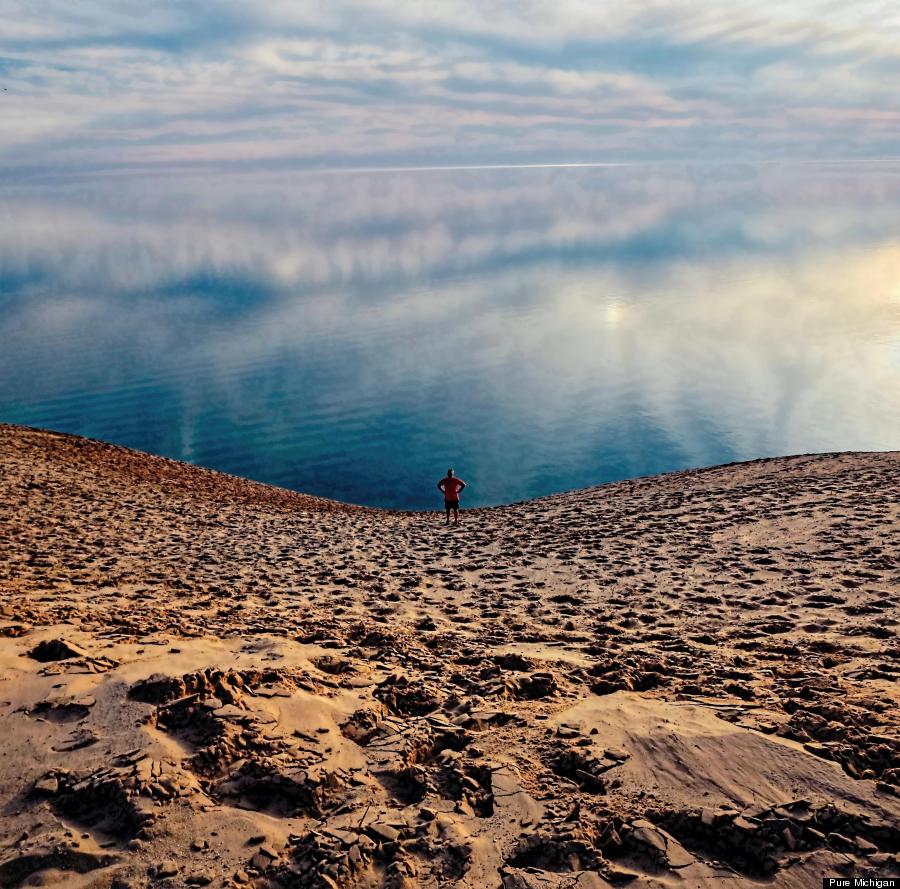 Photo by Sarah Hunt, courtesy of Pure Michigan.
Once voted the "most beautiful place in America," Sleeping Bear stretches along 65 miles of shoreline. Steve Keighly's photo shows part of the panoramic vistas you'll find at the park, with dunes 400 feet above Lake Michigan. There are numerous hiking paths in the park, but kids and the young at heart will be content running up the dunes and rolling back down again and again.
Best state park beach: Orchard Beach State Park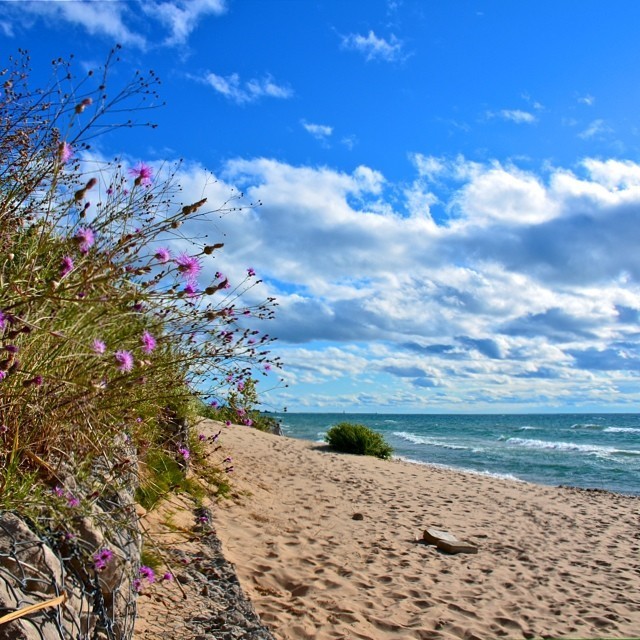 Photo by Deb Neerken, courtesy of Pure Michigan.
Deb Neerken's photo of the Lake Michigan beach in Manistee was selected for showing the best of what Michigan's state parks has to offer. Orchard Beach has a campground, and the small size keeps it quiet and perfect for a lovely getaway.
Best beach for watching fireworks: St. Ignace.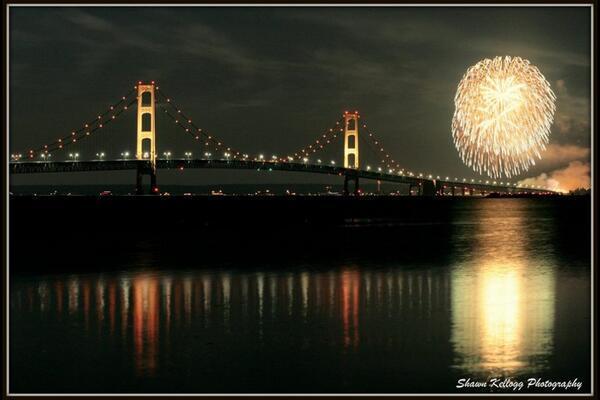 Photo by Shawn Kellogg, courtesy of Pure Michigan.
Across the state, St. Ignace is the gateway between the Upper and Lower Peninsulas, and between Lakes Huron and Michigan. The view of the Mackinac Bridge (one of the longest suspension bridges in the world), captured here by Shawn Kellogg, makes it one of the best spots for watching fireworks.
Best beach for flying kites: Manistique.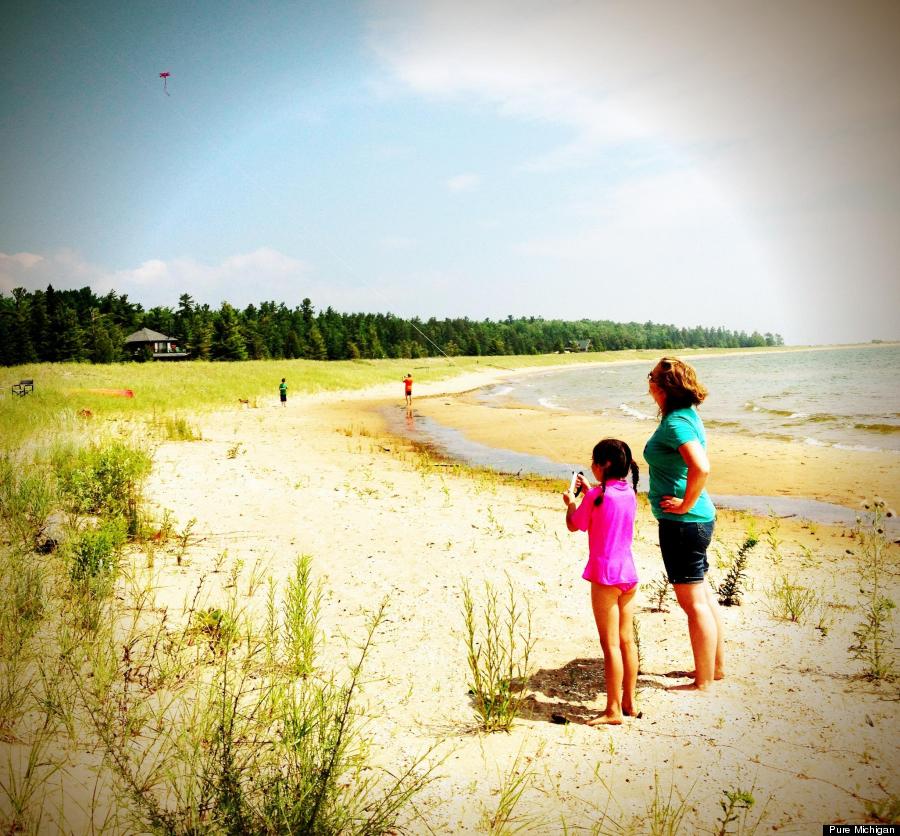 Photo by Carrie Shea, courtesy of Pure Michigan.
Carrie Shea snapped a shot of some great kite flying on the Lake Michigan beach in Manistique. In the Upper Peninsula, the small harbor town is a central destination for visitors looking to explore historic Fayette, the 19th century ghost town, Kitch-iti-kipi, a gorgeous natural spring and Seul Choix Point Lighthouse, a supposedly haunted light -- or perfect for those who just want to lounge on the windy beach.
Best beach for fishing: Copper Harbor.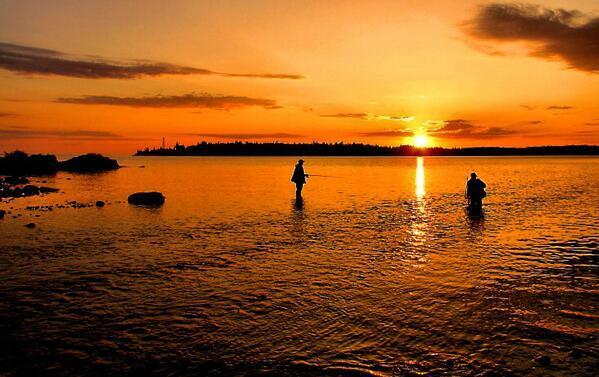 Photo by Matthew Winn, courtesy of Pure Michigan.
Far, far north, Matthew Winn captured a sun-drenched photo of people fishing in the shallow waters of Copper Harbor. Lake Superior's water isn't the warmest, but it can't be beat for awe-inspiring nature.
Best beach for clear waters: Rogers City.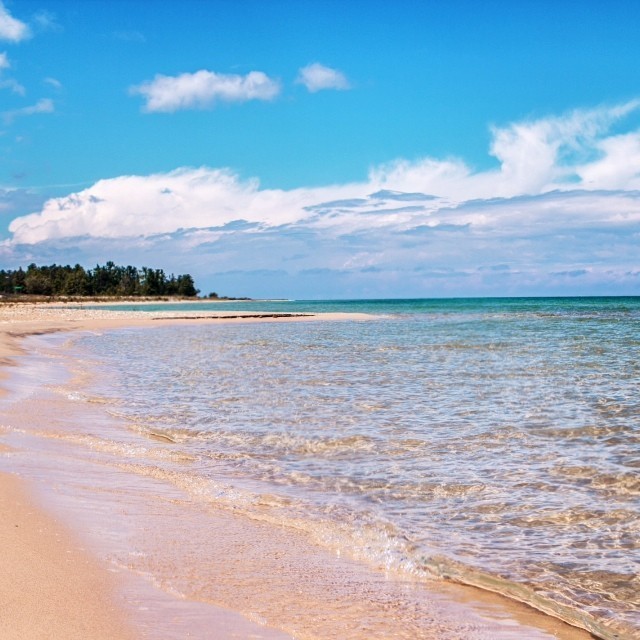 Photo by Rachel Welch, courtesy of Pure Michigan.
The Rogers City harbor on Lake Huron also appeals to fishermen, as well as boaters. But anyone can enjoy the crystal-clear water, as captured by Rachel Welsh.
Best beach to spend time with friends and family: Tiscornia Beach.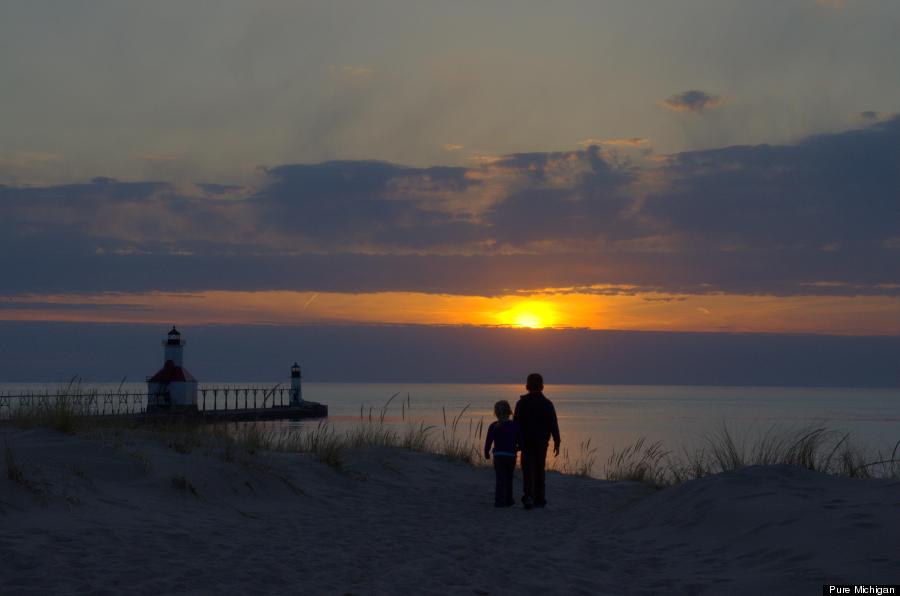 Photo by Jason McIver, courtesy of Pure Michigan.
Most beaches are better enjoyed with friends and family, but Jason McIver's shot of Tiscornia Beach in St. Joseph caught Pure Michigan's eye as the best spot to spend time with loved ones. On Lake Michigan and a reasonable drive from Chicago, St. Joseph consistently has some of the most gorgeous views, as well as plenty to do.
Best all-around beach and photo: Silver Lake Sand Dunes.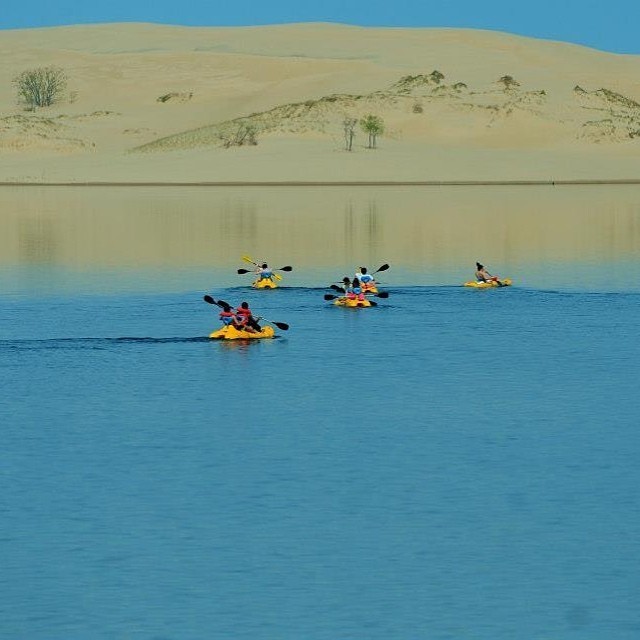 Photo by Gina Ferwerda, courtesy of Pure Michigan.
Gina Ferwerda's photo at Silver Lake Sand Dunes was the first-place winner in the Pure Michigan contest. The state park is a destination for boating, golfing, hiking, four-wheeling and more. But the soaring dunes are what really make Silver Lake top-notch.
Pure Michigan's contest displayed some of Michigan's most cherished beaches -- but from Warren Dunes to Charlevoix, Pictured Rocks National Lakeshore to Wilderness State Park, there's many, many more. See more beautiful shots of the lakes below, and happy vacationing!
CORRECTION: An earlier version of this story indicated Rogers City is on Lake Michigan. It is on Lake Huron.
Follow Us On Pinterest
|
Like Us On Facebook |

Follow Us On Twitter
PHOTO GALLERY
The Incredible Great Lakes