Police are hunting for the man who took a dangerous "selfie" during the San Fermín festival -- famous for its "running of the bulls" -- on Friday in Pamplona, Spain.
The reveler apparently held up the run when he stopped to take a picture of himself and a bull on his phone. If caught, he could face more than $4,000 in fines, as festival rules prohibit putting "other people's lives in danger by filming or taking pictures while running."
Spaniards are having a field day with the selfie on social media, re-posting the photo and hypothesizing about the man's identity with the hashtag #eltontolmovil, "the idiot with the mobile."
You go, Spain. No running of the bulls selfies. http://t.co/EvWNYdv4ge

— Kathryn Doyle (@doyleschmoyle) July 14, 2014
This has to be one of the most ridiculous situations ever, what is the logic? They are running with bulls!!! # animalfarm #eltontolmovil

— Tom (@TomEd_Standing) July 14, 2014
So this guy's wanted by police for "endangering" the Pamplona bullrunners. Err the bulls?? #eltontolmovil #tontospolicias

— Joff (@joffswag) July 14, 2014
The San Fermin festival ends Monday, after a bloody nine days in which bulls ran the streets and gored at least eight people.
Some say the running of the bulls tradition should be preserved while others cry out against animal cruelty and the potential harm to humans -- 15 people have been killed at the Festival since record-keeping began in the early 1900s.
See more GOREgeous photos of this year's runnings below.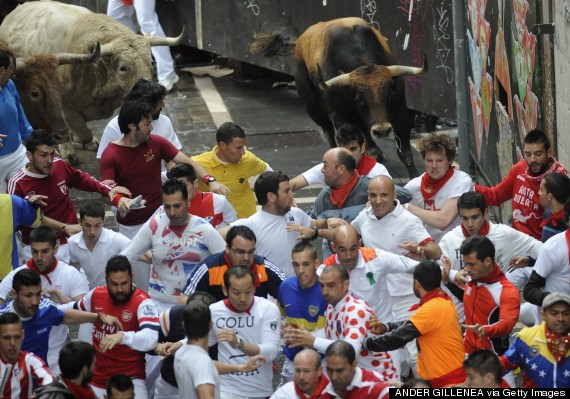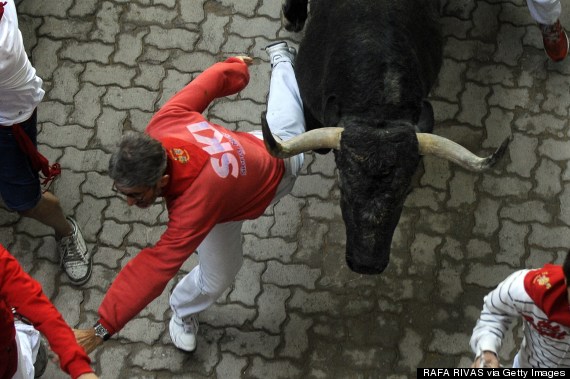 BEFORE YOU GO
PHOTO GALLERY
Pamplona Festival Running Of The Bulls