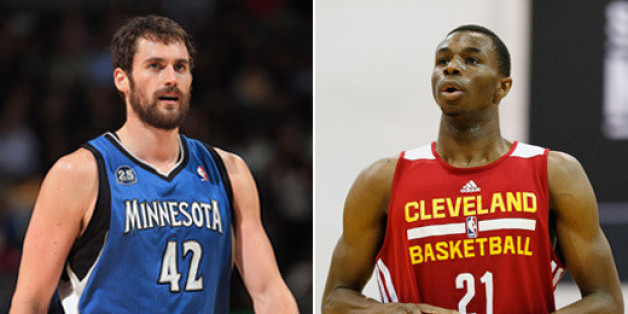 Landing LeBron James would be enough to make any team's offseason a success. But the Cleveland Cavaliers might not be done making moves just yet. Even before LeBron announced his decision to return to his home state, reports of a possible trade that would bring Kevin Love to Cleveland were swirling. In order to part with Love, the Minnesota Timberwolves could demand the Cavs to give up Andrew Wiggins, the No. 1 overall pick in the 2014 NBA Draft.
Love, already a three-time All-Star at age 25, is "intrigued" by the idea of being traded to Cleveland and would commit to a long-term deal if traded, Marc Stein of ESPN.com reported after James' announcement. Love can opt out of his contract with the Timberwolves after the 2014-15 season and become an unrestricted free agent. Given that he is reportedly fed up with playing for also-ran teams in Minnesota and plans on leaving if he doesn't get traded, the Timberwolves may have to weigh dealing him or possibly losing him for nothing. Cleveland would likely need to include multiple pieces in any deal for Love, possibly even 2013 No. 1 overall draft pick Anthony Bennett.
While the final decision on any trade for Love likely belongs to Cavaliers owner Dan Gilbert and general manager David Griffin, the team's new coach, David Blatt, doesn't seem to think Wiggins will be dealt.
"There's no reason or cause for worry on his part because Andrew's not going anywhere, as far as I know and as far as the club has expressed," Blatt told reporters in Las Vegas during the NBA's Summer League, via ESPN.
With James set to celebrate his 30th birthday during the upcoming season and coming off four straight NBA Finals appearances, the Cavs may soon face a tough choice: Should they trade Wiggins' future for Love's present?
What do you think the Cavs should do? Should they do whatever it takes to get Love, who averaged 26.1 points and 12.5 rebounds per game last season, from Minnesota? Or should they hold on to Wiggins in hopes that he can help James enough in the short term while developing into a superstar in his own right?