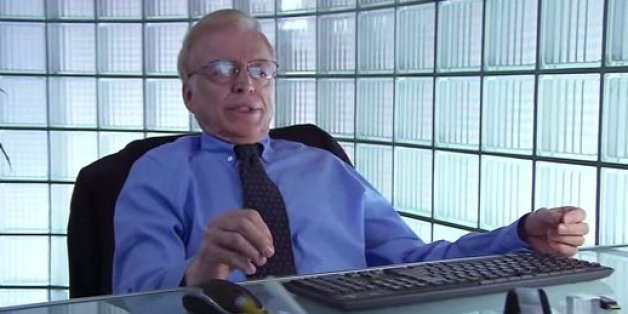 On the July 8 episode of "Nathan For You," Nathan Fielder attempted to boost a struggling souvenir shop's sales by staging a film shoot, inviting customers to be "Extras" and directing them to shop at the store.
While that may sound like a solid plan, Fielder ran into a catch: legally, he actually had to produce a movie. It was a challenge, but not only was he able to slap together enough footage to create his short film, "The Web," but he also stumbled upon one of the best/worst Bill Gates impersonators of all time.
"You know, in comedy, when you see the same joke or see the same thing over and over, it becomes slightly less funny? He is maybe the only thing I've ever encountered where every time I watch him, it doesn't get any less funny," Fielder told The Huffington Post. "He's a very interesting and strange man."
As it turns out, Fielder's Bill Gates was chosen after replying to a casting call (they put one out after discovering the industry's most reputable Bill Gates impersonator was no longer in the biz). Fielder decided to take a chance on him with very little vetting, which ended up being a great decision.
"This guy responded, saying he was a professional Bill Gates impersonator," Fielder explained. "It was kind of a last minute thing, so I didn't have much time to talk to him before we brought him out. As soon as we started, it seemed like he only knew two facts about Bill Gates: That computers used to be bigger, and Bill Gates is somehow associated with Microsoft."
If you were as enamored with the Gates impersonator's performance as Fielder was, rest assured that he will return later on in season two.
"He actually comes back later in the season, in another episode. I found another way to use him and I think it's just as good," Fielder said. "The next time I talk to him, we have a bit of a personal conversation. We only show a little bit of it, but he had a very weird thing happen to him when he was younger."
Oh, boy. We can only imagine what that "weird thing" could be, but based on previous "Nathan For You" stunts, it's bound to be highly ridiculous.
"Nathan For You" airs Tuesday at 10:30 p.m. ET on Comedy Central.

BEFORE YOU GO
PHOTO GALLERY
Comedy Doppelgangers