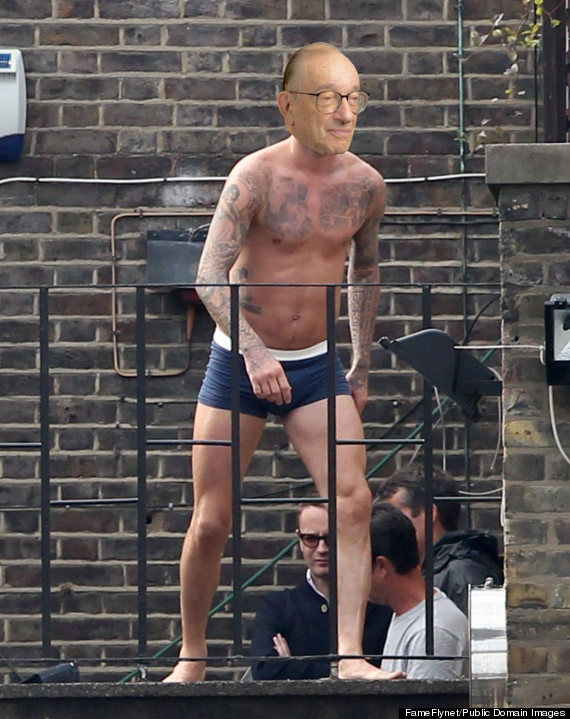 WASHINGTON -- Economists have been looking at people's underwear for decades and this year things are looking good.
Gross, you say? Perhaps, but underwear sales do happen to be one of quirkiest economic metrics ever created by a Federal Reserve chairman.
According to author Robert Krulwich, former Fed Chair Alan Greenspan said that when he wanted a stripped-down sense of the state of the economy, he would look for answers in men's underwear sales. If purchases of boxers or briefs declined, he posited, the economy might be in serious trouble, since men felt like they didn't have enough money to replace their tattered underwear.
"Your children need clothes. Your wife needs clothes. They have to change. The children grow. You need clothes on the outside," said Krulwich, channeling Greenspan. "But the last purchase that you don't have to make is underpants," he added, noting that most men are willing to wear underwear with holes in it.
During the Obama administration, Greenspan's corollary seemed to apply. Underwear sales were down big time during the aftermath of the recession in 2009. But over time, they have increased, reflecting a stabilizing and then a gradually improving economy. We should know. Like an old, lucky pair of underwear we refuse to throw away, The Huffington Post has been following this story since 2009.
This past year, the NPD Group, Inc., a leading market research company, reported that men's apparel sales were up 5 percent from the year prior, at $60.8 billion instead of $57.8 billion. While there was no specific breakdown for underwear sales, the group did note that sales of socks alone grew by 14 percent to $2.8 billion.
Michael Kleinmann, CEO & Editor-in-Chief of a blog called The Underwear Expert, told The Huffington Post that business in the industry was "going well." He attributed the positive trends to a generally improving economy and fewer barriers for prospective suppliers.
"I remember back in 2008, brands had definitely reacted to market changes, cutting collections colors and quantities," he said. "Now we see brands expanding as much as they possibly can and we see brands launching every week. The barriers to entry are lower ... everyone has realized that they are in the retail business, that all you need is to put a website on and start some marketing."
Kleinmann doesn't subscribe to the theory that underwear sales say a whole lot about the economy. One reason is that it's difficult to get a true sense of how large the industry has become. Currently, he said, there are an estimated 500 different men's underwear brands on the market. The "fashion brands" -- with pairs priced between $10 and $40 -- have experienced the most growth, he said. But the more expensive "luxury" brands are gaining steam too. Frigo's $100 pair of boxer briefs was a media sensation last fall.
Those hit hardest by the recession are in no position to spend that much money on a new pair of drawers. But some men say they're still buying.
Jim Chukalas of Fredon Township, New Jersey, recently started a new career in real estate after a stretch of unemployment, which he previously told HuffPost had restricted his underwear purchases. Now he's back in new boxer briefs after a trip to the outlets.
"I have bought some more, but not many," Chukalas said in an email.
A recent Gallup survey found that about 45 percent of Americans have spent more money this year than they did last year, mostly on necessities like groceries and utilities. Only 25 percent of respondents reported spending more money on clothing, while 30 percent said they'd spent less.
Yet companies that sell men's underwear seem to be having a good year so far.
For the first quarter of 2014, the most recent available data, Hanesbrands Inc. saw net underwear sales for men, women and children increase to $571.2 million, up from $497.0 million in the first quarter of 2013, according to SEC filings. Underwear sales are clearly on the upswing for Hanes after the depths of the recession. In 2009, underwear sales totaled just $1.83 billion. By the end of 2013, that number had climbed to $2.44 billion, up about 5 percent from from $2.33 billion in 2012, and a full 33 percent from the 2009 figure.
In its annual report for 2013, Hanes attributed the improved performance to "incremental sales from Maidenform brands in the intimate apparel category and stronger net sales in our men's underwear and socks product categories, partially offset by lower net sales in our children's underwear product category."
Greenspan's argument that men's underwear is uniquely utilitarian is increasingly obsolete. Women wear plenty of underwear that isn't high-end designer, and one of the most prominent retailers is Victoria's Secret. The company, owned by the L Brands Inc. conglomerate, has seen moderate sales growth this year. Revenue came in at $1.60 billion in the quarter that ended May 3, up slightly from $1.54 billion in the same quarter a year ago, according to its most recent quarterly SEC filing.
For the fiscal year that ended Feb. 1, Victoria's Secret sales were up slightly, bumping to $6.68 billion from $6.57 billion in the prior year. But the company says it's optimistic about the future.
"We see clear opportunities for substantial growth in these categories by focusing on product newness and innovation and expanding into under-penetrated market and price segments," the company said in its most recent annual report.