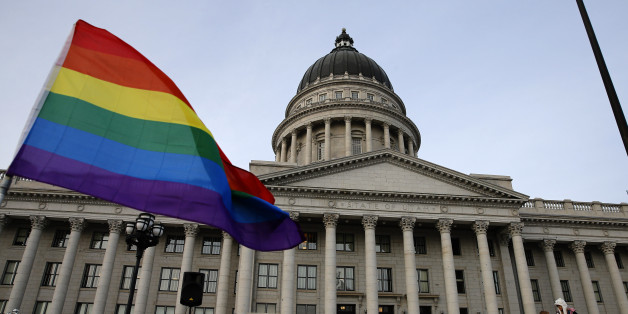 The office of Utah's attorney general has filed an emergency petition to the U.S. Supreme Court seeking a stay on a ruling that the state must legally recognize same-sex marriages performed while gay marriage was briefly legal in the state.
If granted the stay, the state would have more time to prepare its appeal to the high court. The existing stay on the ruling expires on July 21.
Last week, the 10th U.S. Circuit Court of Appeals denied Utah's attempt to block recognition of 1,300 same-sex marriages that were performed while the state's ban was lifted last December.
Reuters reports:
Utah refused to confer legal recognition of gay and lesbian marriages performed in the interim, leaving those couples unable to proceed with adoptions, obtain spousal health insurance benefits or legally change their names.

Four newlywed same-sex couples then filed a separate lawsuit to get the state to recognize their marital status, winning a decision in May from another federal judge that their marriages were valid. But that judge also temporarily stayed his own ruling to let Utah petition for a lengthier injunction pending appeal.

The 10th Circuit on Friday denied that request for a permanent injunction.
In the petition for the emergency hold, state officials claimed that "there is a likelihood — indeed, a certainty — of irreparable harm to the State" should the stay be denied.
Read the application below, courtesy of BuzzFeed's Chris Geidner:
BEFORE YOU GO
PHOTO GALLERY
SCOTUS Decisions On Prop 8, Defense Of Marriage Act