His face is twisted with anguish, his hands grab at his shirt near his heart; there is no sound, but the pained cry escaping his mouth can almost be heard.
This is a photograph of the father of one of the four young boys who was killed by an Israeli strike in Gaza Wednesday. The boys, all cousins and all under the age of 12, had been playing soccer on the beach when the attack occurred. The man's picture, by photographer Hosam Salem, was taken during the boys' funeral.
A photograph of the wailing father has gone viral this week as news of Wednesday's tragedy continues to make headlines.
In the aftermath of the four boys' deaths, both Israel and Hamas ceased fighting for five hours Thursday for a humanitarian truce requested by the United Nations, Reuters reports. The brief cease-fire, however, has since come to an end, and Israeli Prime Minister Benjamin Netanyahu announced Thursday that his country's military has launched a ground offensive in Gaza.
More than 160 civilians, including more than 40 children, have been killed in Gaza since July 7, when Israel launched its anti-Hamas military operation. "According to preliminary information, 77 [percent] of Palestinian fatalities so far have been civilians, raising concerns about respect for international humanitarian law," the UN wrote in a July 16 report.
The Israeli military has reportedly launched an investigation into the strike that killed the four cousins. They say the strike had been intended for Hamas militants and called the children's deaths a "tragic outcome," per ABC News.
Earlier this week, Human Rights Watch called for the Israeli military to "end unlawful attacks that do not target military objectives and may be intended as collective punishment or broadly to destroy civilian property."
"Deliberate or reckless attacks violating the laws of war are war crimes," the organization wrote on its website, adding that "Palestinian armed groups also should end indiscriminate rocket attacks launched toward Israeli population centers."
Tyler Hicks, a New York Times photojournalist who was in a nearby hotel when the Gaza beach strike occurred and photographed the boys' bodies as they were carried away, wrote in an essay Thursday that "there is no safe place in Gaza right now."
"Bombs can land at any time, anywhere," he wrote. "A small metal shack with no electricity or running water on a jetty in the blazing seaside sun does not seem like the kind of place frequented by Hamas militants, the Israel Defense Forces' intended targets. Children, maybe four feet tall, dressed in summer clothes, running from an explosion, don't fit the description of Hamas fighters, either."
In the hours after the four boys' deaths, Gaza was overcome with grief and fury. According to CNN, hundreds of people attended the children's funeral Wednesday and "angry chants filled the air."
Below are more heart-wrenching images of the boys' relatives, as well as photos from their funeral: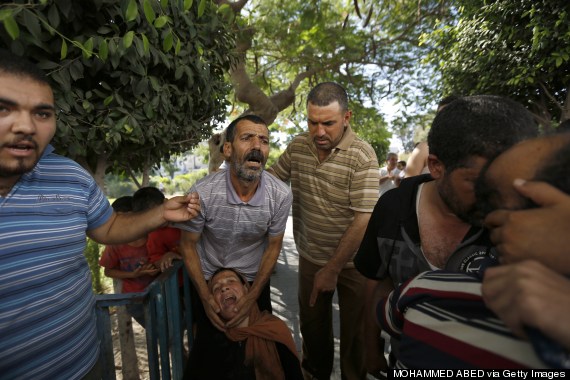 The father and mother of one of the four boys killed during Israeli shelling react outside the al-Shifa hospital in Gaza City, on July 16, 2014.
A #Palestinian mother reacts to the news that her son was one of 4 boys killed in Israeli shelling of #gaza seaport pic.twitter.com/2LdGY5p9GU

— Ayman Mohyeldin (@AymanM) July 16, 2014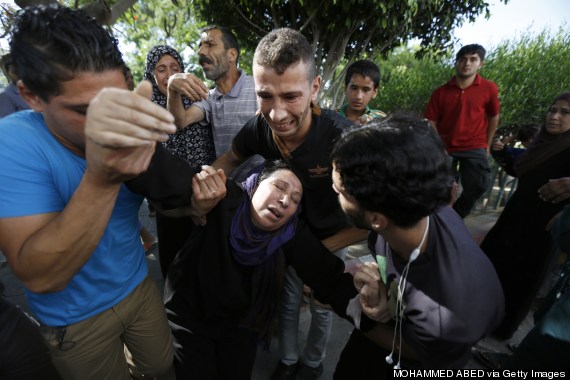 The mother of one of the four boys, all from the Bakr family, killed during Israeli shelling, collapses outside the al-Shifa hospital in Gaza City, on July 16, 2014.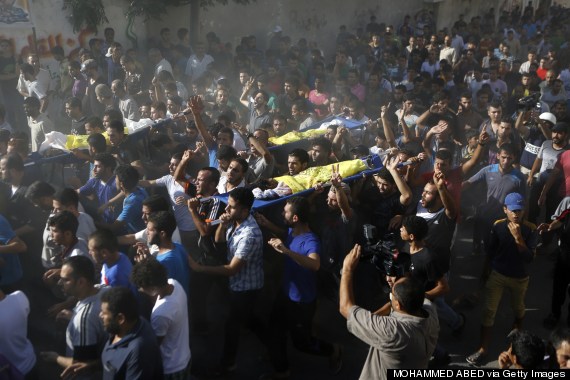 Palestinian mourners shout slogans during the funeral of four boys, all from the Bakr family, in Gaza City, on July 16, 2014.
Funeral for 4 boys, cousins ages ranging from 9 to 11, killed in Israeli strike on #Gaza beach Wednesday afternoon. pic.twitter.com/sN32Z9wIMZ

— benwedeman (@bencnn) July 16, 2014
BEFORE YOU GO
08/05/2014 4:20 PM EDT
Israel Arrests Kidnapping Suspect
Reuters reports that Israel has arrested one of the suspects in the kidnapping and killing of three Israeli teenagers in the West Bank in June.
Hussam Kawasme, a 40-year-old resident of the West Bank city of Hebron, was arrested on July 11 in connection with the killing of Israelis Gil-Ad Shaer, Naftali Fraenkel and Eyal Yifrah, who went missing on June 12 and were discovered dead a couple of weeks later.

Their kidnapping sparked a cycle of violence that led to the month-long conflict between Israel and Palestinian militants in the Gaza Strip.

Kawasme's arrest was made public for the first time on Tuesday in a document from an Israeli court case over whether houses belonging to him and two other suspects - who remain at large - should be destroyed as a punitive measure.

The lawyers listed as representing Kawasme were not reachable for comment.

The court document said Kawasme had admitted to helping to organize the kidnapping - securing funding from the Hamas Islamist group in Gaza and purchasing weapons which he passed on to the two other suspects who carried out the attack.

Kawasme also helped to bury the bodies of the teenagers in a plot of land he had bought a few months earlier, it said.

Israel has named the other two suspects in the case as Marwan Kawasme and Amar Abu Aysha.