Jeff Koons' gradual takeover of New York City continues with the unveiling of his special edition "Balloon Dog" handbag -- a collaboration with H&M that debuts in a handful of stores across the country today.
The bag features an image of the artist's famous balloon dog sculptures, of which an orange version recently sold for $58.4 million dollars. The H&M version of the stainless steel work will cost a much less $49.50.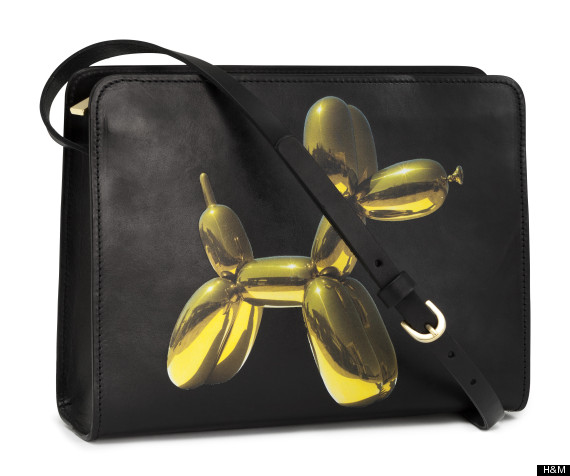 H&M's handbag, of course, coincides with Koons' massive retrospective at the Whitney Museum, which the popular Swedish retailer sponsored.
"The partnership with H&M was really exciting for me and the chance to showcase one of my most popular works to a new generation of people was inspiring," Koons recently said through a statement.
Earlier this week, a variety of socialites, celebrities, and models were at hand to fete the artist and his leather bag. Koons will continue the celebrations today at H&M's newest Manhattan location on Fifth Avenue, where Forbes reports the brand will transform the location into something that resembles a museum plastered with yellow dogs. Head to 589 Fifth Avenue at noon, if you're into that sort of thing.
And if you are, or just can't get enough of artist-fashion collabs, check out Damien Hirst's own commodification of art in the form of a newpill-shaped jewelry line.
BEFORE YOU GO
PHOTO GALLERY
Jeff Koons Celebrates H&M Opening