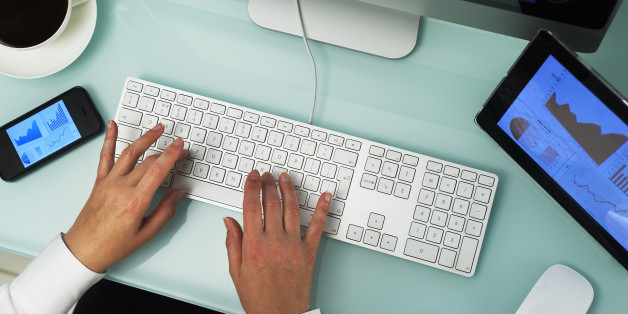 Yes, nagging bosses, long work hours and office politics are stressful. But new research suggests that, for working moms, time spent at home is biologically more stressful than anything they're experiencing in the confines of their cubicles.
In a 2012 study, University of Akron researchers Adrianne Frech and Sarah Damaske made the surprising discovery that full-time working mothers reported better physical and mental health than part-time working mothers. What's more, those working part time claimed to be in better shape than non-working moms. The longitudinal study, conducted over a 30-year period, included 2,540 mothers. Now, Damaske has looked back at these results to find an answer to the big question: Why is work such a haven for moms?
While conducting her recent study, Damaske collected saliva samples throughout the day from 122 employed men and women and found that when participants where at home, their levels of the stress hormone cortisol spiked. These findings support Arlie Hochschild's 1997 "time bind" hypothesis, which states that women view work as an opportunity to escape the stresses of home life -- and according to Damaske, this is part of our biology.
Given this new hormonal evidence, Damaske said that the big factor in determining why women are more stressed at home boils down to the degree of stress: The anxieties one experiences at home, whether they're from a death in the family, a spouse's illness or a child's social issues, are much deeper and more difficult to handle than fleeting work troubles.
"You still know that you can quit [your job], you can look for something else, that you can leave -- leave your boss and your bad day behind," Damaske told NPR. "Those aren't exactly strategies that you have for home, right? Most of us aren't going to up and leave our families because they're stressful, although most people's families are stressful from time to time."
Damaske also said that the reason we may hear more complaints about work than home from working moms is because it's simply more socially acceptable to whine about your job. Somehow, kvetching about your boss feels like a more general experience and not such a personal divulgence.
Just take one look at these moms' cortisol levels, however, and you'll see that perhaps their bodies view work as a break from the most difficult task on their to-do lists: parenting. But we doubt a single one of them wouldn't say that those cortisol spikes aren't 100 percent worth it.
BEFORE YOU GO