* Malaysian Airliner downed in Ukraine war zone, 295 dead
* Morgan Stanley profit more than doubles, beats estimates
* Microsoft to cut up to 18,000 jobs, 14 percent of workforce
* Dow off 0.5 pct; S&P 500 down 0.7 pct; Nasdaq off 0.9 pct (Updates to afternoon)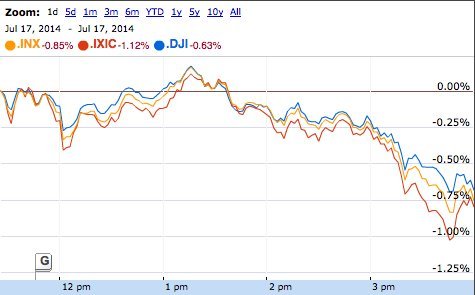 By Angela Moon
NEW YORK, July 17 (Reuters) - U.S. stocks fell on Thursday in volatile trading on news that a Malaysian Airlines passenger jet crashed near the Ukraine-Russia border, after the United States and European Union imposed sanctions on Russia.
Investors sold equities in a move to avoid risk because of conflicting reports about the reason why the plane went down. A New York Stock Exchange floor trader, who spoke on condition of anonymity, cited reports that the plane might been shot down.
"What's happening in the market is what you'd expect, a risk reversal. Stocks fall a bit, gold rises a bit, energy prices are still high, the volatility index spikes," said Art Hogan, chief market strategist at Wunderlich Securities in New York.
The CBOE Volatility index surged 17.6 percent to 12.94 and was on track to post its biggest daily percentage gain in at least three months. Spot gold rose 1.4 percent to above $1,315 an ounce and U.S. crude shot up 1.8 percent to $103.03 a barrel.
The Dow Jones industrial average fell 89.26 points or 0.52 percent, to 17,048.94. The S&P 500 lost 14.37 points or 0.73 percent, to 1,967.20. The Nasdaq Composite dropped 40.89 points or 0.92 percent, to 4,385.08.
The major U.S. stock indexes opened modestly lower following news of fresh U.S. and European Union sanctions on Russia. Stronger-than-expected earnings, however, helped curb the declines.
By late morning, stocks slid to session lows after news that a Malaysian airliner was brought down over eastern Ukraine on Thursday. The crash killed all 295 people aboard and sharply increased the stakes in a conflict between Kiev and pro-Moscow rebels in which Russia and the West back opposing sides.
Ukraine accused "terrorists" - militants fighting to unite eastern Ukraine with Russia - of shooting down the Malaysia Airlines Boeing 777 with a heavy Soviet-era ground-to-air missile as it flew from Amsterdam to Kuala Lumpur.
"If there's an escalation here and we go to Tier Three sanctions, think about the economic effect it has on Russia and its trading partners," Hogan said. "If sanctions become harsh enough and have enough economic impact on Russia, it could drag the core of Europe into a recession. That's the economic possibility."
The iShares China Large Cap ETF slipped 1.1 percent. The NYSE Arca airline index was down 1.6 percent.
The U.S. sanctions, which were announced late on Wednesday, hit some of Russia's biggest companies while the EU sanctions were aimed at Russian companies that help destabilize Ukraine and will block new loans to Russia through two multilateral lenders. The Market Vectors Russia ETF lost 6.4 percent.
Equities had been holding near the unchanged mark earlier in the session, largely on the back of solid earnings from companies such as Morgan Stanley, down 0.2 percent at $32.44, and UnitedHealth, up 2.4 percent at $85.77.
Microsoft shares rose 1.3 percent to $44.64 after the company said it would cut up to 18,000 jobs, or about 14 percent of its workforce, resulting in pre-tax charges of $1.1 billion to $1.6 billion over the next four quarters.
Data on manufacturing and the labor market indicated that the U.S. economy was improving, although the housing market remains weak. The PHLX housing index fell 1.6 percent.
S&P 500 companies' profits are expected to grow 4.9 percent in the second quarter, according to Thomson Reuters data, down from the 8.4 percent growth forecast at the start of April. Revenue is seen up 3 percent. (Reporting by Angela Moon; Editing by Jan Paschal)