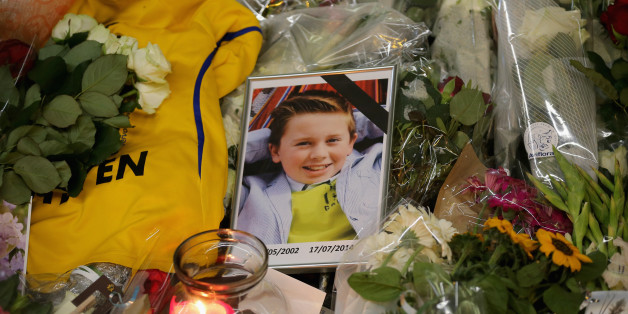 Scammers are capitalizing on the tragic Malaysian crash by setting up fake tribute Facebook pages that bring in quick cash.
At least six such unauthorized pages have been set up in "memory" of victims killed on the doomed Flight MH17 on Thursday, the Sydney Morning Herald reported. But when users clicked on the sites -- they didn't have the opportunity to honor the dead, they were lead to pop-up ads for online gambling, get-rich-quick schemes, and other suspicious products.
Three of the fake pages were set up in the names of children who perished on the flight.
One Facebook page dedicated to Liam Sweeney -- one of the 298 crash victims -- urged viewers to click on a link called, "Video Camera Caught the moment plane MH17 Crash over Ukraine." Instead, the link took users to a pornographic website, according to the BBC.
Such schemes are "extremely lucrative" Alastair MacGibbon, director of the University of Canberra's Centre for Internet Safety, told the Sydney Morning Herald. These groups are often rewarded with advertising or referral revenue for directing traffic to certain sites, according to MacGibbon.
MacGibbon said that Facebook would be quick to take action.
But taking advantage of empathetic supporters eager to help mourning families in the wake of a tragedy isn't anything new.
After the Sandy Hook Elementary School shooting in 2012, which claimed 26 lives, scammers acted speedily too.
Some took to Facebook to set up bogus memorial pages, others launched flat-out fake fundraising sites.
The family of Noah Pozner, a 6-year-old killed during the tragedy, learned that someone had set up a charity site in his memory to make a quick buck off of their personal nightmare, the Daily News reported. The site encouraged donors to send funds to an address in Bronx, New York.
"These scammers," Noah's uncle, Alexis Haller, told the paper, "are taking away from families and the spirits of dead kids."
Even before the official death toll was released after last year's Boston Marathon bombings, at least 20 suspicious fundraising sites cropped up, according to TheDomains.com.
"While we don't know every registrant's intention, we do know historically that many of the domain names registered immediately after were done to get traffic and make money parking domains or worse," Michael Berkins wrote on TheDomains.com -- a site founded by domain name experts.
The Better Business Bureau offers a number of suggestions to help donors from getting scammed in the wake of a tragedy.
Among its recommendations, the organizations suggests researching each cause on its website, and avoiding charities with "vague" missions and those that only accept cash donations.
"Tragedies inspire people to give," H. Art Taylor, president and CEO of Better Business Bureaus Wise Giving Alliance, said in a press release after the Boston bombings, "but, tragedies -- whether natural disasters or man-made catastrophes -- also inspire scammers to take advantage of that generosity. Social media, in particular, makes it very easy to reach a lot of people quickly, when emotions are running high and people feel the need to take action, any action, to help."
BEFORE YOU GO
PHOTO GALLERY
Malaysia Airlines Flight MH17