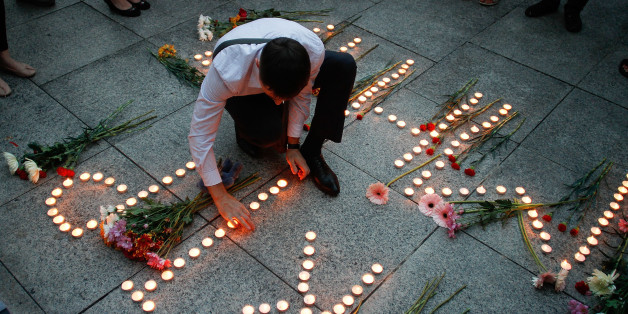 The American Family Association's Bryan Fischer fired off at President Barack Obama's response to the Malaysia Airlines flight MH17 that crashed in Ukraine last week.
Perhaps not surprisingly, Fischer pointed to the president's acknowledgement of the loss of a group of World Health Organization staffers, who were heading to a conference on HIV/AIDS research in Australia aboard the flight.
Fischer, who is no stranger to anti-gay proclamations, took offense to Obama's vow that the U.S. will "continue to stand for the basic principle that people have a right to live as they choose," which he interpreted as a nod to the lesbian, gay, bisexual and transgender (LGBT) community.
"What the president said was perfectly appropriate until he stood on the graves of these researchers and lurched from compassion to advocacy for a dangerous and destructive lifestyle," Fischer wrote in a One News Now Op-Ed.
"There is no question that the HIV/AIDS crisis is behaviorally induced, and that changing sexual behavior is central to getting this epidemic under control," he added. "If there is any lesson about homosexuality to be taken from this tragedy, it is this. Homosexual behavior kills, and the sooner we alert young men to this the more compassionate we will be and they longer they will live."
Fischer's latest remarks echo those he made last week on Twitter:
Obama politicizes deaths of AIDS researchers on Malaysian plane. We know how to stop AIDS: persuade men not to have sex with men.

— Bryan Fischer (@BryanJFischer) July 18, 2014
In his remarks, President Obama politicized Malaysian airliner tragedy, used it to press the radical homosexual agenda.

— Bryan Fischer (@BryanJFischer) July 18, 2014
You can read Fischer's full article here.

Earlier this month, Fischer slammed LGBT rights advocates as "belligerent" and "intolerant bullies" who represented a "tiny little minority" of the U.S. population in a broadcast on his "Focal Point" radio show, Right Wing Watch first reported.

BEFORE YOU GO
PHOTO GALLERY
MH17 Malaysia Airline Plane