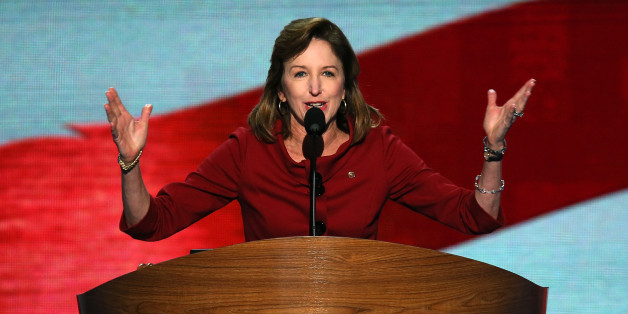 PPP releases new polls in North Carolina and Colorado. Georgia polls have shown a consistent leader in today's Republican Senate runoff election. And the Pew Research Center is looking for another new president. This is HuffPollster for Tuesday, July 22, 2014.
PPP (D) FINDS HAGAN LEAD IN NC - The Democratic-affiliated firm Public Policy Polling (PPP) released two new polls on Tuesday in competitive U.S. Senate contests that generally confirm results from other recent polling. In North Carolina, the new survey is the fourth since June to find Sen. Kay Hagan (D-N.C.) leading Republican challenger Thom Tillis. PPP gives Hagan a seven percentage point lead (41 to 34 percent) over Tillis, with Libertarian Sean Haugh receiving 8 percent of the vote. Hagan's margin on the PPP poll, as well as the support measured for Haugh, were nearly identical on a June poll fielded by Civitas, a conservative North Carolina think tank. The HuffPost Pollster polling model, based on all available public surveys, gives Hagan a slightly narrower lead (42.3 to 37.4 percent). [PPP, Pollster]
...and a deadlocked race in Colorado - In a separate survey, PPP finds Sen. Mark Udall (D-Colo.) taking 44 percent to 43 percent. While an NBC/Marist poll conducted in the first week of July gave Udall a 7 point lead, most polls have shown a closer race -- in 11 of the 15 polls released, either Udall or Gardner led by 2 points or less. A Quinnipiac survey last week gave Gardner 44 percent to Udall's 42 percent. HuffPost Pollster's model finds both candidates at just under 45 percent. [PPP]
GEORGIA REPUBLICANS HEADING TO THE POLLS FOR SENATE PRIMARY RUNOFF - Harry Enten: "Georgia's Republican primary for the U.S. Senate will end Tuesday amid accusations of sweetheart deals and donations from criminals. But the Peach State's runoff — unlike Mississippi's — doesn't feature a big ideological struggle; Rep. Jack Kingston and former Dollar General CEO David Perdue are both mainline conservatives….Perdue finished first in the primary with 31 percent. Kingston came in second at 26 percent. But the tables appear to have turned in the runoff….And Kingston's 5 to 6 percentage-point lead will probably stand up. Past polling in Georgia' Republican primaries and runoffs has been reasonably accurate. In the 2010 gubernatorial runoff, the polling average was off by less than a percentage point. In the first round of this year's Senate primary, polling correctly showed Perdue ahead, Kingston in second and Handel in third. Only two candidates (with undecideds allocated proportionally) out of 16 in the past four major statewide GOP primaries have seen an error of more than 3 percentage points from their projected vote percentage and actual vote percentage. Perdue would need that type of error (and in his direction) to win. For the polls to be wrong, Perdue will probably need to exceed expectations in the Atlanta area." [538]
Polling average puts Kingston ahead - Ten polls have been conducted on the runoff, many for sponsors with a stake in the race (the only two live-caller polls are two dueling internals from the Perdue and Kingston campaigns). Every survey except the Perdue internal gave Kingston the lead, with margins varying between 2 and 12 points. HuffPost Pollster's tracking model puts Kingston ahead, 46.7 percent to Perdue's 41 percent. [Pollster chart]
PRIMARY TURNOUT DROP - Philip Elliott/AP: "More than half the states to hold primary elections so far have seen record-low turnouts, according to a nonpartisan survey of voter rolls released Monday. That perhaps is a sign of widespread apathy within both political parties ahead of November's midterm elections. Of the almost 123 million voters who were eligible to cast ballots in primaries, only 18 million have done so, and states with same-day voter registration actually saw their turnout rates drop, according to the Center for the Study of the American Electorate. Despite heavy campaign spending that is poised to make history, 15 of the 25 states that have held statewide primary elections each reported a record low percentage of voters who cast ballots...Democrats saw a 29 percent decline from 2010's primaries, the 11th consecutive midterm elections to see a drop in participation. Republicans posted a 15 percent decline in participation from 2010. But their rate was closer to historical norms after tea party enthusiasm in 2010 led to a turnout spike." [AP, CSAE report]
But closer races produced higher turnouts - Phillip Bump: "We were curious, though, if that held up for some of the most closely watched races in the country. The AP is deliberate about noting that campaign spending is soaring even as more than half of primary states saw record low turnout. But that spending is soaring only in select races...[T]here doesn't appear to have been much correlation between how much money was spent in the race and how much turnout changed. But races that saw an increase in turnout were more likely to be close. This makes sense, of course; more interesting races where votes make more of a difference are more likely to get people to go to the polls. (The dotted line is the trend.)" [WashPost]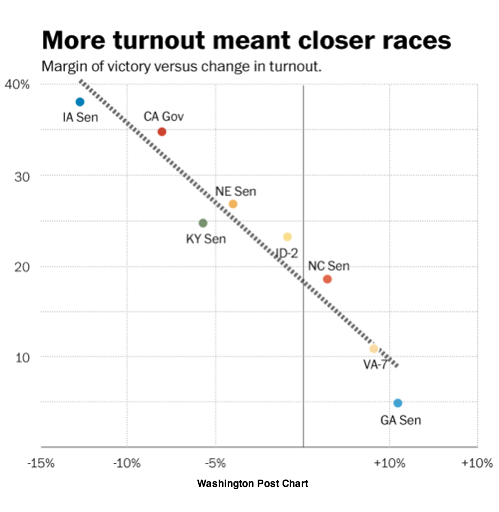 ANOTHER POLL FINDS AMERICANS OPPOSED TO INTERVENTION IN UKRAINE - Emily Swanson: "Many Americans are convinced that Russia was at least partially responsible for the crash of Malaysia Airlines Flight 17 last week, a new HuffPost/YouGov poll shows. But even if it's proven that Russia or pro-Russian separatists in Ukraine were involved, Americans say they would favor sanctions and diplomacy over military options. Asked to choose who they believed to be responsible for the crash, 48 percent of Americans said pro-Russian Ukrainian separatists were involved, while 33 percent said the Russian military was involved….But the new HuffPost/YouGov poll shows that Americans largely want to stay out of the conflict. In a question asked prior to any mention of the plane crash, most respondents said that the United States should not get involved in the dispute between Russia and Ukraine, by a 52 percent to 18 percent margin. Even if it's shown for certain that Russia or Russian-backed separatists were responsible for the crash, sanctions against Russia were the most popular option, supported by 42 percent of Americans….Respondents who were asked a similar question earlier in the poll, before any mention of the plane crash, were slightly less likely to support military options and slightly more likely to support diplomacy, but overall responses changed only marginally when respondents were asked to consider the crash as a factor." [HuffPost]
PEW RESEARCH PRESIDENT LEAVES FOR FORTUNE MAGAZINE - Catherine Taibi: "Pew Research Center president Alan Murray is leaving the company to become the new editor of Fortune, Pew announced Tuesday. Murray has been chief of Pew since 2012 after leaving his post at the Wall Street Journal as deputy managing editor and online executive editor. He will become the 17th editor of Fortune, succeeding Andy Serwer….Murray will remain at Pew until August 1. He added that Jim McMillan, general counsel and corporate secretary at the Pew Charitable Trusts, will then take over as 'acting president' while the company searches for a new leader." [HuffPost]
TUESDAY'S 'OUTLIERS' - Links to the best of news at the intersection of polling, politics and political data:
-Democracy Corps (D) finds that "control of the Senate rests on a knife's edge" in battleground states. [DemCorps]
-SurveyUSA finds Charlie Crist (D) 6 points ahead of Florida Gov. Rick Scott (R). [SurveyUSA]
-Polls in Michigan and Iowa show among the highest level of undecided voters. [Smart Politics]
-Susan Page reviews three key bets the parties are making on the midterm. [USA Today]
-PPP (D) and American United for Change (D) find 75 percent of voters don't think they could live on the minimum wage. [AUFC]
-53 percent of Latino households continue to worry that someone in their household might lose a job. [Latino Decisions]
-A GfK poll for the Chicago Council finds Americans' views of Russia at their lowest point since the Cold War. [Chicago Council]
-Brian Fung reports on the New Organizing Institute's annual data bootcamp. [WashPost]
-Jan Hoffman looks at the difficulty of counting LGBT Americans. [NYT]
-Andrew Kohut, founding director of the Pew Research Center, named winner of the Roper Center's Warren Mitofsky Award for Excellence in Public Opinion Research. [Roper]
-If pollster Gary Langer had to choose a backup profession, he'd pick Good Humor man. [Langer Research]
-A poll of Star Wars characters' favorability ratings finds little love for Jar Jar Binks. [538]
-The Simpsons ventures into the world of Big D'oh-ta. [Atlantic]