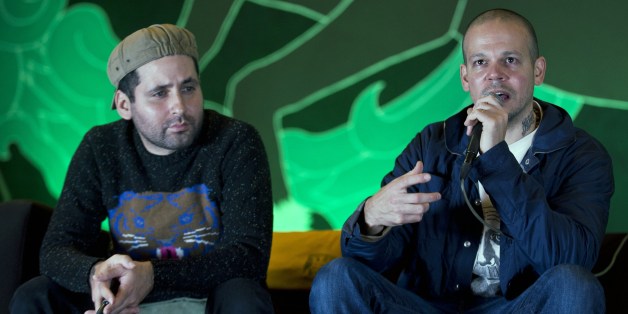 The Puerto Rican duo Calle 13 is hyped about their upcoming video for "Ojos Color de Sol" (Eyes the Color of the Sun), featuring Cuban trova singer Silvio Rodriguez.
With a new album at hand, the boys from Calle 13 are promoting their latest production "Multi_Viral." They made time to share a glimpse of their upcoming music video with their fans.
Frontman Rene Perez reached out to his official Twitter page first thing Tuesday morning and said: "En 7 dias no saldra el sol," which translates to "in seven days the sun won't come out."
A 15-second video wraps up candles, saints and a close-up of an eye, teasing fans with the forthcoming music video on July 29.
The album reflects what Calle 13 is all about. Its music is original, creative, with poetic, mixing dialogues, humor and activism.
"We once read an interview in which Silvio Rodriguez praised our music, so we thought it would be nice to contact him," said Visitante Eduardo Martinez during a phone interview with VOXXI explaining these collaborations.
"We first met him in La Habana… It was really cool to combine both worlds, his and ours."
"Multi_Viral," their first independent album, comprises 14 songs with an intro by Uruguayan poet and writer Eduardo Galeano.
And if you haven't heard the romantically witty "Ojos Color de Sol," then you are clearly missing out.
Originally publishes on VOXXI as Calle 13 and Silvio Rodriguez clash in sweet melody
BEFORE YOU GO
PHOTO GALLERY
16 Things You Didn't Know About Puerto Rico