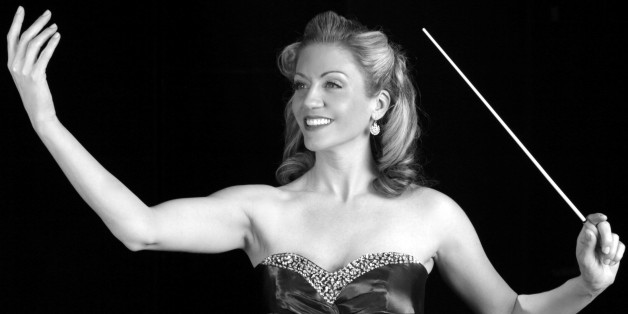 During the years she worked as a cocktail waitress in Las Vegas, Melissa Ritz lived a lifestyle many would envy. She earned six figures. She bought herself a three-bedroom, three-bathroom house and filled it with nice things. She drove a yellow, gently-used VW Beetle. She shopped for clothes without worrying about the price tag, ate out at the city's best restaurants and flew her friends in from around the country for fun-filled weekends. Indulging her love of travel, Ritz and a friend took a three-week trip to Paris, Amsterdam and Germany. She went to Mexico and on three Caribbean cruises.
The job's perks went on and on: great medical and dental insurance, 401(k), leaving work every night with cash from tips. Working as a cocktail waitress supported her while she pursued an undergraduate degree in dance. "It was a beautiful setup," Ritz, 38, told The Huffington Post.
But as time went on, Ritz found herself thinking about one aspect of her job that wasn't so beautiful: It offered her security, but the work wasn't necessarily fulfilling. There was a darker side to all those great perks.
"The cocktail waitresses and I called them the 'golden handcuffs,'" she said. "Because you just never leave."
"What are you doing here?"
One night in 2009, six years after she first moved to Vegas, a flash of Ritz's pre-casino life put things in perspective.
She observed a young couple sitting at the blackjack table where she worked -- something of a rarity, as the casino patrons tended to be older. Ritz, whose father was in the military and who had herself enlisted in the Air Force after high school, noticed that the man had Marine Corps tattoos on his arms and that his legs were amputated below both knees.
In her eight years in the Air Force, Ritz worked in hospitals, including one overseas where she saw many young veterans who'd fought in Afghanistan and Iraq. Those experiences raised big questions for her about her own purpose and path, and prompted her to leave the only thing she'd ever really known -- a military life -- to try her hand at singing, dancing and acting.
The sight of the injured veteran at the blackjack table transported Ritz back to her time in the military. She was flooded with sensory memories of her time in the hospital, the smell of blood, iodine and cleaning solution. "I went into the bathroom because I had this moment of, 'What are you doing here?!'" she said. "This isn't what you're supposed to be doing!'"
While she was composing herself in the bathroom, Ritz ran into the young veteran's girlfriend. She shared a bit of her story and asked the woman to extend her sincere thanks for her boyfriend's service and sacrifice. Then, almost immediately, Ritz began plotting a new course.
"I took it as a message that I needed to make a change, that this -- cocktailing -- wasn't what it was about," she said.
Ritz investigated her options and found a three-year MFA program in theater performance at the University of Nevada Las Vegas. She auditioned and, in 2010, enrolled -- quitting her job and selling her house and most of her things. She moved into a small rental apartment and lived off the modest stipend she received teaching undergraduate theater classes and Bikram yoga classes. Otherwise, she threw herself into her classes and, in the little free time she had, began writing a one-woman show about Ina Ray Hutton, a famous bandleader from the big band era.
New York, New York
Last October, Ritz made another bold change, packing up her things again and moving to New York City, where she rents a 125-square-foot furnished room in a former Upper West Side convent that is now a boarding house for women.
Ritz set one goal for herself for 2014: to work on her one-woman play, Journey of a Bombshell: The Ina Ray Hutton Story. Her work has been accepted into a solo theater festival and will be running for two nights this October. She supports herself by teaching Bikram yoga classes, and raised money for the show, which she is producing, with a successful Kickstarter campaign.
"I sing and tap dance in the show, as well as act it out," said Ritz, who has painstakingly revised her work with her director for more than seven months. "I'm hoping I can get enough industry people in to launch me into the career that I want to have as an actor." The first show sold out, and the festival gave her a second performance, which was a very "happy moment" for her, she said.
Six months to a year from now, Ritz hopes to take the show on tour. She refuses to formulate a plan B, recognizing that the stretches in her life when she prioritized security over passion ultimately left her feeling somehow empty. "That's why I went into the military," Ritz said. "Because I was afraid to try something new."
Now, however, she is no longer apprehensive about pursuing her dreams or asking herself, "What if?"
"I constantly keep focusing on the acting and performing and writing," Ritz said. "Creating this myself is very fulfilling."

Ritz during her time in the Air Force, in costume for her new show and in her uniform during her cocktail waitressing days.
If you or someone you know is taking steps to live a life that's simpler, saner and more fulfilling, we want to hear about it. To submit a Letting Go nomination, email thirdmetric@huffingtonpost.com.