A 12-year-old victim of a gruesome stabbing was inundated with hundreds of heartwarming purple paper hearts after letting the world know her favorite color and shape.
But the Waukesha, Wisconsin, girl recently received a heart that is like no other.
A generous veteran, who has chosen to remain anonymous, sent the recovering victim his Purple Heart medal, Steve Lyons, the family's spokesperson, told The Huffington Post. It's one of the military's highest honors, and is bestowed upon members who are killed or injured in action against an enemy of the United States.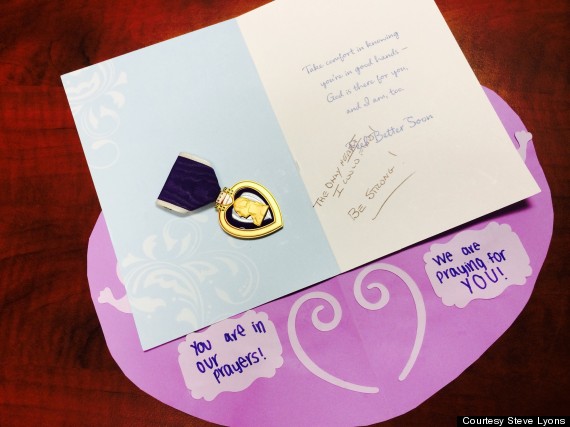 The esteemed medal came with a heartwarming card that read: "The only heart I could find. Be strong!"
Military members who receive the honor are free to pass them on as they see fit. Though it is a rare award, some say it's not all that shocking for a former serviceman to use his Purple Heart to uplift a complete stranger in need of a boost.
"American servicemen and women are also moms and dads, uncles and aunts -- brothers and sisters," Wisconsin Secretary of Veterans Affairs John Scocos told the family, according to their fundraising page. "It does not surprise me that a decorated veteran unselfishly gave this amazingly brave and courageous little girl something from his or her heart."
The girl -- whose name hasn't been released because she is a minor -- has been steadily recovering after authorities say she was stabbed 19 times with a kitchen knife on May 31 by two classmates.
The accused assailants, who have been charged as adults with first-degree attempted homicide, allegedly attacked her in the woods of Waukesha, Wisconsin, and told investigators that they were motivated to commit the grisly crime in order to impress Slenderman, a fictional character they said they believe to be real, according to a criminal complaint.
The girl managed to crawl out from the woods and get help from a passing bicyclist.
Since that day, the girl and her family have been focusing on moving forward. The girl has about four to five medical appointments a week, according to Lyons, and continues to have an upbeat outlook.
"She believes every day is a better day than the last," Lyons said.
Outpourings of support from friends, family and strangers they've never met have helped this Midwestern family that loves to fish and watch Disney movies make that belief a reality.
Since requesting homemade hearts to brighten up the spirits of the wounded girl, the family's P.O. box has been swelling with such messages of support. The girl and her brother open every one of them and often pinpoint on a map where each of far-off well-wisher is from.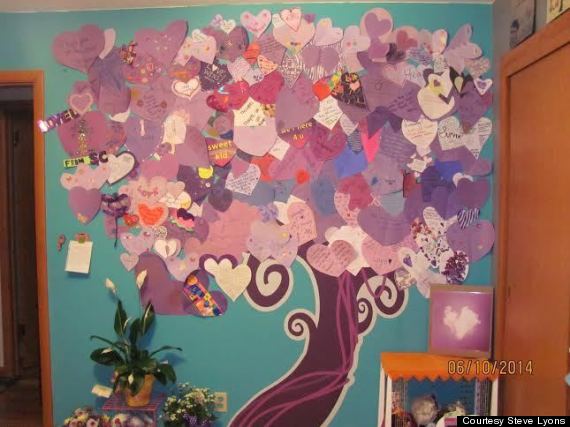 They were particularly inspired by the anonymous veteran's kind gesture and hope to one day be able to thank him, either publicly or privately, Lyons said.
The Purple Heart has also given the family the opportunity to open up more about what it means to endure both a deep physical and emotional wound.
"This incredible gift is one of the most unselfish things any of us has ever seen," Lyons said. "To give this heartfelt gift to a little girl who you've only read about, when you don't know the name or the face…we can't thank them enough."
But the girl has been incredibly appreciative of all the support she's received, and wishes she could personally thank the tens of thousands of people who have wished her well.
In June, the middle-schooler sent out a big message of gratitude to her fans.
She released a photo of herself surrounded by homemade hearts that were sent her way, and holding a card that read, "THANK YOU."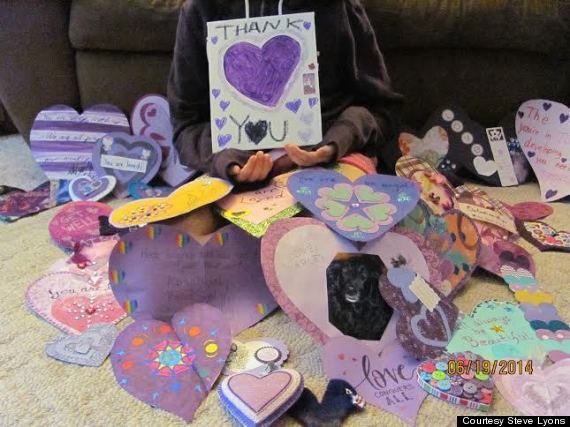 The family also expressed their appreciation for monetary donations toward the "Hearts for Healing Fund," which will be used to help pay for the girl's mounting medical bills.
The campaign has raised more than $50,000 and the family has set a goal of collecting $250,000.
"This horrific act brings out worst in a few," Lyons said, "and the best in thousands around the world."
To help support the 12-year-old stabbing victim's recovery, find out how you can get involved with her fundraising campaign here or visit any BMO Harris Bank branch.