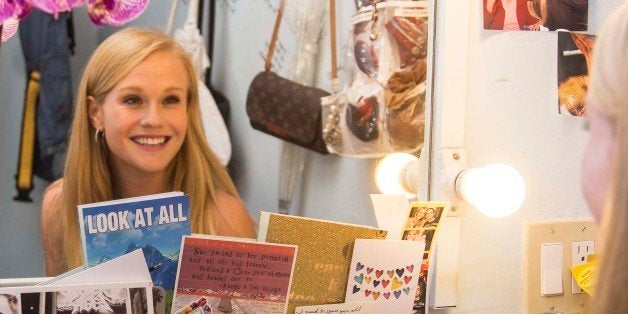 Carrie St. Louis has just arrived at the Helen Hayes Theatre.
It's one hour before show time; the seats are empty. St. Louis walks through the narrow hallways of the old building, then stops just offstage, offering a glimpse into her world during the frenzy of a blockbuster Broadway show. "This is what I do during my fastest costume change," she says, stopping on what is, for her, a familiar spot. "Four people help me. I've got one person for each limb." In her street clothes -- today, a lavender sundress -- she bounces on the balls of her feet. The California native snaps out her arms, widens her feet. She whirls around and smiles, her bright-blonde hair fanning around her shoulders.
In this moment, her energy radiates up, onto the stage and out into empty seats.
In less than an hour, St. Louis will harness that vitality. She will step onstage as Sherrie Christian, the female lead in "Rock of Ages." She will don a big-bodied blonde wig and an MTV t-shirt tied just above her navel. She will sing, strut and rock the sold-out crowd to a standing ovation, all with the ease of seasoned pro.
But she is not. St. Louis is just 24 years old, two years removed from the University of Southern California, and in her first months under the bright lights of Broadway.
Every Broadway season new talent emerges; this year, one star might just be Carrie St. Louis, who found her way to the big stage remarkably fast.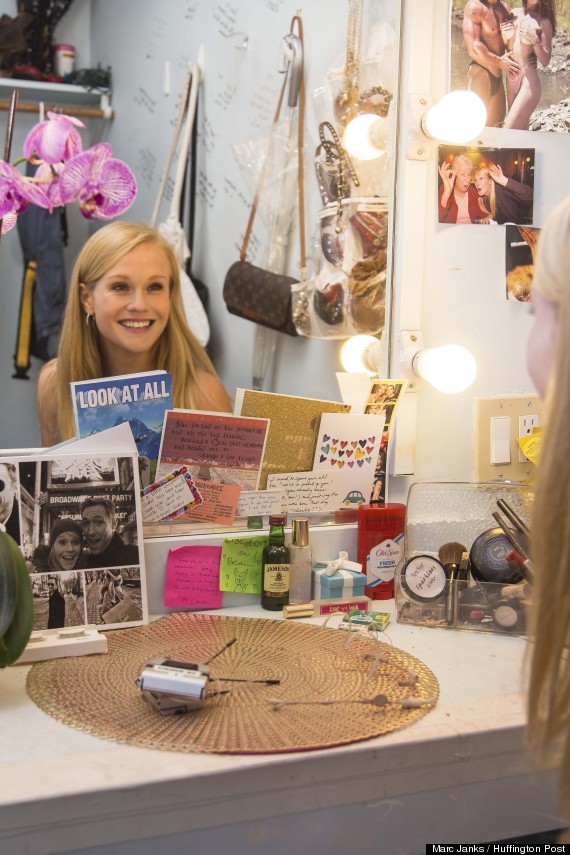 St. Louis, who has a background in opera, auditioned for the original Las Vegas-based production of "Rock of Ages" just three months after graduating from USC. She figured herself a long shot, doubting they would give her the part.
"I had to dance [in my audition] even though Sherrie doesn't really dance," St. Louis says, still standing in her lavender dress, in the empty theatre. "They told me not to worry. But I can't dance, so I ended up strutting around in a circle like this."

She purses her lips and saunters around the stage, illustrating both palpable confidence and self-effacing humor. Watching St. Louis, one can see how she's made the transition to Broadway seem so effortless. Even absent an audience -- for example, right at this moment, on this empty stage, describing that Vegas audition – it's hard not to watch her.
"Guess I sold it," she says.
And then three months ago, after a year in Vegas, she struck gold again when the show's Broadway producers offered her a shot at playing Sherrie in New York. Just like that, she made another big move.
When she arrived, in April, she rehearsed with the Broadway cast only three times before making her debut. On her opening night, she had never rehearsed at all with the show's band or used its sound microphones.
Now, despite her whirlwind entrance, St. Louis is in her groove. She performs eight shows a week, joining the seasoned ranks of the production, which, now in its fifth year, is one of the all-time 30 longest running shows on Broadway.
Despite the show's success, its demanding schedule is not without challenges for St. Louis.
"You need a lot of vocal stamina for this show," says St. Louis. "Sherrie, especially, is a demanding singing role. I'll get through one song and think, 'oh, there are 17 more.' You kind of jump on the train and you can't get off. It's hard to recreate the same moments over and over again as if they're brand new. "
Given those difficulties, the show's long-term success can only be possible with a dedicated cast -- night in, night out.
"I'll have days where I don't totally feel like doing [the show]," she says. "It's like any job. But the cast and crew here are amazing. We pump each other up."
And, truly, they have to. Because the Helen Hayes Theatre is so intimate -- 597 seats make it the smallest on Broadway -- the show's success depends wholeheartedly on the cast's ability to engage the audience, so that the two can feed off of one another to create an amazing event.
St. Louis plays a substantial role in this, and nowhere is it more apparent than in her pre-show routine. Agile, she races through the labyrinthine halls backstage. She squeezes by her cast mates, greeting each with a grin. In her dressing room, she twirls pieces of her hair into pin curls. She places a tight, nude cap on top to prepare for her wig. She fastens a microphone to the back of her head. Seemingly bald, wired-up, half-in-costume -- her street dress is still hiked around her waist -- she looks alien.
"Glamorous, right?" she quips.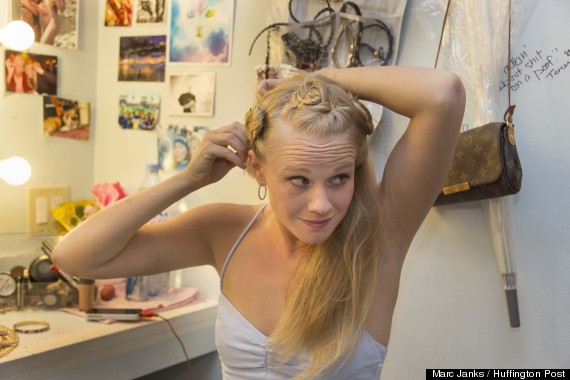 She then runs to have her wig fitted in the "wig room" -- a space entirely dedicated to the cast's faux '80s locks. Upon her return, she dabs a thick layer of foundation on her face. She applies Barbie-pink blush, joking with her dressing roommate about how quickly she can "slap on" her stage makeup. She fastens spiked bracelets around her wrists. She shimmies into her skirt. She grabs her jean jacket.
In mere minutes, she's transformed into Sherrie.
Today, her last stop before the stage is a bright hallway. On the wall, there are photos of every cast member in the show's history -- in the order in which they joined the production. St. Louis is No. 71. Amidst the photos, there is a full-length mirror; she glances into it, regarding her alter ego.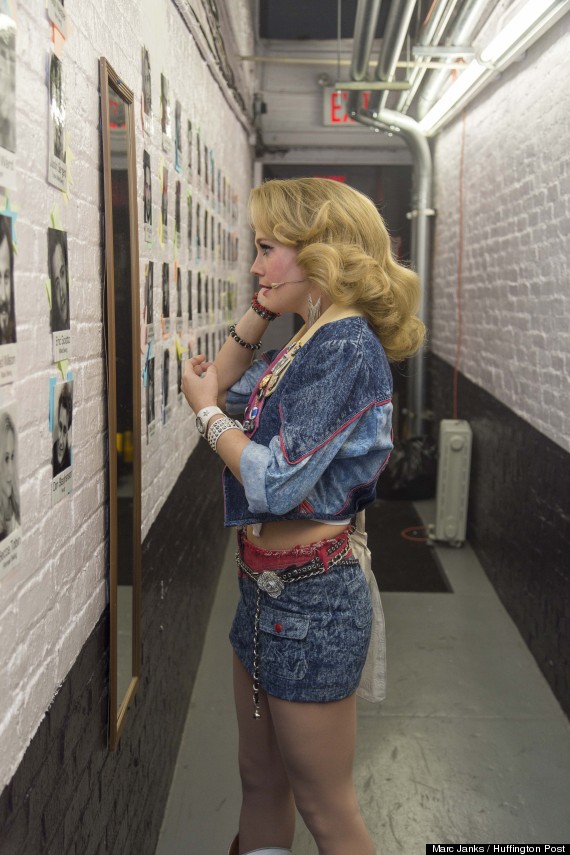 "I went to a wedding recently," she says. "And there was a moment when I was supposed to high-five someone. But I did the 'rock hands' from the show, without even thinking about it. What's that about?" She laughs; it echoes.
But it may be that simple: St. Louis lives her work. Two hours later -- during the super-charged finale of the show -- she will make that same gesture in front of a standing, screaming crowd.
However, though St. Louis' shows often end in triumph, she remains grounded.
"In theater, you don't necessarily stay in the same show for the rest of your life," she says. "You constantly have to be on top of what's next. You have to be open and willing. You're going to get rejected a bunch of times before one person says yes. You need the backbone to keep getting back up. It is not going to be easy all the time, but this is my dream."
Certainly, Carrie St. Louis is a part of the larger "Rock of Ages" legacy. But, this season -- with grit and grace -- she'll be on her way to carving out a spotlight for herself in her own right.
BEFORE YOU GO
PHOTO GALLERY
2014 Broadway Season Preview