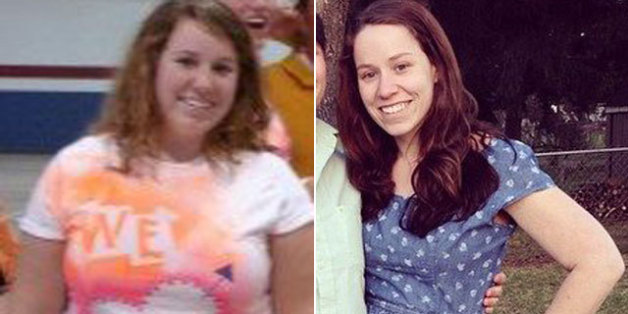 Name: Kelsey Maccombs
Age: 24
Height: 5'5.5"
Before Weight: 230 pounds
How I Gained It: I was never thin growing up. Even in middle school I remember being the chubby girl. I loved food -- I still do! I ate too much of it, too often, I guess.
I grew up in a single-parent home. My father was one of five children growing up in a poor family. I think they never really had excess, so when my dad emerged on his own and was comfortably in the "middle-class" sector, he wanted to give my brother, Ryan, and me everything. If I wanted a second or third helping of spaghetti, no problem. My dad has always been a normal weight and has been able to eat whatever he wants without consequence (he's currently 62 and eats four cookies a day and a bowl of ice cream every night without gaining a pound). Unfortunately, that was not the way it worked for Ryan or me. We both quickly became overweight, getting into the obese category in high school.
My dad recognized there was a problem and tried to motivate us to be more active. We started going on runs in the morning before school, but we quickly gave up. Ryan and I were set in our ways. We wanted to eat everything all the time. It hurts me to think about how much my dad wanted for us to be healthy but couldn't find a way to motivate us.
As an adult, it didn't get much better. I lost about 20 pounds after high school as a result of moving away and buying my own food because I couldn't afford to just eat everything as a college student. I maintained at around 210 pounds for a long time but never really got motivated to actually get healthy. I was content to be the funny girl in the group. I still loved food and got more into cooking, which led to more eating.
Breaking Point: My brother got engaged to one of my very best friends in 2012. I was so overwhelmed with joy for them, but the more I started thinking about their wedding, the more I dreaded the photos. My brother had lost a significant amount of weight throughout the previous few years, and I didn't want to be the only fat one in the photos.
How I Lost It: It was in February 2013 that I started getting serious about losing weight. I started by getting a gym membership at a gym literally next door to my apartment. I didn't want to have an excuse not to go. I would go four to five nights a week and just walk on the treadmill. I then started amping up the incline. I would never run; I was too embarrassed by my lack of stamina. In the beginning, the pounds melted off. I quickly lost 20 pounds, and I couldn't believe it. I used a free app to track my meals and make sure I was eating enough/not too much. It helped a lot that I was dating Ron, my fiancé now. He was so encouraging to me and always made me feel good about myself. Not the future thin me, but the overweight, sweaty girl on the treadmill.
I hit a stall point after the first 20 pounds and was looking for a way to mix it up. Ron had a friend, Tyler, who is a personal trainer and has a CrossFit-type studio, and I started working with him. I was so completely challenged by the workouts, but Tyler was so encouraging throughout. I remember being really nervous, but he made me really comfortable. After a couple months of working with him, my body changed so much. I would have stayed there forever if I hadn't made a move to a different city.
Lately, I've lost more weight by controlling portions. I do exercise but not as regularly or as intensely as I had initially. I have two dogs now, so it's a lot of walking and jogging with them, or working out in the garden. I try to get to the gym to do some lifting.
My best advice to anyone trying to lose a significant amount of weight is to be consistent. It takes a long time to lose the weight if you're doing it right, and there's not a magic trick or pill that can replace consistency over time. As a kid, I consistently ate too much, too often, and I consistently gained weight. My plan as an adult is to eat the right-sized portions day in and day out. It's led to a happier, healthier me. I eat about 1,500 to 1,600 calories a day (more when I exercise). I never eat below 1,200 calories. I still eat ice cream, pizza, etc., but I factor it into my day. If I have a donut for breakfast, I'm not eating pizza for lunch! Eggs and toast are an easy fallback meal for me. Carbs are not your enemy, but balance is your best friend.
I bought shorts for the first time as an adult this year -- a size 6! I started as a size 20. I haven't hit my goal weight yet, but I'm happy with where I am and how far I've come.
Current Weight: 152 pounds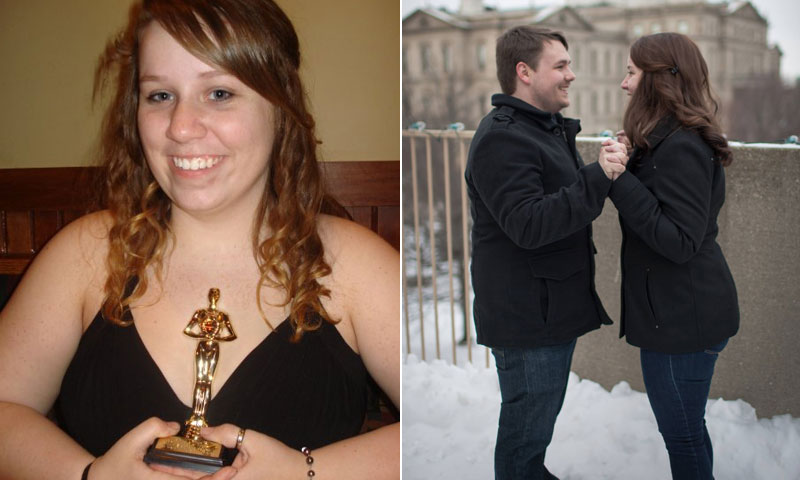 The Huffington Post publishes photographs as they are submitted to us by our readers.
Got a success story of your own? Send it to us at success.stories@huffingtonpost.com and you could be featured in our I Lost Weight series!
Check out more of our inspiring weight loss stories below:
PHOTO GALLERY
Weight Loss Success Stories
As told to Sarah Klein