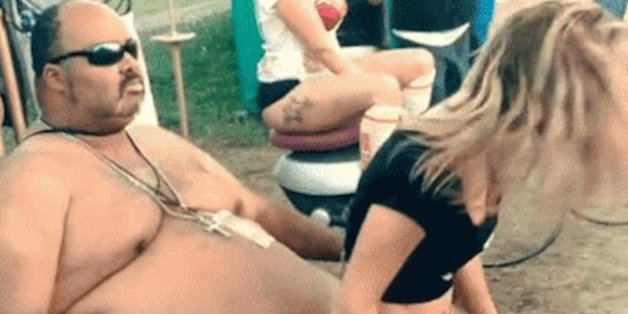 The days are long, the sun is scorching and that means ...
It's time for the Gathering of the Juggalos!
For some, that means hearing some of their favorite bands. For others, it's a quick and painless way to be labeled a gang member by the FBI for some reason. For this guy, it means getting a big ol' lap dance.
"THE IMAGE BELOW IS OF A CLOTHED LAP DANCE, CLICK TO REVEAL"
TMZ spotted this Instagram post from Three 6 Mafia's DJ Paul showing just one of the many noteworthy and thrilling things that takes place during this meeting of Insane Clown Posse fans.
For more on exactly what is going on here, let's go to the Riverfront Times:
The man's name is Big LA. He is here at the Gathering of the Juggalos with Mike Busey (and the "Busey Beauties"), an Orlando-based full-service party organization headed up by the nephew of celebrated actor and legendary madman Gary Busey. Together, Busey, Big LA and their beauties have been operating something of an outdoor strip club here on the grounds.
You get a free clothed lap dance with every T-shirt.
But, very importantly, these are not the only lap dances to go down at the G o' G's.
Last year, the Village Voice covered the story of a teen from the Make a Wish Foundation who got a lap dance at the Illinois festival.
Here's the whole clip from DJ Paul