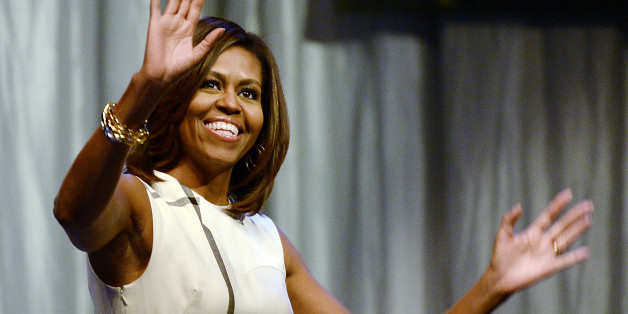 Los Angeles is the latest major U.S. city to set a bold goal regarding veteran homelessness: It wants to end it within the next two years.
Mayor Eric Garcetti announced the city's plan earlier this month at the Unite for Veterans Summit alongside the first lady, accepting Michelle Obama's challenge to rid L.A. of veteran homelessness within the next 17 months, the L.A. Times reported.
The mayor's ambitious objective won't be easy to achieve.
Not only do aspiring actors gravitate toward the City of Angels, so do homeless veterans -- L.A. County has more homeless vets than any other county in the nation, at 6,300. But the first lady affirmed Los Angeles can count on her husband's administration to make the goal a reality.
"The image of even one of these heroes sleeping out in the cold, huddled up next to an overpass -- that should horrify all of us," Mrs. Obama, who attended the summit, told the crowd, according to the L.A. Times. "Because that's not who we are. And the truth is, we know that there are simple steps that we can take -- whether that's in business or government or in our communities -- to prevent and solve these kinds of problems."
The first lady's challenge to mayors to tackle vet homelessness is part of the Obama administration's larger plan to tackle the chronic issue nationally. Initiatives taken by the Obama administration have helped reduce veteran homelessness by 24 percent since 2010, the Department of Veterans Affairs announced last November. Some major cities -- including Phoenix and Salt Lake City -- have already ensured no vets are sleeping on their streets.
While Mayor Garcetti's recent announcement zeroes in on L.A.'s disenfranchised veterans, the city has also prioritized the larger issue of homelessness in recent months. Largely in response to a powerful Los Angeles Downtown News column written by LAPD Senior Lead Officer Deon Joseph, who wrote that Skid Row is and has been in a "mental health state of emergency," city officials are revamping their strategy regarding the infamous downtown area plagued with chronic homelessness. L.A. will be easing up on petty offenses against the homeless, stepping up street cleanings, improving public bathroom access and increasing services provided by mental health professionals, according to the L.A. Times.
"The police have been asked for years to be the answer to the issues stemming from mental illness in the communities we serve," Officer Joseph wrote in Downtown News. "We have done the best that we can. It is not the LAPD that has failed the mentally ill or the public. It is our society that has failed them. A society that has closed down hospitals. A system that is slow to create more housing-plus-care locations that would respect their autonomy and civil rights. A system that will not engage in proactive outreach ... It is time to try something that may actually work if we give it a chance."
BEFORE YOU GO
PHOTO GALLERY
Honoring our veterans