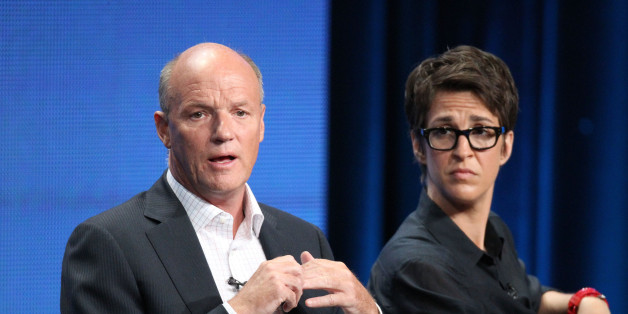 July was a mixed month for the cable news networks: CNN beat MSNBC in the key demographic during primetime, but MSNBC won in total viewers.
MSNBC had a rough month as it slipped to fourth in the key demo -- viewers ages 25-54 -- for total day (92,000 viewers) and third in the key demo during primetime (152,000 viewers). They were the network's worst demo numbers during primetime in eight years (since July 2006), according to the latest Nielsen data.
Compared to July 2013, every primetime MSNBC show was down in the key demo. Both "All In with Chris Hayes" and "The Rachel Maddow Show" dropped 20 percent in demo viewers. The network has been hit with some bad news in recent months. In May, it saw its lowest total day viewer numbers since 2007.
But it wasn't all grim. The primetime shows were up across the board among total viewers, with "The Last Word with Lawrence O'Donnell" up by the most (8 percent).
CNN topped MSNBC in the demo during primetime. The network just came off strong numbers after its aggressive coverage of the missing Malaysia Airlines plane earlier this year. Several CNN programs also came in second within their timeslots, including "The Lead with Jake Tapper," "The Situation Room with Wolf Blitzer," "Legal View with Ashleigh Banfield" and "CNN Newsroom."
However, CNN was also down year-to-year, with a 32-percent drop in total day for the key demo and a 35-percent drop in primetime for key demo.
To no one's surprise, Fox News was on top again in July. However, Fox News saw a 5-percent drop in the key demo compared to July 2013.