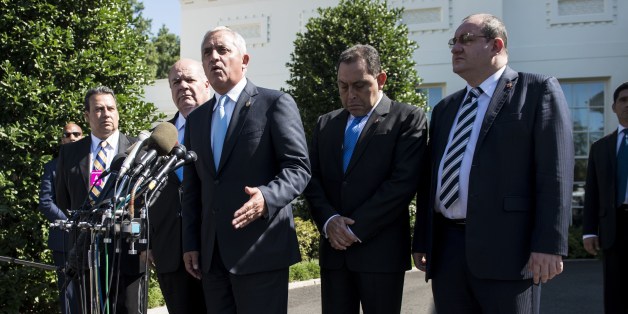 Differing wording leads to different findings on the migrant children arriving in the U.S. Polling on the House race offers few hints of a 2010-like GOP wave. And we have yet more reaction to the new CBS/NY Times/YouGov internet panel polls. This is HuffPollster for Tuesday, July 29, 2014.
AMERICANS VIEW MIGRANT CHILDREN AS REFUGEES IN ONE POLL... - Public Religion Research Institute: "A majority (69%) of Americans say that children arriving from Central America should be treated as refugees and allowed to stay in the U.S. if authorities determine it is not safe for them to return to their home countries. In contrast, 27% say that children arriving from Central America should be treated as illegal immigrants and deported back to their home countries….7-in-10 (70%) Americans say the U.S. should offer shelter and support to children coming from Central America while beginning a process to determine whether they should be deported or allowed to stay. However, more than 1-in-4 (26%) Americans believe these children should be deported immediately back to their home country….A majority (56%) of Americans believe Central American families are mostly trying to keep their kids safe in difficult circumstances, while 38% say these families are taking advantage of American good will and are trying to find a back door for immigrating to the country." [PRRI]
...but not in another - Christopher Sherman and Jennifer Agiesta: "For nearly two months, images of immigrant children who have crossed the border without a parent, only to wind up in concrete holding cells once in United States, have tugged at heartstrings. Yet most Americans now say U.S. law should be changed so they can be sent home quickly, without a deportation hearing….The poll found that most people — 53 percent — believe the U.S. does not have a moral obligation to offer asylum to people fleeing violence or political persecution. And 52 percent say the children entering the U.S. illegally who say they are fleeing gang violence in Central America should not be treated as refugees." [AP]
As always, how you ask matters - PRRI's survey question referred to a "large number of children from Central America now coming to the U.S. without their parents," and asked respondents to choose between saying they "should be treated as illegal immigrants and should be deported back to their home countries" and that "they should be treated as refugees and should be allowed to stay in the U.S. if authorities determine it is NOT safe for them to return to their home country." By contrast, AP asked, "Do you feel that children entering the U.S. illegally who say they are fleeing gang violence in Central America ought to be treated under the law as refugees or not?"
And variants on this topic are especially wide - A CNN/ORC question released last week used harsher language, describing "tens of thousands of children from Central American countries have been detained by the U.S. government at the Mexican border after illegally entering the United States without their parents or other guardians," and referring to a bill that would include "several billion dollars" in costs to care for the children while their cases are reviewed. Their survey resulted in the finding that "a bare majority views the children as refugees rather than illegal immigrants." [CNN]
GENERIC HOUSE POLLS SHOW FEW SIGNS OF A WAVE - Nate Cohn: "Unfortunately, generic ballot polling has been sparse so far this cycle. Last week, however, there were three national polls, by Fox News, CNN and Pew Research, asking the generic ballot question. None showed an anti-Democrat wave, like the one that brought Republicans back to power in 2010. In fact, none of the three polls showed Republicans with a lead among registered voters at all. The surveys are highly consistent with other surveys conducted over the last two months, which show Democrats ahead by an average of 1.9 points among registered voters. The Republicans have not led in a generic ballot poll since early June, when Fox News showed Republicans ahead by four points. These findings bear no resemblance to the one-sided results at this point in 2010, when Republicans held a clear 4.7-point advantage, or in 2006, when Democrats were ahead by 10.1 points. The current slight Democratic edge is fairly similar to what generic ballot surveys showed in the days ahead of the 2012 presidential election." [NYT]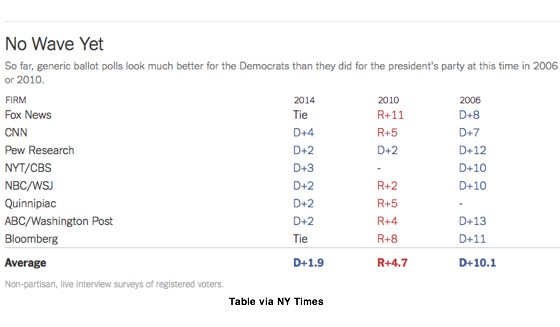 VOTERS SAY OBAMA SHOULD STAY OFF THE CAMPAIGN TRAIL - Dana Blanton: "The new [Fox] poll re-asked a question from 2010 to test the president's influence: if you were running for office as a Democratic candidate this year, would you want President Obama to campaign for you? While 41 percent of voters say yes, over half -- 57 percent -- say no, they wouldn't want Obama on the campaign trail with them. In 2010 the results were much more balanced: 48 percent wanted the president to campaign for them, while 50 percent wanted him to stay home. Among Democrats, four years ago fully 82 percent wanted Obama to campaign on their behalf. That's down to 69 percent in the new poll, a drop of 13 points." [Fox]
MORE ON THE YOUGOV/NEW CBS/NYTIMES POLLS - YouGov's Peter Kellner on the results and the advantages of their methodology: "The Democrats currently have 53 Senators. Two Independent Senators caucus with the Democrats, bringing the party's effective tally to 55. The Republicans have 45. Our survey suggests that the Republicans are on course to gain at least four seats, and possibly as many as eight. But with five races neck-and-neck, with candidates from the two parties within two points of each other, there is all to play for....Today it is clear that there is NO sampling system that can be relied on to provide perfect raw samples. Survey researchers are in the business of obtaining the broadest, fairest range of respondents that they can, and then extrapolating from the people they can reach to those they can't. This task requires care, skill and judgement. And in this less-than-perfect world, online research has the advantage that, for any given budget, it can reach more people and ask them more questions – and so go further in the quest for accuracy and understanding – than traditional surveys." [YouGov]
Rosier results for GOP - Taniel: "[T]here's much more to this polling than the toplines. Indeed, there are a number of issues with YouGov's data and methodology that require serious scrutiny...Taken individually, few of these polls stick out as outliers...But when these polls are taken together, it's striking that in almost every case the results are rosier for the GOP than what other polls are suggesting. In seven of the 9 tightest Senate races, Republican candidates are ahead by more than the Huffington Post's Pollster average—in many cases (such as in Michigan and North Carolina) significantly....There's precedent for this: In 2012, the margin of YouGov's final polls favored Republicans by an average 5 points, including large errors in competitive races in Nevada, Wisconsin, Connecticut, and Virginia—all in the GOP's favor. At the very least, that means that these polls are at the Republican-friendly end of the spectrum of plausibility." [DailyKos]
In 2012, YouGov's panel also found stability where others showed big swings - More from Kellner: "We looked at candidate support before and after that first Obama car-crash debate. When we examined the two samples as if they were separate groups of people, and weighted them demographically, in much the same way as telephone polls do, we got the same result: a marked shift from Obama to Romney. But when we also weighted the data by how people had voted in 2008, and whether they described themselves as 'liberal', 'moderate' or 'Conservative', it became clear that Obama had lost very little support. Digging down into the responses of the people who did repeated surveys, we found that that few people shifted their vote. Instead, for a few days, Romney supporters were slightly more willing, and Obama supporters slightly less willing, to respond to election polls. As YouGov's regular panel surveys had indicated, underlying sentiment barely shifted at all. Telephone polls were hit by a short-lived variation in response rates; they wrongly reported this technical phenomenon as a substantial shift in opinion." [YouGov]
More reactions from Twitter:
-Associated Press Director of Polling Jennifer Agiesta: "I get not wanting to let the perfect stand in the way of the good. But when it's science and there's no proof, good is subjective." [@jennagiesta]
-Jonathan Robinson (D): "We don't need an old clunker. Better political polling requires we ditch the RDD. It's a long time coming." [@jon_m_rob]

-Marist Institute Director Lee Miringoff: "Is the use of online polls driven by concerns over money or methods? Wish it was the later, but fear it is the former....Champion of innovation Warren Mitofsky would welcome debate over online polls. Doubt he'd welcome change to non-probability."
[@LeeMiringoff here and here]
-MassINC pollster Steve Koczela: "I remain puzzled by attempt to improve coverage of young & non-white voters by @UpshotNYT, resulting in 6% non-white, and 8% under 29 in MA." [@skoczela]
-Pollster.com co-founder Charles Franklin: "Problem I see is different firms do modeling better, others worse. @YouGovUS does very well, but model matters...Best models are complex so transparency to readers/reporters harder than standard probability sample, hard [enough]" [@PollsAndVotes here andhere]
TUESDAY'S 'OUTLIERS' - Links to the best of news at the intersection of polling, politics and political data:
-Charlie Cook notes that most of the Senate forecasts, whether based on models or a more qualitative approach, give Republicans a slight edge for the Senate in 2014. [National Journal]
-Aaron Blake argues that Obama's approval ratings are unlikely to improve; Jonathan Bernstein says Obama still has time to rise or fall. [WashPost, Bloomberg]
-Sean Trende ponders whether Texas, Arizona and Georgia may soon become "blue-ish" states. [RCP]
-Harry Enten finds Florida's Charlie Crist (D) and Rick Scott (R) "teetering on becoming the least-liked pair of candidates for any governor's race in the past 10 years." [538]
-Brendan Nyhan explains why we're likely to see more "worst" presidents. [NY Times]
-NPR ran a series of stories last week on "how well we don't understand probability." [NPR via Flowing Data]
-Americans view embassies are important, but worry some locations are unsafe. [YouGov]
-Mona Chalabi explains why it's so difficult to count the transgender population. [538]
-The Journal of Big Data publishes its first articles. [Springer]
-Walt Hickey runs the numbers on The Hill's 50 Most Beautiful. [538]