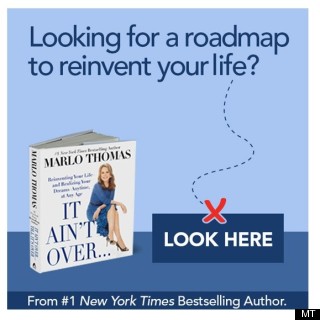 "One of the reasons I started my website is that I wanted a place for women to come together and dream. We women need to know that we don't have to hang on to an old dream that has stopped nurturing us—that there is always time to start a new dream. This week's story, an excerpt from my new book "It Ain't Over Till It's Over," is about Mary Waldner, a psychologist with celiac disease who was in search of a yummy gluten-free snack. Today, her gluten-free recipes are sold in supermarkets all over the country!" —Marlo, MarloThomas.com
Mary Waldner woke up on a January 1 morning resolved to make a change in her life—and her New Year's resolution was a doozy. She wanted to scrap her successful 26-year career in clinical psychology and, at age 48, start selling crackers. Seriously.
 And all because of a decades-long tummy ache.
For most of her life, Mary had severe digestive pain, depression, and fatigue. "Ever since I was a child, I had been to so many doctors," she says. "But no one could ever figure out what was wrong."
Finally, at age 43, Mary got the diagnosis that would change her life: She had celiac disease, an immune reaction to eating gluten, a substance found in grains like wheat, barley, and rye. Such gluten sensitivities are common knowledge today, but when Mary was diagnosed, celiac disease was virtually unknown. "I had never even heard of gluten," Mary says. "Nobody had."
Immediately, Mary cut gluten-rich foods like bread, pasta, and cereal from her diet ("I joked that I could cut out bread but I couldn't live without my aunt Enid's brownies") and she finally felt healthy—really healthy—for the first time in her life.
But what to eat instead? It was almost impossible to find gluten-free foods in supermarkets or even health food stores. "Anytime I could find anything that was gluten-free."
So Mary decided to concoct her own gluten-free recipes. Ever since her childhood, when she'd go to her grandmother's house to make cakes and cookies, Mary had loved to bake. Now, using gluten-free flour, she put those baking skills to work creating muffins, bagels, and desserts.
"Whenever there was any kind of gathering, I would bake a few things and bring them with me so I'd have something to eat. My friends liked most everything I made, but the crackers were the big hit. Not like, 'These are good,' but, 'Oh my God, these are fabulous! Where'd you get them?'"
So she made bigger and bigger batches—and wondered, Could I actually turn these crackers into a business?
To find out, Mary brought a bag of the crackers to a local health food store, where the owner put out samples for customers to nibble on. "As I was going up and down the aisles, I overheard all of this fabulous reaction," Mary recalls. "Then the owner came up to me and said, 'I think you're going to have to bring me more.'" Mary had found her first distribution outlet. "I'd bring in ten bags of crackers and they'd quickly sell out, so then I'd have to make another batch."
She began taking her treats to other health food locations, and the response was always the same. "Everyone went crackers for my crackers," she says. "And I knew I had to get them out there for other people with a gluten-intolerance." When she asked friends for suggestions for a business name, one jokingly proposed Mary's Cracking Up. Close. Another friend quickly came up with Mary's Gone Crackers.
Article Continues Below Slideshow
PHOTO GALLERY
Mary's Crackers
Mary bought a new, larger oven to keep up with the demand, but she was still making the crackers by hand, and couldn't churn out more than 240 at a time. Not only was the hot, sticky dough difficult to work with, but she had to hand scoop and form each individual cracker on a tray. It took her five hours to make each batch.
Then came her New Year's epiphany: If this side project was going to grow into a sustainable, efficient business, the process needed to be automated. And if she was going to shift from cracker baker to cracker manufacturer, she needed to scale back her psychology practice.
"I had thought that somehow I would always be a therapist," she says, "but it became clear that unless there were two or three of me, that wasn't going to happen."
Once Mary was in, she was in. "I tend to be someone who doesn't have a lot of regrets. I do what I do and I don't look back. And in those decisive moments, that's me at my best."
Mary's initial idea was to sign on a manufacturer, but finding a company with both gluten-free production space and the special equipment needed to handle the sticky dough proved difficult. So she rummaged through her cupboards, collecting the names on the labels of the gluten-free companies. Then she began making calls. As it turned out, only one company had both the equipment and experience. In 2004, Mary's Gone Crackers was incorporated.
Because awareness of gluten sensitivities had been building in the media, gluten-free products began moving into mainstream grocery aisles; as a result, annual sales for Mary's Gone Crackers soared to $1.5 million. Soon Mary and Dale moved the company's manufacturing facility to Gridley, California, and expanded the product line to include new cracker flavors, pretzels, and cookies.
That doesn't mean there weren't bumps along the way. "It was a steep learning curve, and we were naive when it came to big business—we learned the hard way." When a venture capital firm approached the couple with an investment substantial enough to cover their escalating operating expenses, they were flattered.
"These guys were the godfathers of the organic food industry and they wanted to invest in our company!" she recalls. But after just a few months, it was clear the investors' plan was to keep swallowing equity until Mary and Dale would lose majority ownership and be ousted. No longer naive, Mary and Dale took the battle to court and, along with their original investors, retained control of the company.
Fifteen years after that New Year's resolution, Mary's Gone Crackers is a powerhouse in the natural foods industry, growing more than 40 percent a year since it started.
In 2013, Mary and Dale sold a large stake of the company to Kameda USA, but this time, they were smarter at cutting a deal and they remain in charge. "Every step of the way, whenever we wanted to do something, people told us, 'That's impossible.' What I've learned is: You have to hold on to what seems like the most outrageous dream you have because often it's really not that outrageous."
* * *
To find out more about Mary's Journey -- and to read 59 other inspiring stories -- buy your copy of "It Ain't Over Till It's Over." Click here.
Add Marlo On Facebook:
Follow Marlo on Twitter:
Sign up to receive my email newsletter each week - It will keep you up-to-date on upcoming articles, Mondays with Marlo guests, videos, and more!