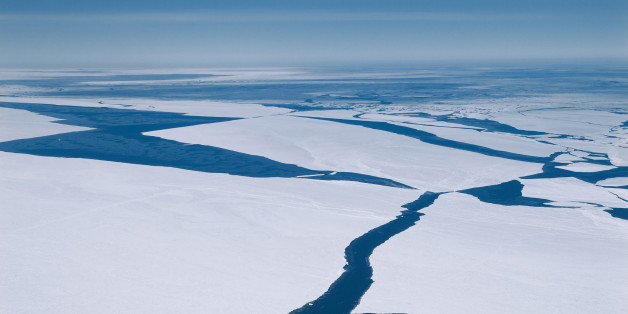 Surfers may know the shores of Australia or Hawaii as some of the prime surfing spots around the world. But swells in the Arctic Ocean? That's a new one.
While some daring surfers have ventured out to the icy waters in Iceland and Norway for some Arctic surfing, they may want to pay attention to Alaska's Beaufort Sea, where researchers have recorded sizable swells. In a recent study, oceanographers describe how they detected "house-sized waves" in the Arctic Ocean for the first time.
The research team, from the University of Washington and the Naval Research Laboratory, used sensors anchored to the seafloor to measure the size of the waves generated. During one particularly strong storm in September 2012, they recorded waves 16 feet high, on average. The biggest single wave in the Beaufort Sea reached a height of about 29 feet, lead researcher Jim Thomson told The Washington Post.
The team linked the large Arctic waves to melting -- spurred by climate change -- and high storm winds in the region.
"As the Arctic is melting, it's a pretty simple prediction that the additional open water should make waves," Thomson, an oceanographer with the university's Applied Physics Laboratory, said in a statement.
So, while large Arctic waves might not be a shocking discovery, researchers are concerned that the swells could hasten the breakup and loss of sea ice. They aren't quite sure exactly how the Arctic waves will affect sea ice in the future -- nor do they have a timeline for potential sea ice loss -- but they do see a potential threat looming.
"Waves could accelerate the ice retreat," Thomson told the Post. "We don't have much direct evidence of this, or knowledge of the relative importance compared with melting, but the process is real."
The Arctic ice cap has seen a drastic decline in the amount of sea ice covering its frigid waters in recent years. Though the cap experiences an ebb and flow each year during the summer and winter months, this year's peak amount of sea ice was the fifth lowest on record since the National Snow and Ice Data Center began keeping track in 1979.
"Swells carry more energy and have longer attenuation scales within ice and thus will be more effective at breaking up the remaining ice," the authors write in the study, published earlier this year in Geophysical Research Letters.
They continue:
It is possible that the increased wave activity will be the feedback mechanism which drives the Arctic system toward an ice-free summer. This would be a remarkable departure from historical conditions in the Arctic, with potentially wide-ranging implications for the air-water-ice system and the humans attempting to operate there.
Thomson is currently working on a large-scale project funded by the U.S. Office of Naval Research to track the breakup of Arctic sea ice over the summer.
BEFORE YOU GO
PHOTO GALLERY
What Climate Change Just Might Ruin