As the number of dead and wounded from the conflict between Israel and Gaza continues to soar on either side, several Palestinian hospitals have found themselves directly in the line of fire.
According to the United Nations' humanitarian office, 22 health facilities, including hospitals and clinics, have been damaged or destroyed in the recent wave of violence between Gaza militants and the Israeli military. Shortly before al-Shifa hospital was struck on Monday, the World Health Organization (WHO) said that it had been able to verify that at least eight hospitals have been damaged since fighting flared. The organization said it was still assessing accounts of damage to six others. In some cases, Israel and Hamas have traded blame over the source of fire; in others, Israel says it was targeting weapons stores or militant fire in the vicinity of the hospital.
The United Nations and the International Committee of the Red Cross and Red Crescent have condemned the attacks, noting that medical staff and facilities are protected under international law, regardless of who is responsible for an attack or why a health facility was hit.
"The current campaign has put hospitals themselves on the front line to an unprecedented extent," the British Medical Journal wrote on Monday.
These are the hospitals that have been hit in Gaza so far:
1. Al-Shifa Hospital, Gaza City
Gaza's largest hospital, the 600-bed Shifa medical complex in Gaza City, has provided care to hundreds of wounded Palestinians and has provided shelter to some 2,000 civilians in the past weeks. The hospital was struck by explosions on Monday, July 28. The blasts, which the Israeli army and Hamas blamed on each other, destroyed part of an outpatient clinic and left a 2-foot deep crater, without causing any injuries. Palestinians inspect the destroyed wall of al-Shifa hospital in Gaza City, July 28, 2014. (AP Photo/Adel Hana)
2. Beit Hanoun Hospital, North Gaza
The hospital serving the northern Gaza city of Beit Hanoun closed down after it came under fire for the second time on July 25. According to the World Health Organization, the shelling destroyed the emergency room and wounded a nurse and international visitor. The World Health Organization added that just outside the hospital, an ambulance worker was killed while trying to rescue the wounded. Witnesses told Haaretz newspaper that the Israeli military shelled the hospital for hours, leaving staff, international visitors and a few remaining patients trapped inside. An unnamed Israeli commander told the Israeli news site Ynet that there was an ammunitions warehouse underneath the hospital. Displaced Palestinians take refuge at Beit Hanoun hospital in the northern Gaza Strip after their shelter at a U.N. school was shelled, July 24, 2014. (AP Photo/Adel Hana)
3. Mohamed Durra Children's Hospital, Gaza City
A small children's hospital east of Gaza City was hit by shrapnel on July 25, killing a 2-year-old child who was undergoing CPR in the intensive care unit at the time, Gaza's Ministry of Health said. Doctors told the WHO that six people who were injured in the blast also died of their wounds the next day. The Israeli army told the Palestinian news site Ma'an News Agency that it was looking into medics' reports that Israeli forces shelled the compound.
The Mohamed Al-Durrah Children's Hospital in Gaza severely damaged by nearby airstrike last night. 30 wounded, 1 dead pic.twitter.com/geF62aTLEZ

— Sharif Kouddous (@sharifkouddous) July 25, 2014
4. Balsam Military Hospital, North Gaza
Balsam Military Hospital in the north Gaza town Beit Lahiya was evacuated and closed on July 23 after it was damaged by fighting, according to the WHO. Gaza's Ministry of Health said the facility had previously been hit on July 11, causing damage to the surgery department, operating theater and pediatrics ward.
5. Al-Aqsa Martyrs Hospital, Central Gaza
Israeli shells struck the 164-bed al-Aqsa Martyrs Hospital in the central area of Deir al-Balah on July 21, Gaza's Ministry of Health said. The non-profit group Physicians for Human Rights - Israel said that five people were killed and 70 injured in the blast, including dozens of medical staff. Ambulances tried to evacuate the wounded, but had to turn back when shells continued to fall, The Guardian reported. The Israeli army said that an "initial investigation suggests that a cache of anti-tank missiles was stored in the immediate vicinity of the hospital. This cache was successfully targeted by IDF forces."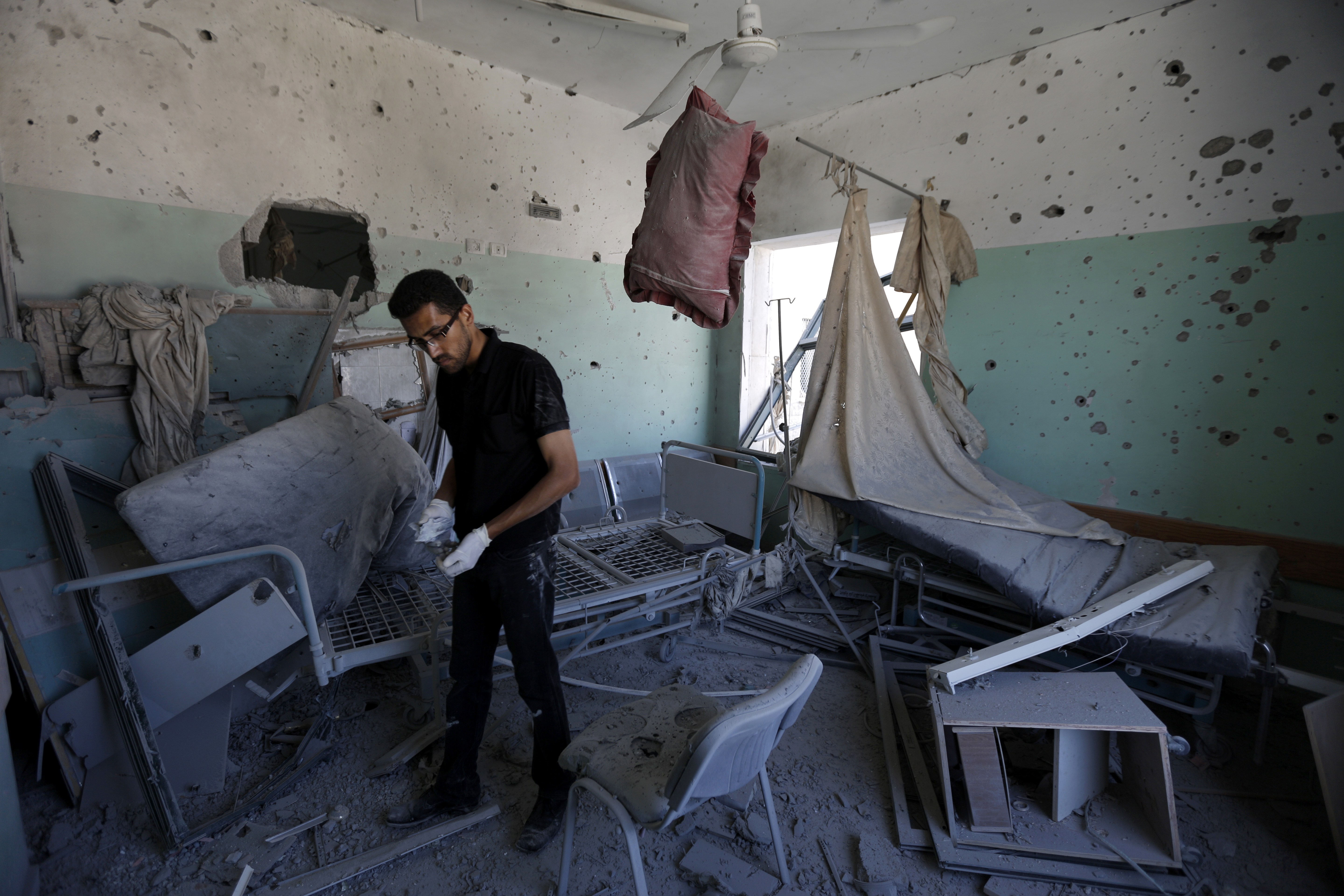 A Palestinian employee inspects damage at the Al-Aqsa Martyrs hospital in Deir al-Balah, in the central Gaza Strip, after the building was shelled on July 21, 2014. (MOHAMMED ABED/AFP/Getty Images)
6. Al-Quds Hospital, Gaza City
A fire broke out in Gaza City's al-Quds hospital after the building came under fire on July 17, Ma'an News Agency reported. The WHO said that the non-profit hospital was moderately damaged and remained open.
7. Al-Wafa Rehabilitation Center, Gaza City
An Israeli airstrike severely damaged a non-profit hospital for the disabled and elderly in Shujaiyeh, east of Gaza City, on July 17, injuring four staff members, Agence France Presse reported. The hospital was first damaged by shelling a week earlier. The director of the rehabilitation center told AFP that he was unable to heed Israeli warnings to evacuate, as many of the patients are paralyzed or in a coma. Eventually he was able to get the patients out before Israel bombed the site. The Israeli army said that Palestinian militant groups used the hospital compound to launch attacks.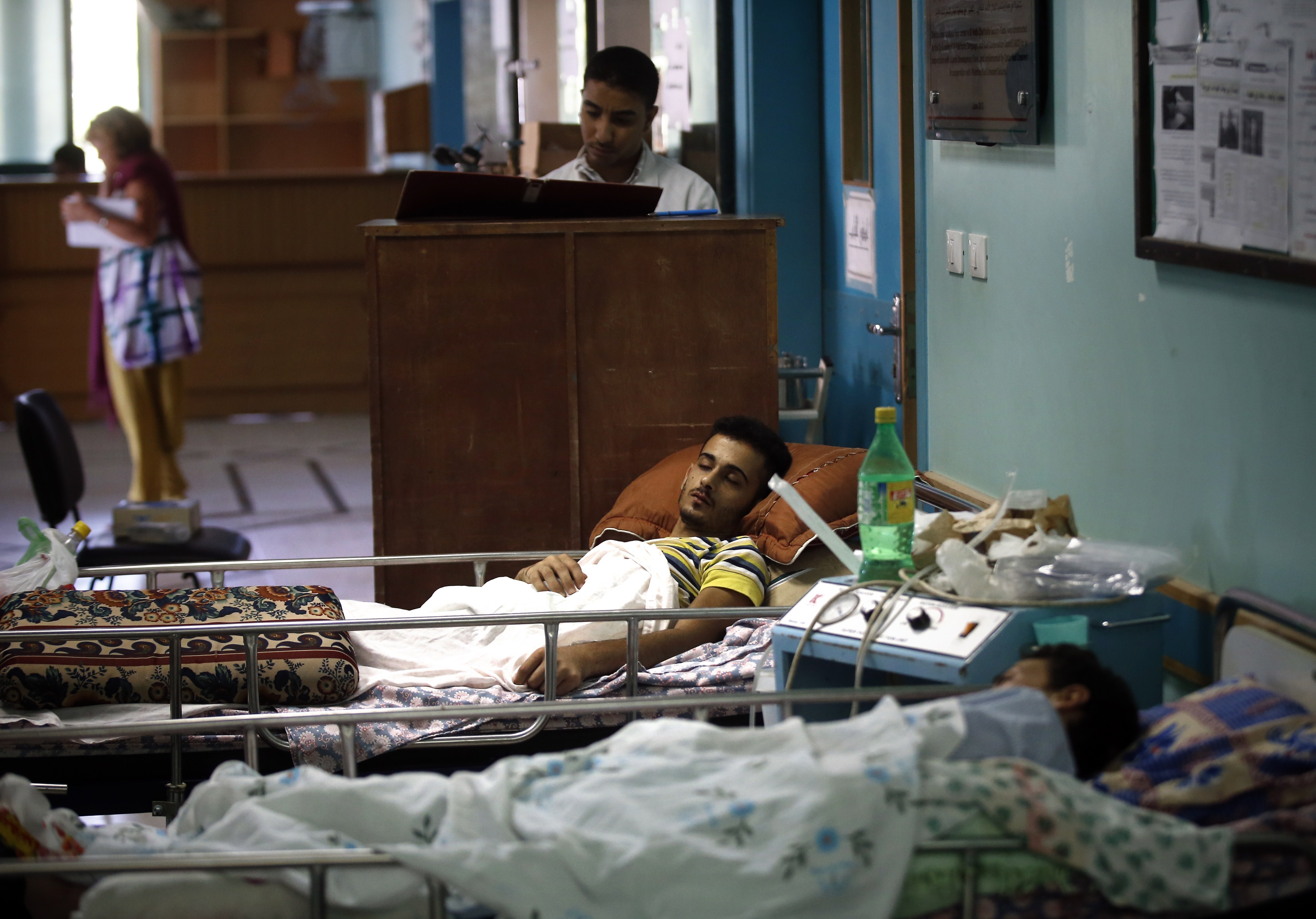 Palestinian patients lie on hospital beds in the Al-Wafa rehabilitation hospital near Gaza City on July 16, 2014. (THOMAS COEX/AFP/Getty Images)
8. Al-Ahli Arab Hospital, Gaza City
Al-Ahli Arab Hospital in Gaza City, run by the Episcopal Diocese of Jerusalem, was already short on medicine and overflowing with patients wounded by the conflict when airstrikes damaged its emergency room, operation theater and ventilation system in mid-July. Founded as a Christian missionary organization in 1882, the 80-bed hospital was also providing shelter to around 100 displaced families.
Al-Ahli Hospital in #Gaza is far more than just a hospital. It is a beacon of peace, reconciliation and inclusivity. pic.twitter.com/dW78UacH8i

— Stephen Tunstall (@SCTunstall) April 18, 2013
9. Gaza European Hospital, South Gaza
The Gaza European Hospital in Khan Younis, one of Gaza's biggest public health facilities, was damaged by an Israeli airstrike shortly after hostilities broke out in early July, the United Nations said. The ICU and pediatrics ward were evacuated and a nurse was wounded in the attack, according to the U.N. report.
#GazaStrip #KhanYounis European Gaza Hospital after israeli shelling pic.twitter.com/pqJidzWlFN

— Federica Iezzi (@federicaiezzi) July 9, 2014
BEFORE YOU GO
08/05/2014 4:20 PM EDT
Israel Arrests Kidnapping Suspect
Reuters reports that Israel has arrested one of the suspects in the kidnapping and killing of three Israeli teenagers in the West Bank in June.
Hussam Kawasme, a 40-year-old resident of the West Bank city of Hebron, was arrested on July 11 in connection with the killing of Israelis Gil-Ad Shaer, Naftali Fraenkel and Eyal Yifrah, who went missing on June 12 and were discovered dead a couple of weeks later.

Their kidnapping sparked a cycle of violence that led to the month-long conflict between Israel and Palestinian militants in the Gaza Strip.

Kawasme's arrest was made public for the first time on Tuesday in a document from an Israeli court case over whether houses belonging to him and two other suspects - who remain at large - should be destroyed as a punitive measure.

The lawyers listed as representing Kawasme were not reachable for comment.

The court document said Kawasme had admitted to helping to organize the kidnapping - securing funding from the Hamas Islamist group in Gaza and purchasing weapons which he passed on to the two other suspects who carried out the attack.

Kawasme also helped to bury the bodies of the teenagers in a plot of land he had bought a few months earlier, it said.

Israel has named the other two suspects in the case as Marwan Kawasme and Amar Abu Aysha.