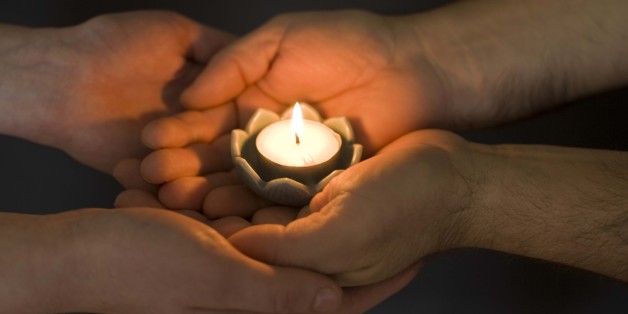 After weeks of around-the-clock updates of the escalating violence and despair in the Middle East, we're making a point to highlight glimpses of peace amid war.
Instead of focusing only on news about rising death tolls, artillery assaults and other dismal stories that underscore divides, we are sharing how people from opposing sides are coming together.
Follow our blog "Live Updates of Peace Amid Conflict" below, which lists ways to help and covers inspiring initiatives such as a camp that unites Israelis and Palestinians.
In addition to our ongoing blog, on Wednesday at 12:30 p.m. EST, The Huffington Post took a a break from the despairing news cycle to observe a "Moment of Peace."
"Together, we will remember the humanity of those whom we have been calling enemies, invoke the power of compassion that the great traditions of the world teach us, and have a conversation about how we can have dialogue that is truthful while still remaining open to hearing another view," Executive Religion Editor Rev. Paul Brandeis Raushenbush wrote in his HuffPost blog.
And after the Moment of Peace, we'll continue sharing live updates of peaceful actions and gestures that bolster our belief that this conflict -- and others -- will soon end.
08/11/2014 2:29 PM EDT
Camp Unites Israeli, Palestinian Kids In Shared Love Of Soccer As Tensions Persist In Gaza
While turmoil and unrest continue in the Middle East, a group of Palestinians and Israelis have united in peace and found common ground -- on a soccer field.

Goals of Peace 2014 Summer Camp took place from Sunday to Wednesday in the Wadi Ara region of Israel, according to a press release. About 80 kids, ages 11 to 13, participated in soccer scrimmages, field trips and educational programming while engaging in peaceful dialogue. The camp, sponsored by American nonprofit Soccer for Peace and attended by both Arabic and Jewish children, was staffed by coaches and counselors from both cultural groups.
Read the whole story here.
08/06/2014 1:19 PM EDT
Jews And Arabs Walk In Jerusalem Park Together To Show 'Easy Sign Of Coexistence'
They gathered on the asphalt sidewalk, more than a hundred Jerusalemites in sneakers and sandals, kids on scooters and babies in strollers, all with the aim of walking together

It was the fifth time that the capital's Hand in Hand school — the oldest and largest member of a nationwide network of Arab-Jewish bilingual schools — was marshaling its community this summer. Each time, participants strolled in Train Track Park, a walking path that bisects the southern section of the city and runs through both Jewish and Arab neighborhoods.

"We needed something that sends out the message of living together, and that the future of Jews and Arabs is in the same place," said Efrat Meyer, the school's community organizer and art teacher.
Read the whole story here.
08/01/2014 11:31 AM EDT
"Creativity for Peace," Santa Fe. 16 young women. 8 from Palestine. 8 from Israel. 3 weeks together=Hope. pic.twitter.com/BzbrZeo4wE

— Judy Blume (@judyblume) July 30, 2014
07/30/2014 3:03 PM EDT
I Stand For Peace
07/30/2014 12:04 PM EDT
Jewish Group Delivers Mourner's Kaddish For Gaza Victims
A Jewish group by the name "If Not Now, When?" organized a protest against the violence in Gaza on Thursday in which participants said a mourner's kaddish, or prayer, in front of the Conference of Presidents of Major Jewish Organizations.
Read the whole story here.
07/30/2014 10:31 AM EDT
'Jews And Arabs Refuse To Be Enemies' Movement Demands Peace
As the Gaza conflict intensifies with rocket attacks from both sides, some people are promoting friendship on social media with the hashtag, "Jews and Arabs refuse to be enemies."
Read the whole story here.
07/30/2014 10:08 AM EDT
A Moment of Peace to Ease Our Hardened Hearts
"The world is a mess," former Secretary of State Madeline Albright said last Sunday on Face the Nation. Her grave understatement about conflicts burning around the world could also be used to describe each of our spiritual and psychological states, which veer recklessly between outrage and despair.

We cannot let violence and cynicism win.

On Wednesday, July 30th at 12:30 p.m. Eastern time, The Huffington Post is inviting you to a event we're calling A Moment of Peace.
Read the whole story here.
07/30/2014 10:07 AM EDT
Palestinian, Israeli Parents Found Something To Agree On
If you've spent any time watching the news recently, you'd doubt the possibility of Palestinians and Israelis being on the same page, let alone in the same room. But these families came together to agree on at least one thing: They want to stop seeing their loved ones killed.
Read the whole story here.